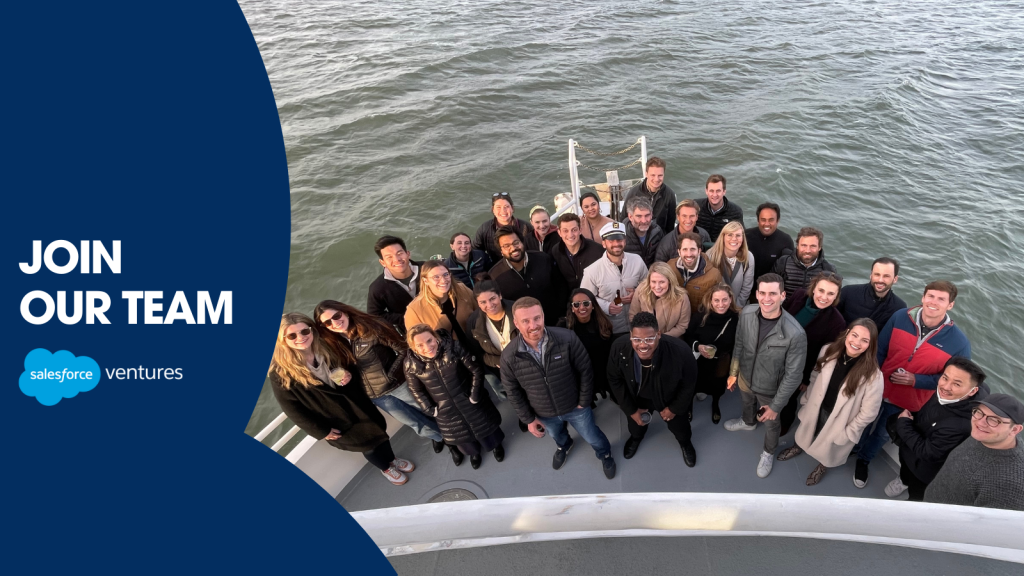 perspectives / News
Salesforce Ventures is Growing Our Investment Team
We're hiring for a Principal in both our San Francisco and London offices.
We're excited to share that Salesforce Ventures is looking for the next investment team member in both San Francisco and our London office.
Since 2009, Salesforce Ventures has partnered with more than 400 of the world's most tenacious enterprise software companies from Seed to IPO, including Airbyte, Airtable, Aiven, BetterUp, Contentful, Databricks, Drata, Gong, Miro, monday.com, Modern Treasury, OwnBackup, Razorpay, Snowflake, Snyk, Vercel, Vivun, Wheel, Wiz and Zoom.
As a global, multi-stage firm, our initial investment can be as early as the seed round, and we have the flexibility to invest up to the IPO. Our structure provides us with the flexibility to lead or participate in funding rounds. We have invested over $5 billion since inception and over $1 billion in the last year alone.
Our diverse team is global, and we pride ourselves on having a highly collaborative and inclusive culture. We are firm believers in the worldwide opportunity in software, where great companies are built by the most enterprising founders anywhere. In fact, 50% of our deals were outside of the US in 2021, and our team of 45 works across the globe with locations in San Francisco, London, New York, Tokyo, San Diego, and Sydney.
Who we are looking for
We are very interested in meeting people with diverse backgrounds and careers. Prior VC experience is not a requirement. What we do like to see is a passion for technology, relationship building, and the ability to grow and learn new things quickly. If we had to summarize it, a strong candidate would be:
Ambitious and Humble
We align ourselves with founders and hence feel it is important to have that same intrinsic ambition when supporting them in reaching their goals. As a growing platform, we look for those that push our growth strategy to even higher heights and do so independently. Yet, we appreciate the people that remain grounded and humble with low egos, realizing how fortunate we are to partner with the best in the industry.
Open-Minded and Inclusive
VC investing is all about believing in the possible. It helps to be open-minded about things that are new and not yet well understood. Ideal candidates can demonstrate that they are open to exploring new areas and becoming a thought leader while providing clear investment recommendations in an impactful way. They also operate inclusively, meaning they can and will work with anyone effectively (internal or external) and are focused on getting to the best group decision.
Confident and Values-Driven
Building relationships with founders and executives takes time – you will get challenged by them about your views and your value add. Similarly, our team enjoys a good discussion about deals and likes to engage in healthy discussions. Confidence goes a long way to unlocking opportunities. Our values are deeply embedded in our culture and a guide for how we operate. Initiatives like our Salesforce Ventures Impact Fund, commitment to investing in underestimated founders, and growing the Pledge 1% movement are examples of this.
The Job
Salesforce Ventures is now looking for a Principal to join the Salesforce Ventures team in San Francisco and in London to further expand our efforts across the Americas and EMEA.
Your primary responsibilities will include all that comes with a job in VC as an emerging leader:
Manage the investment process from sourcing investments through to screening and final diligence
Communicate recommendations to the partnership in a clear, concise, and impactful way
Monitor, research, and develop intelligence and investment themes on emerging trends and disruptive companies in the enterprise ecosystem
Actively monitor the investment portfolio and work with portfolio companies as activities such as new rounds of financing and exit events arise
Develop and nurture relationships with founders, companies, venture capital firms for potential investment opportunities across the Americas
Represent Salesforce Ventures in a board capacity
Support the development of programs and events to promote and market Salesforce Ventures, our portfolio companies, and our core values of integrated philanthropy and equality
Support the investment team to conduct qualitative and quantitative analyses for strategic planning and deal evaluation efforts for investments
How to Apply
San Francisco-based Principal –> Application
London-based Principal –> Application