default hero for archive pages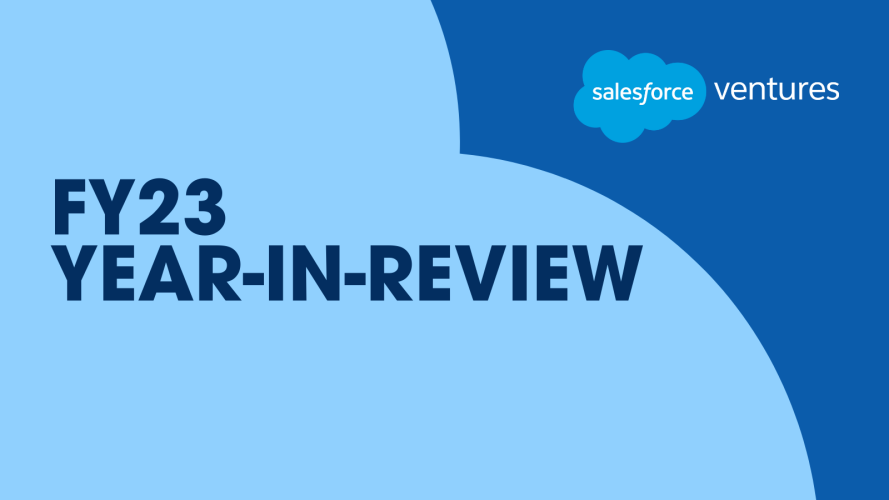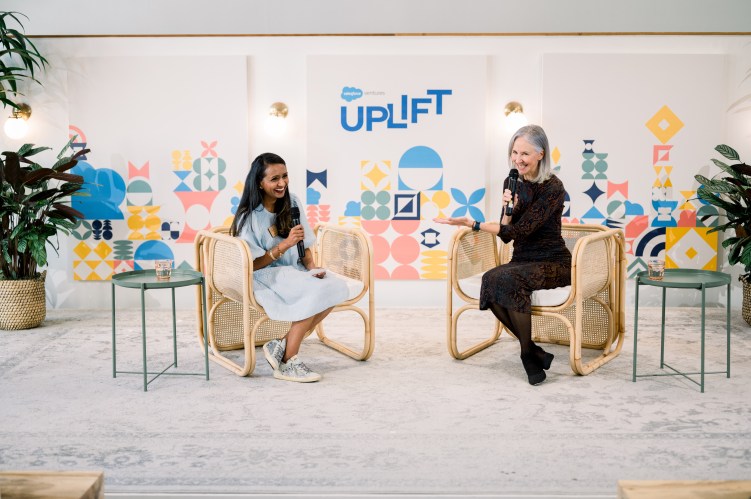 Forget Leadership Tips: Stay True to You
At Salesforce Ventures, we believe that values-led organizations are more successful and contribute more to the communities around them. We know that the most sought-after organizations foster communities where people share a sense of values, purpose, identity, trust, and belonging. Along those lines, on a brisk day in early November, we hosted "Uplift," a full-day mindfulness and leadership event to support female-identifying and non-binary leaders, including founders and investors.
On a stage bathed in stained glass-tinted light, Salesforce President and Chief Financial Officer, Amy Weaver, and Salesforce Ventures Chief Operating Officer, Khushboo Patel, got together to discuss leadership and dove into topics such as authenticity, identity, and advocacy.
The importance of diversifying senior management
Their shared perspective was that as organizations begin to diversify their ranks of senior management, society needs to become more open-minded to, and welcoming of, new styles of leadership. This includes what a leader looks and sounds like, as well as how they behave and the behaviors they reinforce on their teams. "I think we've made strides in getting more people of every background, gender, and race into the workplace," said Weaver. "What we haven't done as well is show differences in styles of leadership. And that's what we really have to concentrate on."
"In the next ten-plus years, there will be a different group of people leading many companies. How do we meet them in the middle? How do we tailor our approach so that it's a great working relationship?"

— Khushboo Patel
One of the challenges in attracting, retaining, and elevating underrepresented talent is that, in large part, many companies are still expecting the next generation of leaders to be more like the legacy model. Leaders from underrepresented groups can be perceived to be quiet, and lacking in gravitas, or, conversely, they can be judged as too aggressive — a largely unwelcome personality trait for women and people of color. Either way, they can struggle to be heard in meetings, build trust, maximize their performance, and convey confidence.
"It's great to get people in the door but if you're saying the only way to move up is to act like every other leader who came behind you or in front of you, that's not diversity. That is not authenticity."

– Amy Weaver
Striking the right tone can be a balancing act. Trying too hard to act like a more traditional leader can feel uncomfortable and inauthentic. Yet being yourself can also end up backfiring — especially if you're in an organization where you are among the first underrepresented leaders in a senior position.
With so many expectations, how are underrepresented people supposed to find their way?
Weaver, who has had a number of senior roles in her career, including Executive Vice President and General Counsel of Univar Solutions Inc., and Senior Vice President and Deputy General Counsel at Expedia Inc., says finding your leadership style is a constant evolution. It takes practice and patience. Weaver is a soft-spoken person. Years ago, in preparation for an important meeting with a senior male executive, her mentor advised her to use four-letter words and demand what she wanted. She refused. It didn't feel authentic and she didn't think it would work. She was right. She went in as herself, highlighted her record, and got what she came for.
"It's not enough to say niceness isn't a weakness," Weaver says. "We have to treat it as a strength. We've got to reward the people who are acting this way. We need to elevate them, make sure that is the behavior we are modeling, and not for a second think that it is a negative."
Sometimes, you need to give yourself and the people around you some grace as you find the right approach.
"We've got to show that there are different ways to lead. A leader does not have to be the loudest. A leader does not have to be pounding the table. They do not have to be the person who's speaking the most. We've got to make room for that and encourage that. We've got to make room for the fact that there are going to be different ways of succeeding."

– Amy Weaver
Patel added that this goes both ways: When you "have the floor," you should go out of your way to ask others what they think — especially those who haven't spoken up in a while. Then listen to what they say. That will go a long way toward building a culture where people aren't afraid to speak up when they disagree with the rest of the room. "When you're feeling empowered to speak your mind, you have psychological safety to voice your opinion and concern," says Patel.
Lately, multiple companies and investment firms have been in the news for decisions they made that were counter to the organizations' historical norms and stated values. Those decisions ended up putting them in precarious situations where billions of dollars were put at risk. Much has been written about the idea that there must have been people in those rooms who disagreed with the choices being made, but didn't feel they could state their opinions without experiencing backlash.
"Existing leaders need to look around and leverage all the people around them and ask, 'Who is missing? Who is integral to this decision? Who can add value to this company, this firm, or this initiative? Are the right folks at the table?"

– Khushboo Patel
The biggest takeaway from Weaver and Patel is that if you are an emerging leader and you look and sound different from the historical standard, don't be dismayed. There are allies and advocates all around you. Stay true to your values. And when you have the chance, extend the same opportunity to the next generation.
For more takeaways from Uplift, visit: salesforceventures.com/uplift
Technology
A Seemingly Endless Appetite for the Cloud
Since 2009, our mission at Salesforce Ventures has been to invest in the most innovative cloud companies and founders around the world and support them in their efforts to reimagine the future of enterprise technology. Each year our team meets with thousands of cloud companies and speaks with hundreds of CxOs and experts in our network. And while we always believed in the impact and potential of the cloud, we've never seen growth like we've seen in the past twelve months.
Cloud companies are handily blowing through previously-set records across every measure — whether it's product adoption, growth rates, or large customer deployments. While best-in-class companies would previously target 3x year-on-year growth, we're now seeing outlier companies that are growing revenue 5x-10x per year. And the timeline from inception to $100M ARR has never been so short. Growth-stage companies that would typically model annual growth declines year after year are now seeing an acceleration in revenue growth — something we had historically rarely seen in SaaS.
In 2021 we invested in a number of next-gen software companies that have exceeded even our most ambitious expectations, including Aiven, BetterUp, Drata, Miro, Monte Carlo, PopMenu, Vercel, and Wiz.
Even still, the potential ahead of us appears to be far greater. According to Morgan Stanley, only 25% of application workloads are running in the public cloud today, representing a significant growth opportunity. In a recent survey of CIOs, Morgan Stanley noted that in the next three years, that figure could rise to 44%.
The public markets may have pulled back from technology in recent weeks, but based on our internal research, we believe enterprises will continue to be big buyers of software and that the long-term holds great promise for the cloud. We are investing accordingly: this past year we invested ~$1.7B in capital and welcomed Slack Fund. In the same period, 22 of our companies were acquired and eight went public.
As we've written previously, the global pandemic necessitated a trend toward remote and hybrid work, which continues to drive demand for cloud technology. However, at the same time, there is also a broader and more permanent sentiment shift toward working in the cloud that is rooted in the belief that the cloud enables more efficient, more resilient, smarter ways to do business.
Salesforce Ventures has obviously been bullish on the cloud for more than a decade, but even we are amazed to discover how many of our companies' addressable markets have rapidly expanded over the past couple of years and are now far larger than anticipated.
As we look back on the companies we partnered with this year, we've realized that the fastest-growing cloud companies have a few things in common:
They're building mission-critical solutions
They're inventing and mastering new growth strategies, including product-led growth and community-building
They foster more online collaboration between internal and external teams
Here is a little more context on how some of the fastest-growing cloud companies exemplify these trends.
#1: It's hard to say no to mission-critical software
As enterprises adopt more and more cloud technology and expand their multi-cloud environments, they're coming up against new challenges such as data management and security. Companies that help CIOs and data teams manage and extract value from their data or help keep CISOs out of the news have become critical.
#2: Product-led growth and passionate communities create incredible flywheels
Hyper-targeted marketing and tailored online customer journeys make it easier than ever to attract individual users, who invite others to join them and create the adoption flywheel known as product-led growth. Buying power has shifted from top-down, CxO-driven decisions to sales processes that are driven by the end-user. As individuals and teams try to solve problems to improve their own workflows, they are increasingly relying on communities to help them find the best solutions.
#3: In a fast-moving, remote-first, global economy, cloud-based collaboration is imperative
When all or most of your work is done in the cloud, collaboration software is the new office. It's no wonder the collaboration software market, valued at $28 billion, is growing 15% annually. Last year, Keybanc published a survey in which 67% of CIOs said collaboration is their #1 budget priority. Salesforce Ventures has been actively investing in tools that increase productivity for teams, whether they're in person, remote, or hybrid.
Values-driven companies continue to win
Salesforce Ventures invests according to our values, including a focus on social responsibility, sustainability, and diversity. We are proud to partner with companies that lead with their principles. We've introduced a DEI clause in all of our deal agreements with founders to ensure alignment upfront. We routinely check a company's Glassdoor rating before making an investment decision, and we will walk away if we believe the company's values don't align with our own.
Onward
If we've learned anything these past two years, it's that change is the only constant. Cloud technology helps workers learn, respond and iterate faster, giving their companies a competitive edge. The future for the cloud is wide open and we're here for it. Come talk to us.
Here's a closer look at 2021: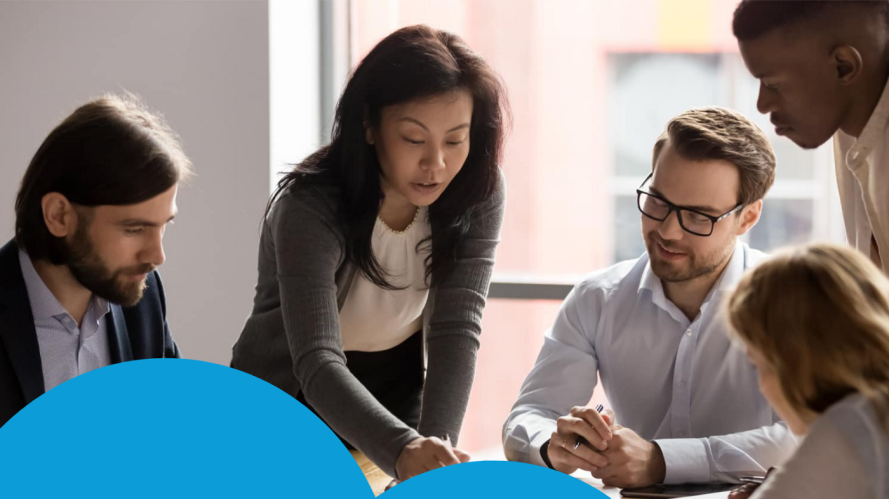 Technology
Always Be Connecting: Five Lessons on Building Sales Teams
We recently hosted a Salesforce Ventures Advisor Roundtable on sales leadership and strategy for our portfolio companies, led by Michael Corr, AVP of Sales at Salesforce. Michael has been with Salesforce for ten years and manages a book of business worth more than $200 million.
Michael has built a reputation as the kind of leader who not only consistently delivers results, but also recruits and enables high-performing, diverse teams, and accelerates their progress and career trajectory.
He shared his lessons on sales leadership, including building a sales team culture, best practices for hiring and training future sales all-stars, leading for operational excellence, and achieving accountability through reporting.
Here are his five actionable takeaways:
1) Always be recruiting
Michael is a power user on LinkedIn. While some people simply write a spec for an open position, share it on LinkedIn, and wait for the candidates to roll in, such a reactive, passive approach doesn't work for Michael.
Instead, he invests time each week in proactively reaching out to people he's met in the past and maintaining a connection with them. That might mean a casual ping on LinkedIn, congratulating someone on a great quarter, or responding to one of their posts. "It's that simple touch that says to them, 'This guy cares about me and wants me to come over when I'm ready.'"
He also recommends putting in the time to create relevant content. Michael wrote a blog on culture that he asks recruiters to share with passive candidates as a way to attract inbounds.
2) To find hidden talent, widen your lens
Many enterprise sales leaders come from other enterprise sales teams. Before joining Salesforce, however, Michael was a customer engagement leader on the PGA Tour. Having joined the company as an industry outsider, he places a high value on team members with varied backgrounds and fresh perspectives.
Diversity is a top priority for Michael, who intentionally maintains a 50/50 gender split on his team. He says hiring hasn't been a challenge because he's built a reputation as a leader who is intent on helping his team learn fast and advance in their careers. He's a frequent poster on Slack and Chatter, where he publicly congratulates his team on their wins to show others what's possible. "If you promote them, they will come," he says.
Widening your hiring lens may mean bringing on people with broader experience and less history in enterprise sales, but he and his team put a lot of energy into training new team members so they can bring in new deals quickly. As part of this effort, when new sales reps joined Michael's team pre-COVID, he gave them a directive: If you see a salesperson walking to a conference room holding a laptop, follow them. Ask to sit in so you can listen to them pitch and learn how they handle objections. Now that people are working from home more, he recommends new sales reps being even more intentional, paying attention to whose calendars are full, and asking to Zoom shadow and participate in meetings.
3) Foster happiness
When Michael starts a new meeting with someone on his team, instead of asking, "How are you?" he says, "Are you happy?" Michael feels this question is essential to a flourishing team. "I've never seen one unhappy AE get to their number," he says.
Rather than thinking of happiness as an arbitrary measure of emotions, Michael defines happiness as "the joy that I feel in pursuit of my full potential." He recommends everyone read the book, The Happiness Advantage by Shawn Achor, which helped shape his perspective on life and leadership, and connects happiness to a sense of purpose.
Michael's personal goal is to know everyone he's working with for the rest of his life. Getting to this level of trust and intimacy requires putting in the time and effort to create a culture of belonging, safety, and inclusion. He sees the workplace as a constant feedback loop. This includes a monthly "trust tree conversation," during which he asks everyone to share their experiences at work and let him know if there's anything the organization can do better to support them and their goals.
4) Don't just sell something — help someone!
We all know it's been a difficult and unpredictable year. The same is true of your customers and prospects. Remember the context of what they've been through before trying to push them to spend more money with you. What can you do to help them? How can you show them that you're thinking bigger and helping them solve more than one problem? "There has to be a story attached to every interaction of why this is beneficial for them to move forward," he says.
Michael is always looking for new ways to add value for customers outside of the sales cycle. One approach? Educating the customer. He and his team created an interactive training session for CFOs on "How to create a recurring revenue model." If customers feel like you understand their business and are working to help them make or save money, you're planting seeds of trust. "You need to earn my trust before you sell to me," he explains.
"We have an embarrassment of riches when it comes to experts at Salesforce," says Michael, referring to the many industry leaders inside the company who have experience solving problems for an array of businesses. "Bring those people to the table and put them to work."
5) Work the numbers
Michael spends a lot of time looking at data but some numbers matter more to him than others. He doesn't like surprises and looks for high accuracy on your forecasts. In other words, "You're doing a good job if you can call your number on the 15th of each month within a standard deviation of +/- 10%."
Michael pores through the numbers on a daily basis using a custom screen of his team's deal flow he calls "Candy Crush" because of all the custom colors indicating different signals. If he sees a red flag, such as a sales cycle that's been dragging, he reaches out to the AE to find out where they're stuck and does whatever he can to help — without taking over to force the sale. It's important to him that his team grows the sales muscles they need to succeed: "If they hit their potential, I get closer to mine."
"The teams I manage are successful because I do not manage the revenue, but manage the people who manage the revenue," he says.
The lessons Michael shared of how to lead with values when building and managing high-performance sales teams are surely something teams of all sizes can learn from!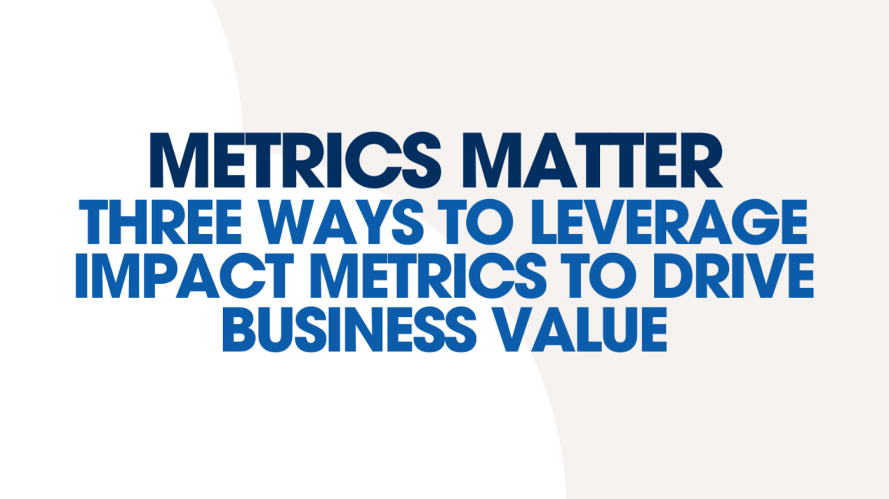 Technology
Metrics Matter: Three Ways to Leverage Impact Metrics to Drive Business Value
There has arguably never been a more important moment for businesses to be a force for good, and financial firms and investors are taking note. In 2019, a study found nearly 80% of global investors focus more on sustainability now than they did five years before; and a review of more than 2,000 studies showed a strong correlation between the performance of environmental, social, and governance funds and positive investment returns.
Since 2017, the Salesforce Ventures Impact Fund has been investing in innovative companies that drive positive, measurable social and environmental impact with financial return. We invest in the most disruptive startups delivering solutions across education and reskilling, climate action, diversity, equity and inclusion, and enabling tech for nonprofits and foundations.
Social impact is no longer a "nice to have" — it's central to business. The global COVID-19 pandemic is accelerating the pivot for companies, from only thinking about their shareholders to mandating for all its stakeholders — including communities and the planet. Operating "business as usual" has become a risk.
We spoke with some of our portfolio companies to peel back the curtain on how to leverage impact data and transparently disclose impact metrics, in a way that builds on their standard business and KPI metrics. Whether companies have no idea where to begin, are just beginning to track impact metrics, or are seasoned pros looking to reiterate on strategy — the unique examples below are a great place for companies to start.
1. Center your operational strategy around your impact.
"Impact is our business. Impact is our value proposition."

Benjamin Levine, Head of Data Science at FutureFuel.io
FutureFuel.io exists to crush student debt for America's 45 million borrowers through its platform that empowers users to better manage and accelerate the pay down of their student debt through a holistic and programmatic approach, based on each user's individual finhealth context. They leverage their impact metrics around the company, from the sales team pitching their product, to their leadership speaking to investors before the next funding round.
For example, a fintech start-up's users who leverage FutureFuel.io save an average of $260 per month, while members from one of the largest financial wellness platforms globally are saving their users $491 a month. On an individual level, the impact is equally staggering. A single mom of three will save $115,000 over the life of her loan, after exploring and acting upon her student debt management options via the platform.
During a time of mass unemployment and daunting financial distress, their impact metrics are central to their operations and a key component in successfully recruiting more members.
2. Leverage third-party auditors to substantiate real-life impact.
"We used independently-run randomized control trials to verify our theory of change, to understand if our intervention was really making a difference."

Wendy Gonzalez, CEO at Sama
No one said measuring impact would be easy, and AI training data company Sama knows this first-hand. Sama provides job training that teaches workers the skills needed for digital work, grounded in the belief that dignified, digital, living-wage work is more efficient at reducing poverty and empowering women compared to aid/donations.
They partnered with the Massachusetts Institute of Technology and Innovations for Poverty Action to complete a comprehensive randomized controlled trial (RCT) — often referred to as the "gold standard" in research — to evaluate their breadth of impact (i.e., how many people were hired) and depth of impact (i.e., how much wages increased). The RCT study validated Sama's theory of change and found that after Sama intervention, workers receiving both training and a job referral see almost 40% higher earnings and 10 percentage points lower unemployment than the control group. They were also able to identify gaps, refine their strategies, and take these findings to their investors, stakeholders, and communities.
For companies debating whether to run their own trials, Sama recommends first conducting a thorough review of your business to understand the ways in which you do or do not create positive social and environmental impact. For companies that are just starting their social impact journey, you may find that you have been creating a positive social impact all along.
3. Enable and empower team members to make the most of your impact data.
"Lived experience is a key data set at SameSkyHealth, and we make sure everyone on our team can access these critical insights to scale our impact."

Dr. Vik Bakhru, COO/CFO at SameSky Health.
Translating and navigating the U.S. healthcare system — even for native English speakers — can be a daunting task. The consequences are very real, with a disproportionate number of people waiting too long before seeking medical care, if they engage at all. SameSky Health creates value by connecting healthcare providers and insurers with patients in a way that centers their culture and meets their language needs.
The SameSky Health approach to engagement utilizes public data, client data, SameSky Health's cultural expertise data, and impact data from previous campaigns — totaling 2+ million data points across 30+ languages and cultures. The data tracked from campaigns include the number of appointments made, patient/member feelings (positive or negative toward client), patient self-reported care, and opt-outs. The data tracked for community insights include broadband access, reduced lunch program enrollment, Federal Poverty Line stats, transportation access/vehicle ownership, cultural prominence in the community, languages spoken, food/pharmacy/clinic dessert, crime rates, dominant cultural attitudes toward healthcare, type of phone number on file (landline vs mobile), cultural attitudes towards diet, exercise, gender and family roles, and more.
Making this data available company-wide allows all SameSky Health teams to leverage the latest stats and facts to drive more impact for the patients they serve. Patient Operations, the frontline outreach team, uses it to measure campaign results. Client Relations shares performance dashboards with their clients. Sales shares outcomes to develop sales leads. Marketing utilizes data to support thought leadership and update investors. Executive Leadership uses data to support points with policy experts and other thought leaders. When the data is readily accessible, teams are empowered to iterate and improve upon their strategies to scale their impact.
We're extremely fortunate to work with companies at the tip of the spear, driving impact in communities and also leading in collecting and analyzing their social impact. As investors who are keen on staying up to date on our portfolio's metrics, we built a Salesforce solution to structure, collect, and visualize our portfolio's impact. We believe in using technology to drive transparency and invite others to provide feedback and join us on the journey. Check out the Salesforce Ventures Impact Fund's metrics in Salesforce's FY21 Stakeholder Impact Report that we just launched last week.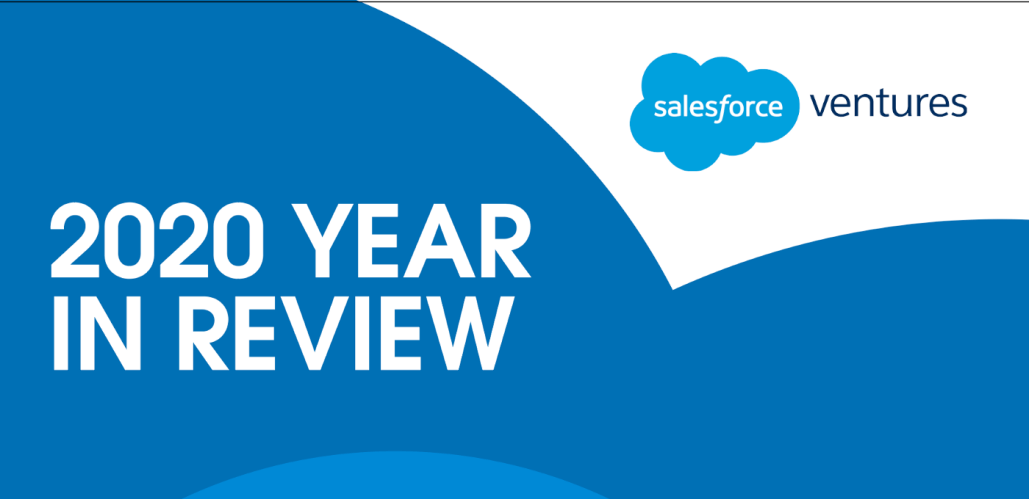 Technology
Hindsight in 2020: The Unexpected Urgency of Adopting Cloud Technology
Salesforce Ventures was founded on the belief that the surest way to spark growth and boost customer success is to accelerate the expansion of a cloud ecosystem and support startups that drive innovation. Since then, our thesis has been both well-tested and well-proven. Indeed, the pace of change is accelerating and transitions we thought would take decades are happening right now.
In 2020, we found ourselves in a period of unexpected change, including a sudden switch to remote work and accelerated adoption of cloud technology. Digital transformation became an urgent imperative. When it counted most, the utility and value of the cloud were universally confirmed, and enterprises that embraced digital transformation were made more resilient, efficient, and adaptable.
We also witnessed enterprise technology leaders step forward to stabilize and support their customers, employees, and partners — leaving them even stronger than before. We conducted two surveys of cloud CEOs this year and learned that churn turned out to be lower than expected; and in Q2, when executives had a clearer picture of how the pandemic was impacting their business, almost all of them forecasted they would reach 76% of their plan or more for the year; up from 30% forecasting as such when we asked them in March.
Reflecting on the past ten years makes it clear how far we've come and how much has changed. When we first started investing more than a decade ago, cloud-based software was still a relatively small piece of the overall tech industry. The next decade will be even more transformational. We are only in the beginning stages of the transition to the cloud, and there is a long way to go before the world is fully cloud-native.
We're keeping our eye on several trends set to shape the coming decade, and we plan to invest accordingly:
Data as the linchpin of digital transformation 2.0
To achieve the promise of Digital Transformation 2.0 and Customer 360, you need a holistic view of your customer data. As companies around the world continue their data transformation and bring on more cloud applications that generate and consume data to analyze every aspect of their business, an opportunity has emerged for solutions to seamlessly manage all that information. A number of Salesforce Ventures-backed companies are driving this innovation, including Auth0, BigID, Crossbeam, and Snowflake.
Apps that bring more flow
We will see fewer monolithic products as applications continue to become more cross-product, cross-functional, and cross-cloud. This will lead to collapsing workflows and functionalities across different departments. A number of Salesforce Ventures-backed companies are driving this innovation, including Qualified, Workato, and Automation Anywhere.
Artificial intelligence and automation
As AI matures, we expect more cloud startups to build automation into more products to improve predictive capabilities and product usability at scale. Interfaces will continue to improve and data entry will become more automated — so employees won't need to log in as often, yet the quality of data will improve. A number of Salesforce Ventures-backed companies are driving this innovation, including Airkit, Process Street, Gong, Qualified, and Outreach.
Remote work and collaboration
Technology never moves backward. Long after the pandemic is over, a number of newly-learned, tech-enabled behaviors are likely to become societal norms. One of those is an increased reliance on remote work. Supporting distributed teams will require continued investment in virtual communications and experiences, data sharing and security, and tools that enable remote sales and service — anything that supports laptops in the field. A number of Salesforce Ventures-backed companies are driving this innovation, including Auth0, Hopin, Tanium, Talkdesk, Outreach, and Qatalog.
Investing with Values
Salesforce Ventures is driven to lead with our values, incorporating social responsibility, sustainability, and diversity into our investment process. Our goal is to contribute to the creation of a more resilient and inclusive economy — one that ensures the long-term wellness of citizens, drives job creation, protects against future shocks coming from climate change, and breaks down systemic barriers across race and gender.
Out of a desire to address the extremely low representation of Black professionals in technical, leadership, and investing roles, we co-founded Black Venture Institute, which aims to 5X the number of Black check writers in three years. We also announced $100 million of intentional capital to empower cloud companies led by Black and underrepresented minority founders and launched a new $100M Impact Fund to continue to invest in companies solving the world's most pressing challenges.
Looking forward
As 2020 comes to a close, we are appreciative of the resiliency, ingenuity, and generosity of our Ohana — and grateful for our partnership with you. At Salesforce Ventures, our goal is to help the entire cloud ecosystem flourish. If you're building a cloud company in the areas in which we invest, we'd like to hear from you.
Here's a quick look back at our year: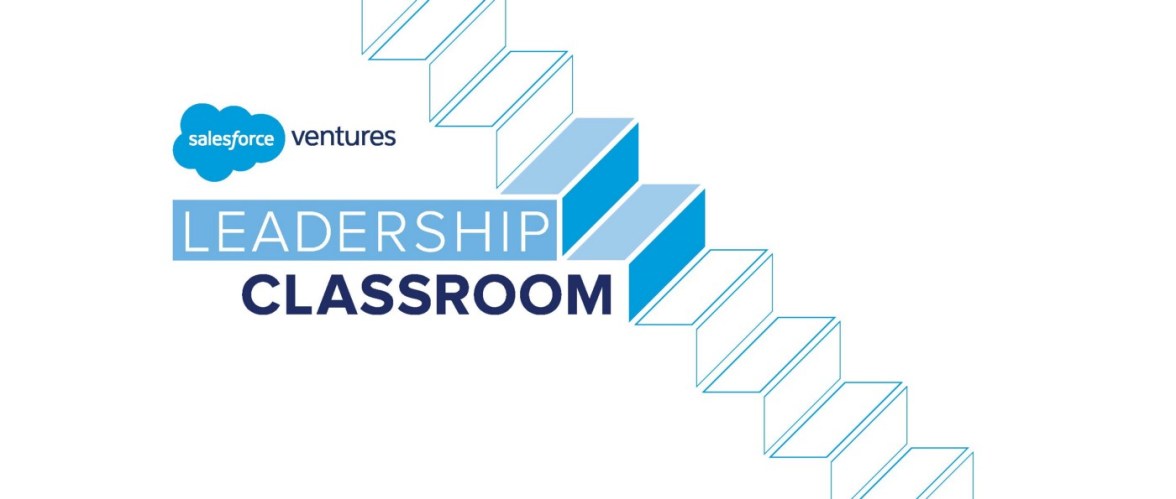 Technology
Carry Your Own Torch — and Then Light the Way for Others
Navigating the workplace as a manager is challenging as it is, and even more so in a year where we all find ourselves interacting through screens. The complexity of that experience is even further compounded when you don't look like, or have a similar background to colleagues or others in the industry. We created the Salesforce Ventures Leadership Classroom to foster an inclusive learning environment and to support and develop the careers of women.
Our Leadership Classroom events are unique in that we aim to bring together top talent at the mid-management level — such as VP or Senior Director — on their journey to executive leadership. Earlier this month, we hosted the first Leadership Classroom event in EMEA after a successful gathering last year in San Francisco, CA. We invited a small group of 35 female leaders from Salesforce Ventures-backed companies to join us and take away strategies to navigate their workplaces, learn from other women in leadership, and develop a career-planning toolset. We thought that some of the leadership lessons will be useful to others and wanted to share a few of our takeaways:
Building a career with patience, while staying hungry
One of our first sessions was a discussion with Angelique de Vries-Schipperijn, EVP of Sales and CEO of Northern Europe for Salesforce. Angelique shared her leadership story and lessons learned; she spent an incredible 24 years building her career at SAP before joining Salesforce in 2019. Building a career inside one company is not very common these days; women, in particular, switch companies more frequently in order to reach a meaningful jump in salary and position in an effort to achieve gender equality in the workplace.
Angelique's career represents the antithesis. Her approach was to stay hungry and ambitious within one organisation, while being patient on the journey to specialisation and having a meaningful impact. She urged everyone to "stay hungry in paradise;" to celebrate our wins, yet continue to look ahead toward the next challenge.
"Keep moving," she told us, "Stay true to yourself, but really keep moving. That means that you're continuing to challenge yourself and learn things. The curious mindset is important."
When is it the right time to consider a switch or ask for more responsibilities? Angelique recommended seeking out mentors who are willing to push you once a position gets too comfortable.
Fitting in while staying true to yourself
Staying true to ourselves in our workplaces and as a leader can be challenging, especially as a woman. Diversity in opinions and backgrounds has been found to be directly linked to business success and performance, nevertheless, many of us feel the need to fit in and hide aspects of our personality, interests, or origins.
Our second speaker, Mandy Hickson, shared some of her experiences as one of the first female pilots to be accepted into the British Royal Air Force. Mandy furthermore spoke about the importance of supporting upcoming female talent to develop and express their own identity and to feel comfortable showing vulnerability.
For Mandy, her experience with her team and being able to rely on them was super important. She gave us her perspective on teams, telling us:
"The one thing that binds all teams is Trust: the formula for trust is credibility, reliability, intimacy, and selflessness."
The importance of mentorship
Having mentorship during one's career was a recurring theme throughout the event, whether by more senior managers, colleagues or another role model. Mentorship and role models played an incredibly important part in Noella Coursaris leadership journey. Today she is the CEO and founder of Malaika, a non-profit organisation that supports the education and wellbeing of young girls in the Democratic Republic of the Congo. We were inspired by her investment in creating the future generation of female leaders and community advocates. Noella encouraged everyone to embrace their power to inspire other female leaders.
"Leadership is about creating a generation of leaders — for the girls to carry their own torch and to become leaders in their own communities and countries," she said.
Our goal is to support the next generation of leaders that are essential to the growth and success of some of the most exciting tech companies around the world. If you are part of the Salesforce Ventures ecosystem and would like to be considered for inclusion in upcoming Leadership Classroom events, we invite you to reach out to us at salesforceventuresevents@salesforce.com.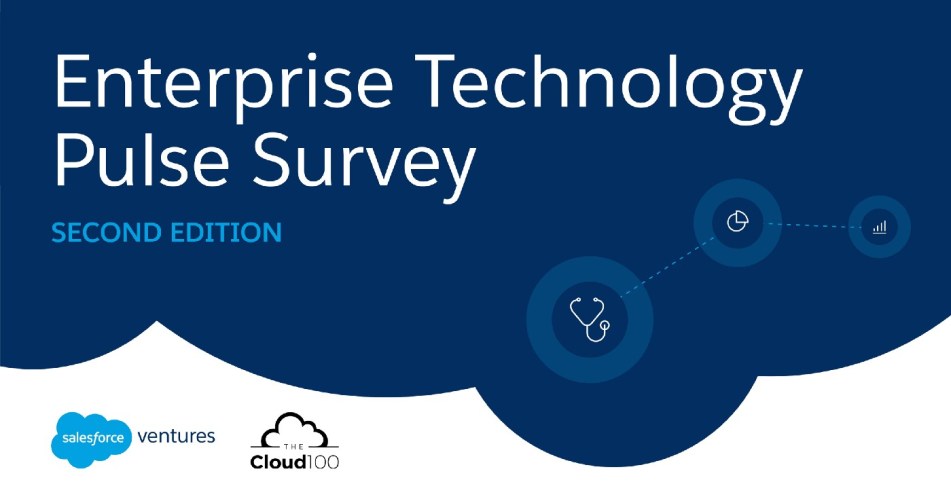 Technology
Renewed Optimism in Enterprise Tech: The Latest Enterprise Technology Pulse Survey
For the full findings in an interactive Tableau dashboard, click here.
As the world began to experience the effects of COVID-19 earlier this year, we surveyed enterprise cloud tech CEOs in March and many were bracing for the worst. Thankfully, increased demand for digitization in the last two quarters has led to renewed optimism, as enterprise software is proving to be more resilient than initially forecasted.
Last month, during the same week of the successful IPOs of Snowflake and JFrog, Salesforce Ventures announced the fifth annual Forbes Cloud 100 list, which saw the average valuation of its ranks more than double since its inaugural list, from $1 billion in 2016 to $2.7 billion in 2020. Nine out of every ten companies on the list this year are worth more than $1 billion.
In this second edition of the survey, Salesforce Ventures surveyed the CEOs of 90+ enterprise technology companies to gauge their sentiments about their businesses, their customers, and the state of the markets. The survey was collated and administered by our portfolio company, SurveyMonkey. We asked CEOs about their go-to-market strategies, bookings, and churn, as well as their plans for hiring and remote work. The CEOs surveyed were from leading Salesforce Ventures portfolio companies and/or CEOs from companies recognized on the Cloud 100. You can see the full Tableau dashboard with findings here.
Our chief finding: While some sectors are still struggling and cutting spending, others are looking to technology to help them reposition and/or improve their businesses. Enterprise cloud companies are benefiting from rapid shifts toward online processes, including banking, transactions, and supply chain management, as well as distance learning and virtual communications.
We found three key takeaways worth highlighting:
#1 Digital transformation has momentum — and urgency
Despite a bleak outlook in March, when surveyed in September, nearly 90% of CEOs noted an acceleration in digital transformation and attributed it to the pandemic. About half of them believe the pandemic has created a tailwind for their business, and of those, half also believe that tailwind will fuel growth into 2021. About half of the CEOs surveyed believe their customers' digital transformation budgets have increased. That said, not everyone is out of the woods: Of the 39% of companies experiencing a headwind, 12% believe it will have "a lot of negative impact" while the majority (76%) believe that it will have "a little negative impact" for 2021.
#2 Bookings and customer retention are stronger than expected
In all, Q2 was far better than many expected, with 64% of CEOs reporting they were at 76% or more of their plan, versus the 30% forecasting as such in March. Expectations for Q3 are trending positively, 87% of CEOs are forecasting at 76% or more of plan. Moreover, the majority of CEOs think they will see less than 5% increase in churn.
Nearly 60% of CEOs surveyed said they shifted their sales strategy as a result of COVID-19 — an improvement from our March survey when 84% expected to do so. In September, two-thirds of CEOs reported that they lowered their sales team quotas, compared to 30% in March. Three out of four say they will not be adjusting compensation for their sales reps. Of the 25% who stated that they will adjust compensation, 75% said they will implement those changes across the board (versus individual sales reps). Each CEO's strategy of how to handle reps under quota varies widely.
Fundraising was another positive. One out of three CEOs said they raised their latest funding round within the last six months, during the pandemic — and of those, 38% completed the process with meeting new investors only virtually.
#3 CEOs are optimistic about their workforce
Signs of growth and optimism are aligning with hiring plans and views on remote work. When surveyed in March, 67% of cloud CEOs expected to implement a hiring freeze and/or layoffs, yet in September, fewer than 25% have done so or plan to in the near future. Nearly three out of four CEOs plan to increase hiring for sales positions. Of those, 41% say they will add more than 20% to their existing sales headcount.
Remote work has proven to be a much smoother transition than feared. Nine out of ten CEOs surveyed continue to be optimistic about working remotely: 87% plan to operate under a hybrid model with employees both remote and in physical offices. Only 13% operate as or plan to operate as fully remote. As a result, half of the CEOs surveyed say they expect to reduce office space.
The past seven months have brought a truly unique set of challenges. With so much changing day-to-day, it's been difficult to make prudent strategic decisions and long-term plans. We hope you find this survey to be useful as you contextualize your own business, and we wish the best for you and your teams.
If you would like to drill down into more detail on our findings, we welcome you to view all the findings here. For the best experience, view the findings on a desktop. We plan to make this a biannual study, repeating some questions as a way to gauge evolving plans, as well as introducing new ones based on the business climate and relevant topics at the time.
If you have specific questions you'd like us to ask in our next survey, please email us here.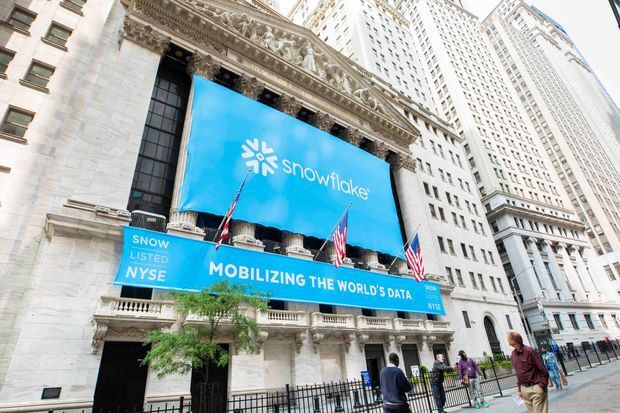 Technology
Data is the Linchpin of Digital Transformation 2.0
If Digital Transformation is the act of modernizing your enterprise by converting old paper-based processes to smarter and more efficient cloud applications, Digital Transformation 2.0 is the act of securely and privately connecting the data from all of these digital processes to create a 360° view of your customer across all touchpoints and interactions. Digital Transformation 2.0 harnesses the power of data and unlocks the potential of artificial intelligence, business intelligence, and automation to deliver strategic insights that weren't possible before.
Salesforce Ventures has been investing in companies that advance the next wave of digital transformation for some time, and our February investment in Snowflake, a cloud-based solution that breaks down data silos and enables cross-organizational data storage, sharing, and analysis, is a great example of that. We congratulate Snowflake on its achievements, including this week's IPO.
We're excited to share that in addition to our previous investment in the company, Salesforce Ventures has invested an additional $250 million in Snowflake.
This year, with so many things being upended, disrupted, and redefined, we're seeing digital transformation happen much faster than we ever imagined. The pace of change is accelerating. Transitions we thought would take decades are happening right now.
Digital Transformation has clearly become an urgent imperative, and the next step, Digital Transformation 2.0 — leveraging the full value of customer data — is critical to its success.
We believe Snowflake is a foundational component of Digital Transformation 2.0. Last year the company brought on Frank Slootman, former CEO of ServiceNow and Data Domain, to be its CEO. Snowflake's revenue for the six months ended July 31, 2020, jumped 133% from the year prior, to $242 million.* The eight-year-old company counts more than 3,100 customers, including Adobe, Capital One, and Sony. Customer satisfaction is incredibly high: Snowflake reports net retention of 158%* and a net promoter score of 71, which we believe is significantly above the industry average. (For more on our investment thesis and Snowflake, you can check out the post we wrote about our initial investment in the company here.)
To achieve the promise of Digital Transformation 2.0 and Customer 360, you need a holistic view of your customer data. In addition to warehousing data with Snowflake, Salesforce provides seamless enterprise integration with MuleSoft and business insights through Tableau, as well as Salesforce Ventures' investments in Automation Anywhere, Alation, BigID, Privitar, Workato and more.
Last year, Salesforce Ventures invested in Automation Anywhere, which uses machine learning and artificial intelligence to automate specific tasks, such as managing invoices or populating data into Salesforce from other sources.
We've also invested in companies that help enterprises manage data at scale, such as Alation which allows data science, data engineering and analyst teams to structure and query data across different information sources within an enterprise, and Workato, which gives business users the power easily build workflows across all the silos where data resides.
Privacy and security are paramount when you're sharing data across different apps and teams. To help enterprises rethink their approach to their most valuable assets — their data — we invested in Privitar, which makes it possible for organizations to protect and analyze their most sensitive data, and BigID, which automates data compliance and transforms how enterprises find, track, secure and govern their customer and employee data.
When all these apps come together, you can extract even more value from your existing apps. A business intelligence tool like Tableau, for example, becomes supercharged: Instead of a dashboard that represents specific parts of your business, such as your sales pipeline or the number of customer service cases, you can now see how your entire business is performing.
We believe the promise of Digital Transformation is more attainable than ever. Enterprises of all sizes can access high-performance software that helps ensure customer success at scale; enable richer collaboration between and within teams; draw insights from an endless stream of data; leverage machine learning; satisfy regulatory requirements; build predictive, personalized sales and marketing programs; amplify the power of their workforce, and keep global production and supply chains moving — all while seizing emerging opportunities in a rapidly changing environment.
Footnotes: *according to its S1. **as of July 31, 2020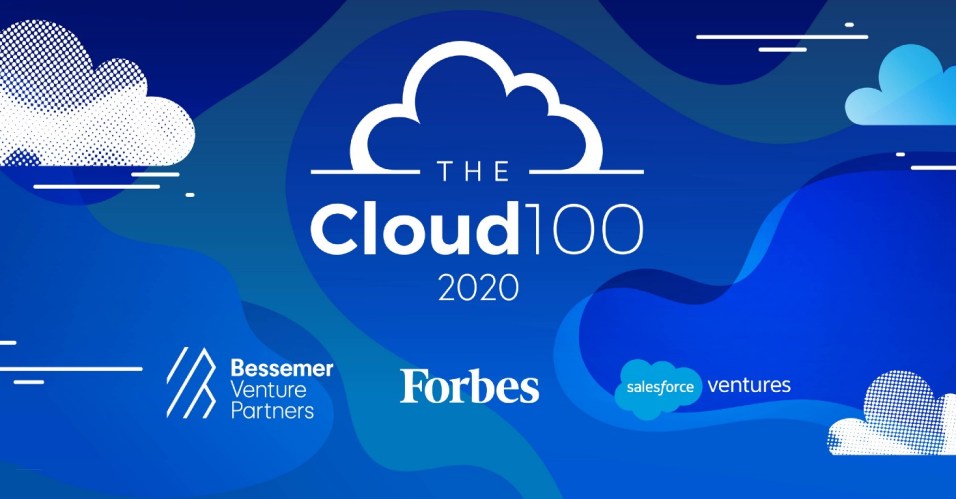 Technology
The Rise of the Cloud: The 2020 Forbes Cloud 100
This morning, for the fifth year in a row, in partnership with Forbes and Bessemer Venture Partners, Salesforce Ventures is excited to reveal the 2020 Cloud 100, the definitive list of the world's top 100 private cloud companies and the 20 rising stars poised to join their ranks. We're proud to be part of the global cloud community and appreciate the opportunity to honor and recognize these companies and their achievements.
It's an understatement to say that the cloud industry has seen tremendous growth. Today, 25 publicly-traded SaaS companies carry market capitalizations of more than $10 billion — up from three just five years ago. Since the last Cloud 100, eight companies have graduated from the list, Salesforce Ventures-backed companies nCino, which went public in July at a $2.8 billion valuation, Plaid (acquired by Visa for $5.3 billion), and Vlocity (acquired by Salesforce for $1.3 billion).
In record time, we've already seen two companies graduate from the list. This morning, JFrog ($FROG), #14 on this year's Cloud 100 list, listed on Nasdaq. This year's Cloud 100 #1 honoree, Snowflake ($SNOW) also listed its shares on the New York Stock Exchange this morning in a blockbuster IPO. When we first invested in Snowflake last February, we shared why we are so excited about how they are ushering in a new data-centric era of cloud technology. Asana and Sumo Logic also recently filed to go public.
Even as many cloud technology companies have been seeing success, society has been facing several global crises all at once — a health crisis, an economic crisis, a crisis of racial injustice and a climate crisis. The cloud industry is offering solutions to new problems, as well as old ones that have been exacerbated. In a recent survey of Salesforce Ventures portfolio companies and Cloud 100 CEOs, 86% said they believe the pandemic has accelerated digital transformation, and more than 50% of them said they are seeing tailwinds in their own businesses.
We see the bar raised each year to be part of the Cloud 100 list. Over the past five years, the average valuation of a Cloud 100 company has more than doubled, from $1 billion in 2016 to $2.7 billion in 2020. Of the 100 companies on the list this year, 87 are valued at more than $1 billion — more than double the number of unicorns on our inaugural list in 2016.
Cloud 100 companies are leading the way in digital transformation, helping enterprises re-imagine everything about their businesses.
As data becomes an ever-more critical component of digital transformation and automation, companies that help enterprises solve data-related problems will continue to grow. We recommend keeping on eye on Automation Anywhere (#20), which uses natural language processing, image recognition and other advanced technologies to automate tasks from billing to managing the flow of customer data; BigID (#93), which automates data compliance and transforms how enterprises find, track, secure and govern their customer and employee data; and Zapier (#24), which connects disparate apps, making it possible to automate workflows between them.
With so much data being shared across data warehouses, internal organizations and partners, security and compliance issues are front and center. We believe Tanium (#12), a unified endpoint management security platform; Snyk (#86), a developer solution that quickly finds and fixes security issues; and Auth0 (#19), a solution for developers that authenticates and authorizes their applications and APIs, stand to benefit from increased demand.
Companies that offer solutions for virtual collaboration and communication for employees, as well as sales, customer service, and retention, were well-represented on the Cloud 100 list this year, including Salesforce Ventures-backed companies Gainsight (#88), Gong (#71), Highspot (#98), Outreach (#81) and Talkdesk (#53).
Retail, sales, and banking processes were already moving online, but shelter-in-place and a flight from cash to convenience quickened the evolution. Payment processing platform Stripe (#2); digital lending platform Blend (#64) and international payment network Airwallex (#61) are making it easier for enterprises to make the transition to cloud-based transactions and services.
We hope you'll join us in congratulating all the companies who earned a spot on the Cloud 100 this year. The opportunity to help organizations modernize their businesses continues to grow as enterprises around the world have come to realize that digital transformation is no longer a competitive advantage; it's an urgent imperative.
For more on The 2020 Cloud 100, including recaps of our virtual summit with some of the world's top cloud CEOs, visit bit.ly/2020cloud100.
Archive main content for default archive pages