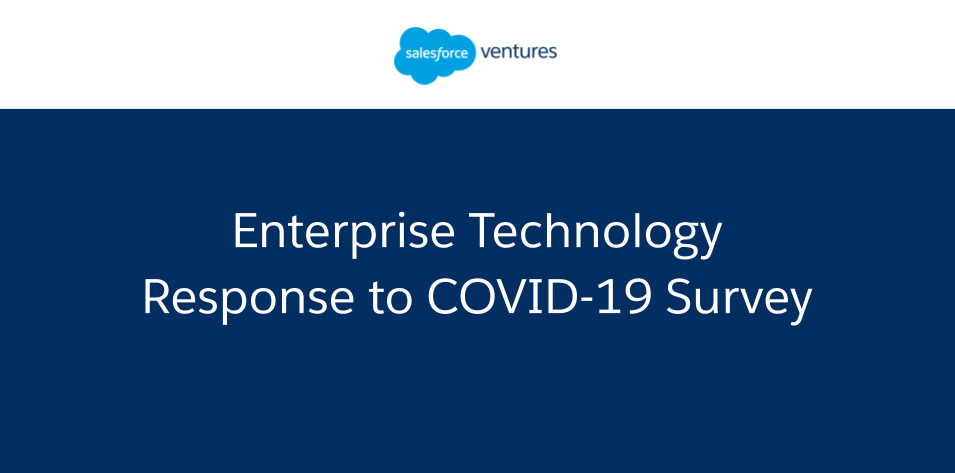 perspectives / Insights
Enterprise Tech CEOs Share How They Are Responding to COVID-19
Salesforce Ventures surveyed its portfolio of enterprise technology startups to learn how CEOs are leading their teams through these uncertain times.
Startup leaders are used to leading through uncertainty, but COVID-19 brings even more challenges in the most uncertain environment most of us have ever experienced. On top of technical risk, market risk and competition, startup leaders now need to care for and manage employees at a distance, pitch and service customers over video conference, and craft new forecasts and plans in an ever-changing landscape. Questions abound, yet answers are few.
At Salesforce Ventures, we are committed to doing everything we can to support our startups in their missions. In an effort to share best practices around some of the tough decisions startups are facing, we surveyed our portfolio and asked about everything from bookings and hiring to sick leave policies and internal communications.
All 66 respondents are CEOs of Salesforce Ventures portfolio companies, ranging from seed stage to series D+. Our survey was administered and collated by our portfolio company, SurveyMonkey. Of course, all companies and their situations are unique. Our hope is that this report helps CEOS and leadership teams contextualize the way other startups are handling the crisis.
You can find the full report, including resources, charts, and details below.
We've summarized some of the key findings in four categories:
Taking Care of Your Employees
Companies of all sizes around the world are challenged to support their employees' physical and financial well-being. Most are working hard to make sure employees have what they need to get through this stressful time including offering additional benefits to employees. 80% are providing additional resources to employees, ranging from reimbursing them for home office equipment to communicating new empathetic cultural norms, like normalizing children coming on-screen during a video call.
We also found companies are communicating frequently with their employees: 80% of respondents are holding company-wide meetings at least once a week to keep their teams updated.
Even though shelter-in-place mandates led to an abrupt adoption of working from home policies, 88% of respondents say they are more optimistic than they were before about the efficacy of remote work, and many are getting creative about helping employees feel connected.
Taking Care of Your Customers
When we asked what our companies are hearing from customers, respondents said their customers are citing uncertainty about the business and economic climate, budget freezes and cuts, and pending downsizing plans as some of their concerns.
Transparency and trust continue to be important themes. About a third of respondents say they have been communicating at least once a week with their customers about their COVID-19 strategies — more often than the frequency with which they've been reaching out about technology, product, and business updates.
Taking Care of Your Business
The vast majority of survey respondents — 84% — are shifting their sales strategies in expectation of budget cuts due to the COVID-19 crisis. Many of these changes are coming in the form of increasing efficiency in the sales process to adapt to the times.
Unsurprisingly, many respondents expect a significant slowdown this year. More than 40% of them expect 2020 bookings to decrease by 26% or more; another 15% expect bookings to be flat; just 11% say bookings will likely increase.
Survey participants also report making adjustments to accommodate customers that have been negatively impacted by the COVID-19 crisis. Slightly more than a third of our respondents report implementing payment deferrals for customers that need the extra time.
Taking Care of Your Community
In spite of increased pressure, many startup leaders and their teams are looking to reach out to people in their community and do what they can to support people who are more vulnerable right now. Nearly two-thirds of respondents are offering discounts or free services to non-profits, government institutions or others focused on COVID-19 efforts. Others are looking to give back by volunteering virtually. We've shared some resources in the hopes that they will be helpful during this time.
Onward
We recognize the situation is changing rapidly and in a few weeks, much of the underlying information in this report could change. At Salesforce Ventures, we are working with our portfolio companies, Salesforce leadership, and our customers, to stay up-to-date on industry developments. As we learn more, we plan to continue to share with the community.
Despite what is sure to be a difficult period in the near term, we continue to be optimistic about the long-term future of enterprise technology and the SaaS ecosystem and believe in these industries' ability to accelerate efficiency and growth. Someday, things will be better. Until then, let's help each other work it out.