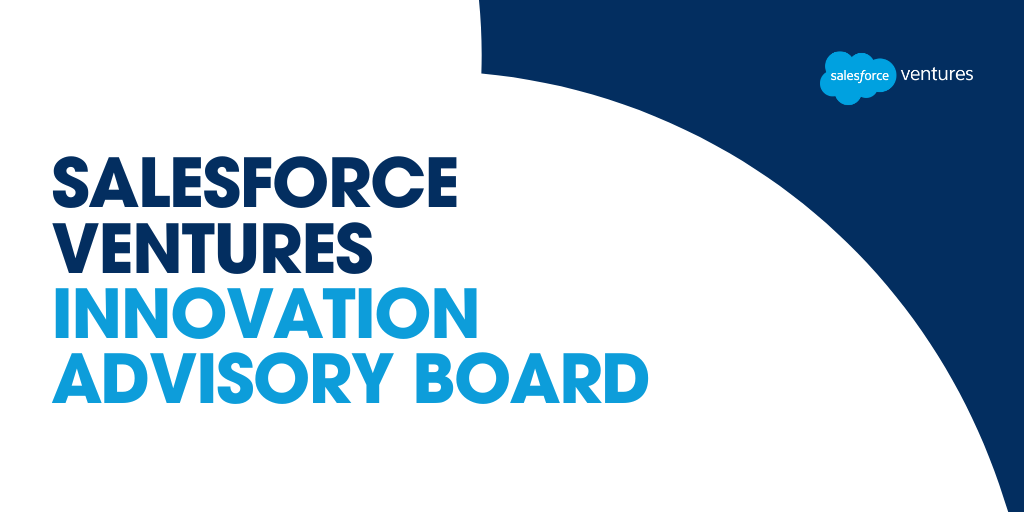 perspectives / News
Strengthening the Enterprise Ecosystem: Welcome to the Salesforce Ventures Innovation Advisory Board
Today, we're thrilled to introduce the Salesforce Ventures Innovation Advisory Board, a consortium of executives and technical leaders from leading public and private companies looking to solve their biggest technology pain points and enhance their digital transformations.
The Innovation Advisory Board (IAB) is a curated community where, alongside Salesforce Ventures, members will share insights, leverage decades of learnings from peers, and facilitate key connections to drive innovation in the enterprise technology ecosystem. Membership in the IAB provides Salesforce customers and industry leaders a unique vantage point into how innovative companies in our portfolio are transforming entire industries – and access to emerging technology products to scale their own transformations.
Meet the Members
The Salesforce Ventures Innovation Advisory Board is composed of prominent technology and innovation executives representing Salesforce customers across a broad range of industries – from banking and energy, to technology, consumer goods, and pharmaceuticals. Members include:
Ajit Naidu, EVP, Chief Information Officer – Retirement, Marketing & Digital Client Technology, TIAA
Chet Mandair, Chief Information Officer, Guidewire
Clifford Foster, Head of Analytics, Healthcare, Google
Diane Levin, Chief Information Officer, McCormick & Co.
Eric Hansen, Chief Information Officer, Waste Connections
Gil Perez, Chief Innovation Officer, Deutsche Bank
Heath Price, Associate Chief Information Officer, University of Kentucky
Janhavi Rao, Managing Director, Group Chief Technology Officer, Barclays
Keith Robinson, Chairman, EMEA Technology Banking, Barclays
Kirk Keaffaber, Head of Digital Health, Biomedicines, Eli Lilly
Madura Wijewardena, Vice President, Strategic Development, Comcast
Mike Juma, Managing Director, Head of Principal Trading Technology, UBS
Noam Tasch, Global Head of Digital Partnerships & Strategic Investments, BNY Mellon
Sanjay Chandra, Vice President, Information Technology, Lucid Motors
Shvet Rawla, Director of Strategic Initiatives & Partnerships, FedEx Dataworks
Vikram Somaya, Chief Data and Analytics Officer, PepsiCo
"The IAB has been a valued resource, providing us with unique insights and perspectives from emerging leaders and innovators in enterprise technology," said Noam Tasch, Global Head of Digital Partnerships and Strategic Investments at BNY Mellon, and member of the IAB. "Closely engaging with top companies across multiple industries and business profiles – including Big Tech, startups, and the venture capital community – helps BNY Mellon keep its finger on the pulse of groundbreaking technologies and digital transformation strategies that ultimately drive value for our clients."
"Today, consumers demand more relevant, personalized, and streamlined experiences as they quickly move between the physical and the virtual retail world. This transition requires a deep understanding of data and analytics – and increasingly complex management systems," said Vikram Somaya, Chief Data and Analytics Officer for PepsiCo. "The IAB provides a forum for tech leaders that manage sensitive consumer data to learn from each other and work to improve data and analytics culture across industries."
For companies in our portfolio, this is an opportunity to engage more closely with that broader ecosystem, building strategic partnerships and further driving digital transformation.
"Large enterprises are undergoing a fundamental shift in the ways they access and analyze data, and it has become increasingly important to dialogue with technology leaders at these companies to better understand the challenges they face," said Justin Borgman, Chairman and CEO of Starburst, a Salesforce Ventures portfolio company, which presented to members at this year's inaugural IAB Summit. "The IAB is a uniquely valuable platform for us to understand how our tools are being used and where there are opportunities to increase collaboration across the ecosystem."
"The IAB has been a mutually beneficial forum where we can gather feedback from some of the industry's most innovative data leaders to understand their data quality challenges as we further scale our product and the broader data observability category to meet these demands," said Barr Moses, Co-Founder and CEO of Monte Carlo, a Salesforce Ventures portfolio company.
A Forum for the Enterprise Ecosystem
In an increasingly interconnected world, it is critical for business leaders to maintain ongoing dialogue around managing risk – from supply chain issues and labor shortages to tighter regulations around environmental impact and international trade. The IAB also offers members a forum to engage with peers across sectors to discuss macroeconomic, regulatory, environmental, and technological challenges facing every industry.
IAB members gather and meet through curated Emerging Technology Demo Days tailored for member companies and, for the first time this year, at the annual Innovation Summit. The inaugural summit featured panel discussions on a range of timely topics, including data democratization in large multinationals, use cases for blockchain and Web3 technologies, and frameworks for building, buying, or partnering for digital transformation.
Attendees at this year's summit – including leaders from companies such as Deloitte, Eli Lilly, and TIAA – also had the opportunity to discuss the growing need for business process automation at scale, cloud data security, the digital customer experience, and how to empower a culture of innovation at large enterprises.
Since 2009, Salesforce Ventures has invested over $5 billion in leading enterprise technology companies at every stage in their journey, including Airtable, Databricks, DocuSign, Guild Education, Hopin, monday.com, nCino, Snowflake, Snyk, Stripe, Tanium, and Zoom. We believe that this ecosystem is only as strong as the partnership and feedback between these companies – innovators who are revolutionizing enterprise technology – and the companies leveraging that technology to improve their own businesses.
The Salesforce Ventures Innovation Advisory Board aims to be a long-term conduit of partnership and transformation in the enterprise technology ecosystem. In line with Salesforce's core values – Trust, Customer Success, Innovation, Equality, and Sustainability – we aim to empower the growth and transformations of our customers, our portfolio, and the broader ecosystem.
For more information, please reach out to salesforceventuresportdev@salesforce.com or visit salesforceventures.com.