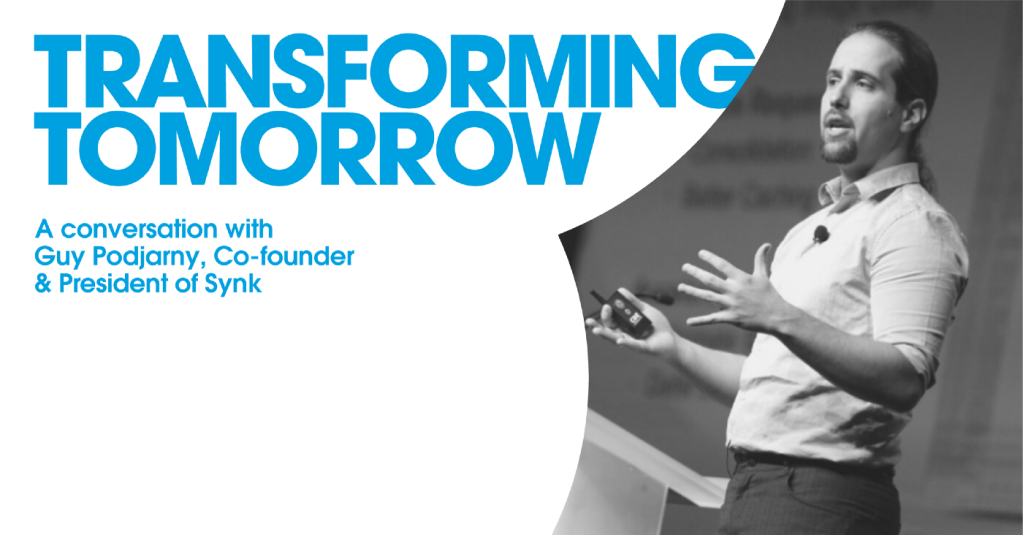 perspectives / Portfolio
Transforming Tomorrow by Salesforce Ventures: Co-founder and President of Snyk, Guy Podjarny
Transforming Tomorrow is a series where we share lessons learned from the leaders of the enterprise technology companies shaping the future. Co-founder and President of Snyk, Guy Podjarny, shares lessons on his journey as a second-time founder, most recently at Snyk, a $2.6BN security company.
As an entrepreneur does it get easier the second time around? How should you handle skepticism from VCs? And how do you decide to hand over the reigns as CEO of the company you started?
Guy Podjarny has faced all these questions. He is co-founder and President of Snyk, a company built on the idea of embedding security in the code development process. After raising $7 million in a March 2018 Series A, the company is now worth $2.6BN following its recent Series D — and has raised more than $450M in funding. We're delighted to have backed the company in their Series B at the end of 2018 and to be part of their incredible journey. Along the way, Guy has made decisions that were bold and oftentimes non-obvious.
I wanted to know more about his path, so I spent some time with him to talk about what led him to create Snyk — and what has made the company so successful.
Ignoring (and Winning Over) Skeptical VCs
Most great companies are founded on the back of some key insight or big idea. It's usually something powerful yet simple enough that anyone can understand it.
In the case of Snyk, this insight came with deep domain expertise. Guy had spent over 10 years working on application security (with stints at Sanctum, Watchfire and IBM Rational Security). He then moved to the world of web performance and became part of the DevOps revolution that was taking hold. It was the culmination of those two experiences that led to his "aha" moment. Guy questioned and challenged the paradigm that existed in the security industry, and it was this new framing that made Snyk so appealing to us when we first met the team.
"I realized that the way to get developers to embrace security is to build a developer-tool company, not a security company," he says, "a company that puts the developers' needs and the developers' experience at the center."
Despite their success today, Guy and his co-founders Danny Grander and Assaf Hefetz heard mixed reactions when pitching their idea initially. The feedback from VCs was that developers won't care about security and that there's no money to be made in developer tooling. But Guy persevered with a level of conviction that we see from the very best founders.
"I felt like the destination was an inevitability," he says. "So fundamentally, we have to be secure, and we will continue building faster and faster software. Maybe I succeed and maybe I fail, but this will happen. Either I do it or somebody else does, but it will happen."
For Guy, it was a question of when not if. As an investor, I love these moments when an entrepreneur you meet has such a high sense of purpose and clarity that you can't help but imagine the future with them as they disrupt an industry.
Lessons from the Second Time Around
There's no single mold for being a successful entrepreneur. Being a repeat founder can help, however (though it doesn't always). Guy's first startup (Blaze Software) was a front-end web optimization company that was acquired by Akimai where he subsequently became CTO.
"I was keen to do something that matters, and to try and go big with the second one," he says. "The more I was told it can't be done, the more convinced I was that it needs to be."
The second time around, entrepreneurs get a bigger leap of faith from those around them. Guy has also been able to leverage his network of investors and early hires when building Snyk. Most importantly, he admits that being a repeat founder gives you more confidence in your own skills.
How can you learn how to swim if you're a first-time founder? There's no real substitute for the real thing, but you can at least shortcut key lessons by surrounding yourself with people you can learn from at every turn and who can help you grow. And whether it's your first company or your fifth, remember that this becomes your life's work so do something you're insanely passionate about. Otherwise, what's the point?
Being a Product Led Company
One of the hardest decisions any company makes is when to aggressively invest in sales & marketing. There's certainly no one-size-fits-all approach here, but Snyk's growth path does shed light on some important lessons.
First, by focusing on the developer experience first and foremost, Snyk found its true calling before the windfall of revenue that propelled its hyper-growth. Guy feels putting off monetization was critical to getting the bottoms-up motion established, and even then did so alongside expanding the community-led reach to two or three additional developer ecosystems.
So it's absolutely fine not to focus on revenue in the beginning. For Snyk, building product depth at the expense of breadth was a huge long-term advantage. Today they have over 1.5M developers in their community because of that user experience.
With buying patterns in technology also changing, it's important to keep in mind that the buyer and user of your product might not always be the same. Guy realized early on that he had to offer different value propositions to each persona, and this was key to the go-to-market success of the company.
This took some time to get right. Guy acknowledges that he wasn't aware in the early days that sales and marketing are a product in their own right, and that they also require significant investment.
"You can't just hire marketing and sales leaders and then have good marketing and sales off the bat," he says. "It's a product that requires iteration, so you need to hire it not too soon but sufficiently soon, sufficiently early."
Knowing When to Bring in a CEO
One of the hardest decisions any founder makes is whether to bring on another CEO. It's an intensely personal decision, but as Guy showed, you're better off making it when things are going well.
Guy had grown from 23 people to 84 people in one year, and was on track to reach 250 employees by the end of the following year. Being self-aware paid off handsomely though.
"My energy as CEO was almost entirely focused internally, and I perceive myself as a product guy," he says. "I think I have a pretty good ability to understand where the community is headed, where the market is headed, and help mobilize the troops. The company needed this forward-looking focus, and I was the right person to provide it, but as CEO I didn't have that time."
In other words, Guy had no time to do what he loved the most. He was doing that as part of his "3% time" at the edges instead of making it his core focus. At that point, he realized he wanted to bring someone in who could help operate the company at scale.
"I did some introspection as part of that, and I realized that being a CEO is not my journey. It's not what I want, not how I identify. If anything, I'm probably closer to a CTO. So it was actually not as hard for me to give up that title as it might have been for others."
He and Peter McKay, Snyk's current CEO, also have a history of working together in multiple capacities over the last 15 years. They had both worked at Watchfire previously (where Peter was CEO), and Peter was also an investor and Board Member in Snyk. So when the opportunity to bring Peter on board as CEO presented itself, Guy jumped on it.
"Just because the situation is good doesn't mean it can't be better, so you don't need to wait until you're failing as a CEO to choose to change gears," he says. "You need to think about what can be better, and in my case, being CEO wasn't the best thing for the company. What's good for the company is good for me."
Indeed, the combination of Guy and Peter has been incredibly powerful as they compliment each other so well. Importantly, they share the same values which has been so fundamental to building the culture at Snyk. As investors, we believe that great teams build great companies.
Guy continues to spend a big part of his time on hiring, as well as broader strategy and execution. In his view "helping us add the right people to the company, or preventing the wrong people from joining the company, is one of the most valuable things that I can do."
Despite Guy's prior success, he remains incredibly humble and ambitious today. Maybe most importantly, he's exceptionally self-aware as an individual, which has allowed him to continuously re-invent himself on the path to making Snyk an enduring company.
For me, one of the key lessons is that when you're introducing something truly unique and disruptive as part of a new paradigm, it doesn't seem obvious at the outset. For Snyk, what has sustained this path is deep conviction along with obsessive focus on customers and product, while at the same time continuously ensuring that the team is the very best it can be across every single function. We're so grateful to be part of this journey and can't wait to see what the future holds for Snyk and their customers.
Follow @SalesforceVC on Twitter and LinkedIn. For further insights on the enterprise SaaS landscape and additional founder spotlights, follow me on Twitter at @alexkayyal.