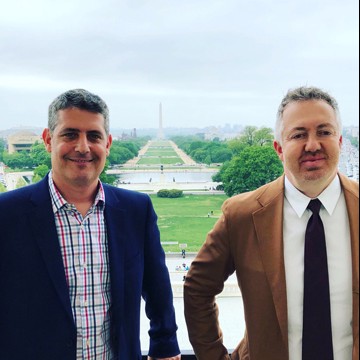 perspectives / Portfolio
Is Your Data an Asset or a Liability? Introducing Our Newest Investment: BigID
Why Salesforce Ventures Invested in BigID
Harnessing and understanding your customer data is key to driving better customer insights, and improving the customer experience. Companies that embrace digital transformation — including predictive technology powered by AI and data analytics — are better able to leverage that data. They benefit by achieving a better understanding of their customers, and customers in turn receive a better, personalized experience.
Vast amounts of data are required to provide meaningful results and customer insights for companies. Gartner predicts that by 2022, 90% of corporate strategies will explicitly mention "information" as a critical enterprise asset, and analytics as an essential competency. And as consumer data-protection laws (such as GDPR in the EU, CCPA in California, and numerous others), as well as forward-thinking corporate policies, proliferate in markets worldwide, understanding, securing, and permissioning these datasets becomes a strategic imperative.
This is why we're excited to announce that we're investing in BigID, a leading provider of customer data privacy software. BigID uses advanced machine learning and natural language processing techniques to discover, map, and catalog company data while enhancing compliance with data privacy regulations in the world of big data on a global scale.
More Data, More Vulnerability
BigID provides a critical solution in understanding your data as well as ensuring customer data privacy and protection. BigID enhances a company's ability to derive valuable insights from their data while ensuring that data is used in an ethical and legal manner.
Every year, new laws are enacted to govern the use of personal data. The EU General Data Protection Regulation (GDPR) and California Consumer Privacy Act (CCPA) — plus similar privacy regulations introduced in a dozen states — are designed to ensure that companies have control and security measures in place for their customer data. Regulatory, customer, and reputational consequences for companies that fail to meet these requirements can be significant. The reward for businesses who fully understand their customers on a 1–1 basis is massive.
These trends are driven by the fact that there is more data now than ever. Petabytes of it, much of it generated about customers by companies and stored across various corporate data silos. The volume of data, and complexity of repositories, make data vulnerable to being lost, misplaced or otherwise misused.
Traditional data-discovery tools — while helpful workflow tools for managing known sensitive personal information — are not set up to discover personal information (PI) and personally identifiable information (PII) required by these privacy laws. Data that is often buried deep in complex, unstructured data lakes. There is simply too much data for current tools to easily find and assess a specific individual across so many information sources. These new regulations require enterprises to understand whose data they have, where that data is, and to have clear policies documenting why they are collecting it. Many companies are not equipped to meet these demands.
BigID = Big Picture
In BigID, we see the potential for using ML and NLP techniques to find hidden and uncatalogued customer information and ultimately create a more complete picture of that customer. With these insights, a company powered by BigID can more easily spot privacy risks and ensure data is being used properly — as well as allow you to understand your customer base to the fullest.
As businesses, we have an ethical and legal responsibility to protect our customers, while simultaneously providing them the best possible value and experience. Data is key to helping us serve customers better — and BigID is key to unlocking and protecting your data.
To that end, we see BigID as a necessity for any company that values its customers, following regulatory and industry best practices, and corporate responsibility. Its vision of managing the data of the "whole customer" is key to the future of data-driven business. We're excited to partner with BigID as they continue to drive forward their vision of a customer-centric approach to data.
To learn more about BigID, visit: bigid.com