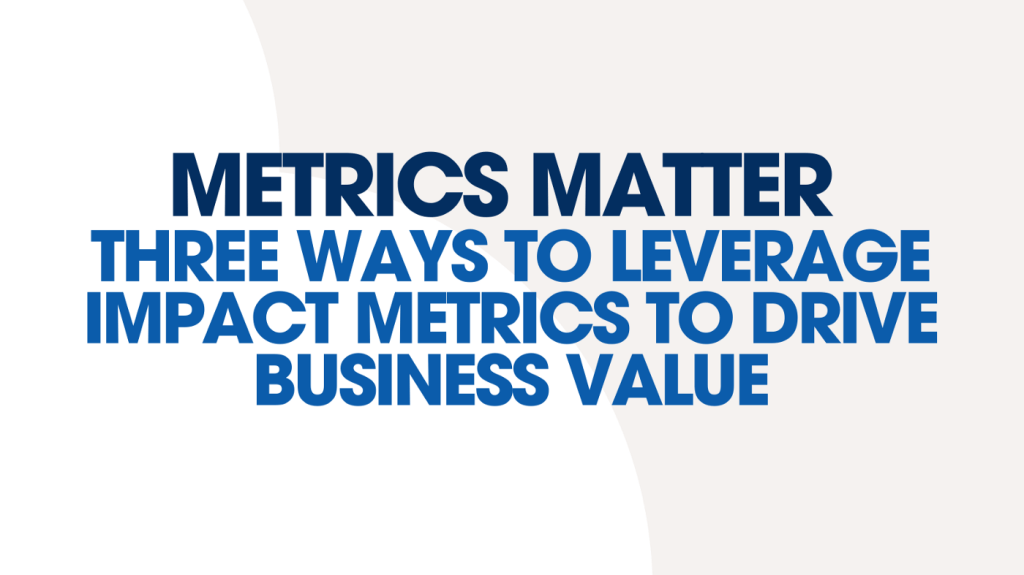 perspectives / Insights
Metrics Matter: Three Ways to Leverage Impact Metrics to Drive Business Value
Executives from FutureFuel, Sama, and SameSky Health share how they and other companies can harness the power and potential of impact measurement.
There has arguably never been a more important moment for businesses to be a force for good, and financial firms and investors are taking note. In 2019, a study found nearly 80% of global investors focus more on sustainability now than they did five years before; and a review of more than 2,000 studies showed a strong correlation between the performance of environmental, social, and governance funds and positive investment returns.
Since 2017, the Salesforce Ventures Impact Fund has been investing in innovative companies that drive positive, measurable social and environmental impact with financial return. We invest in the most disruptive startups delivering solutions across education and reskilling, climate action, diversity, equity and inclusion, and enabling tech for nonprofits and foundations.
Social impact is no longer a "nice to have" — it's central to business. The global COVID-19 pandemic is accelerating the pivot for companies, from only thinking about their shareholders to mandating for all its stakeholders — including communities and the planet. Operating "business as usual" has become a risk.
We spoke with some of our portfolio companies to peel back the curtain on how to leverage impact data and transparently disclose impact metrics, in a way that builds on their standard business and KPI metrics. Whether companies have no idea where to begin, are just beginning to track impact metrics, or are seasoned pros looking to reiterate on strategy — the unique examples below are a great place for companies to start.
1. Center your operational strategy around your impact.
"Impact is our business. Impact is our value proposition."

Benjamin Levine, Head of Data Science at FutureFuel.io
FutureFuel.io exists to crush student debt for America's 45 million borrowers through its platform that empowers users to better manage and accelerate the pay down of their student debt through a holistic and programmatic approach, based on each user's individual finhealth context. They leverage their impact metrics around the company, from the sales team pitching their product, to their leadership speaking to investors before the next funding round.
For example, a fintech start-up's users who leverage FutureFuel.io save an average of $260 per month, while members from one of the largest financial wellness platforms globally are saving their users $491 a month. On an individual level, the impact is equally staggering. A single mom of three will save $115,000 over the life of her loan, after exploring and acting upon her student debt management options via the platform.
During a time of mass unemployment and daunting financial distress, their impact metrics are central to their operations and a key component in successfully recruiting more members.
2. Leverage third-party auditors to substantiate real-life impact.
"We used independently-run randomized control trials to verify our theory of change, to understand if our intervention was really making a difference."

Wendy Gonzalez, CEO at Sama
No one said measuring impact would be easy, and AI training data company Sama knows this first-hand. Sama provides job training that teaches workers the skills needed for digital work, grounded in the belief that dignified, digital, living-wage work is more efficient at reducing poverty and empowering women compared to aid/donations.
They partnered with the Massachusetts Institute of Technology and Innovations for Poverty Action to complete a comprehensive randomized controlled trial (RCT) — often referred to as the "gold standard" in research — to evaluate their breadth of impact (i.e., how many people were hired) and depth of impact (i.e., how much wages increased). The RCT study validated Sama's theory of change and found that after Sama intervention, workers receiving both training and a job referral see almost 40% higher earnings and 10 percentage points lower unemployment than the control group. They were also able to identify gaps, refine their strategies, and take these findings to their investors, stakeholders, and communities.
For companies debating whether to run their own trials, Sama recommends first conducting a thorough review of your business to understand the ways in which you do or do not create positive social and environmental impact. For companies that are just starting their social impact journey, you may find that you have been creating a positive social impact all along.
3. Enable and empower team members to make the most of your impact data.
"Lived experience is a key data set at SameSkyHealth, and we make sure everyone on our team can access these critical insights to scale our impact."

Dr. Vik Bakhru, COO/CFO at SameSky Health.
Translating and navigating the U.S. healthcare system — even for native English speakers — can be a daunting task. The consequences are very real, with a disproportionate number of people waiting too long before seeking medical care, if they engage at all. SameSky Health creates value by connecting healthcare providers and insurers with patients in a way that centers their culture and meets their language needs.
The SameSky Health approach to engagement utilizes public data, client data, SameSky Health's cultural expertise data, and impact data from previous campaigns — totaling 2+ million data points across 30+ languages and cultures. The data tracked from campaigns include the number of appointments made, patient/member feelings (positive or negative toward client), patient self-reported care, and opt-outs. The data tracked for community insights include broadband access, reduced lunch program enrollment, Federal Poverty Line stats, transportation access/vehicle ownership, cultural prominence in the community, languages spoken, food/pharmacy/clinic dessert, crime rates, dominant cultural attitudes toward healthcare, type of phone number on file (landline vs mobile), cultural attitudes towards diet, exercise, gender and family roles, and more.
Making this data available company-wide allows all SameSky Health teams to leverage the latest stats and facts to drive more impact for the patients they serve. Patient Operations, the frontline outreach team, uses it to measure campaign results. Client Relations shares performance dashboards with their clients. Sales shares outcomes to develop sales leads. Marketing utilizes data to support thought leadership and update investors. Executive Leadership uses data to support points with policy experts and other thought leaders. When the data is readily accessible, teams are empowered to iterate and improve upon their strategies to scale their impact.
We're extremely fortunate to work with companies at the tip of the spear, driving impact in communities and also leading in collecting and analyzing their social impact. As investors who are keen on staying up to date on our portfolio's metrics, we built a Salesforce solution to structure, collect, and visualize our portfolio's impact. We believe in using technology to drive transparency and invite others to provide feedback and join us on the journey. Check out the Salesforce Ventures Impact Fund's metrics in Salesforce's FY21 Stakeholder Impact Report that we just launched last week.