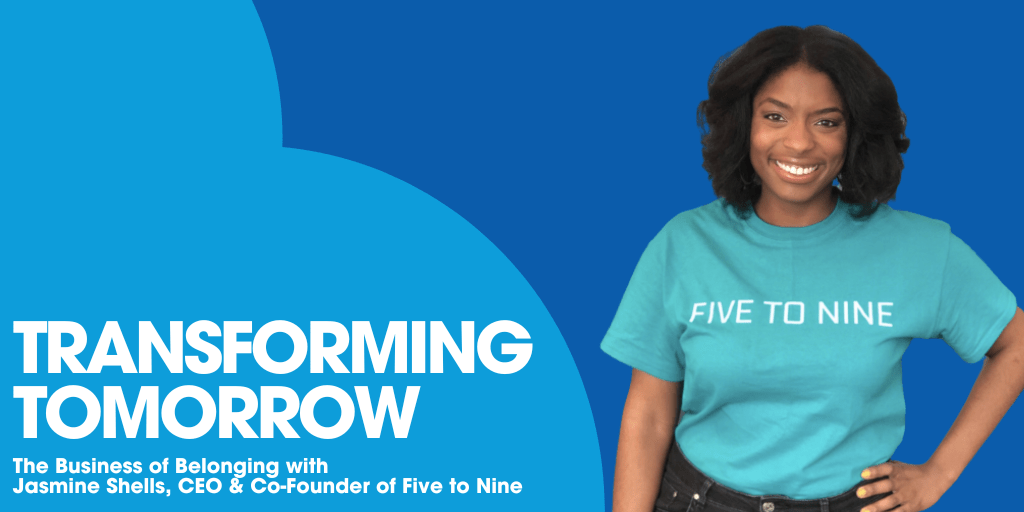 perspectives / Portfolio
Transforming Tomorrow: The Business of Belonging with Jasmine Shells of Five to Nine
Jasmine Shells, Co-Founder and CEO of event management software maker Five to Nine, is on a mission to support and elevate community builders.
Employees who work after-hours to build community at their jobs are greatly appreciated by their peers, but rarely well-rewarded by their employers. That's about to change.
By now we've all seen research showing the value of diverse teams. Organizations across the country have been making strides toward recruiting from a broader pool of talent. More recently, business leaders have focused on retention as they learned about the importance of feeling welcome at work. From The Great Resignation to The Quiet Quit, we're witnessing a broad rejection of old corporate culture rules and a movement toward helping employees feel more deeply connected to their colleagues about things that personally matter to them.
"Over the past few years, we saw different trends or shifts that put leverage into employees' hands. Employees are advocating for a workplace where they belong. It's not just 'We pay top dollar and have the best benefits,' because everyone can do that," says Jasmine Shells, Co-founder and CEO of Five to Nine. "How are you going to create a best-in-class, winning, and inclusive workplace? How do you create opportunities to connect in a hybrid world?"
"Your nine-to-five only describes a portion of who you are; we also want to know who you are outside of work. Your five-to-nine is what you want to accomplish and who you are and what you value and want to dedicate your time to."

— Jasmine Shells, Co-founder and CEO, Five to Nine
Deloitte found that when employees feel like they belong, companies see a 56% increase in job performance, a 167% increase in employer net promoter score, a 50% reduction in turnover, and a 75% decrease in sick days. In a 2021 article, a group of analysts at McKinsey concluded that when employees feel their personal purpose is aligned with their company's purpose, they are more engaged and loyal. As we wrote in our Cloud 100 coverage earlier this month, we are seeing more and more CEOs of fast-growing companies attribute a significant amount of their success and competitive advantage to the strength of their culture and community.
And yet, the work of community building, which can include building affinity groups, leading Employee Resource Groups (ERGs), connecting people through a shared sense of purpose, and generally bringing people together, is often unpaid, under-resourced and under-recognized. "More than 90% of Fortune 100 companies have ERGs, but fewer than 10% of those have any way to measure impact," says Shells. "Companies are spending thousands to millions on programming and typically have no way of measuring their impact on culture, inclusion, and the business."
Chicago-based Five to Nine aims to solve these and other problems with its event management software for the workplace. The company offers multiple tools to help your company build, manage and measure events, communities, and their outcomes. Five to Nine offers templated event landing pages, as well as contact and guest list trackers. The software is integrated with communication tools from Google, Outlook and Slack, among others, so it's easy to reach out to employees wherever they already are. Five to Nine makes it easy to send surveys, run analytics on who did and didn't show up, and compute net promoter scores.
One customer told Shells that when her boss asked for a year-end report on all of her ERG-related activities, she previously threw together an incomplete document based on memory. But after getting Five to Nine, she was able to easily work up a detailed progress report, including data and feedback to support the assertion that ERG programs were increasing employee retention for participants. Her boss was so impressed that she got a promotion.
"We care a lot about eradicating the diversity tax," says Shells. "ERG leaders are spending 15-40 hours monthly outside their jobs helping to retain the best talent, but they aren't getting paid or being recognized. When there is no data, there is no review."
Five to Nine was born from personal frustration. After college, Shells worked as an IT consultant and spent the majority of her time on the road. She enjoyed the perks, but also felt lonely and disconnected. One day, her mother told her that she had the power to do something about it. She reminded her that when her mother would take her shopping as a little girl, Shells wouldn't leave until she had chatted up everyone in the grocery store. "That conversation helped me realize that my nine-to-five and my five-to-nine don't have to be exclusive," says Shells.
Soon after that call with her mother, Shells started taking steps to create a mentorship program for employees at her firm, as well as a Black Professional Network group. Once she began rolling out those programs, she realized how difficult it was to plan events, boost engagement, and determine impact. She was juggling emails, spreadsheets and design software, among other things, but struggled to keep it all together and wondered if there might be a way to streamline the whole process.
Helping community builders become more efficient is the first step toward a bigger vision. Shells wants to launch a movement that will expand communities, increase diversity, and elevate the role to reflect its growing importance. The company hosts an annual event for its burgeoning community of community builders to network with one another and share ideas. The most recent event in January attracted more than 1,500 people from all over the country. "We started with a best-in-class product. Next up is sharing best practices and trends in the market," says Shells. "We're creating a category."