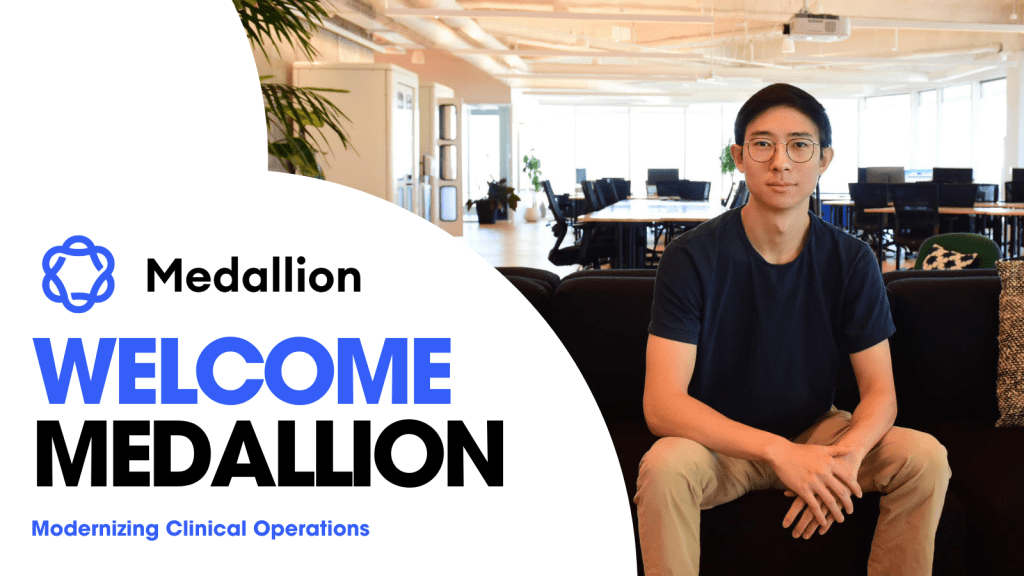 perspectives / Portfolio
Welcome, Medallion!
Our investment in Medallion, a modern provider management platform that enables healthcare companies to fully offload their clinician operations in one management platform
Clinical operations are a bottleneck for healthcare organizations.
State license management, payor enrollment, and credentialing are plagued by manual processes. Sources to verify licenses, sanctions, and important records are fragmented at both the state and federal levels. For example, obtaining a physician license to practice in Texas takes 4-6 months, and enrolling a payor takes ~90 days. To add to the burden – payors need to credential providers on a recurring basis, and once providers are enrolled, there are recurring education, ongoing monitoring, and specialty accreditation requirements.
These issues have been compounded in recent years, with the rise of telemedicine and virtual care services, which have reshaped the way that patients access care. With virtual care, providers are often practicing in multiple states, sometimes nationwide – which means they need to be licensed in all states.
The pandemic has exposed many inefficiencies in our healthcare system, acting as a catalyst for health plans, providers, and health systems to adopt new technology. Yet, when it comes to clinical operations, many organizations still rely on employees and leverage outdated legacy solutions, leading to an estimated $1T spent on healthcare administration annually.
Medallion is the first solution for healthcare companies to fully offload their clinician operations—state license management, payor enrollment, credentialing, and more—in one modern management platform.
Salesforce Ventures believes in digitizing legacy healthcare back-office operations. That is why we're proud to announce that we're joining Spark Capital, GV, Sequoia Capital, Optum Ventures, BoxGroup, and Elad Gil in investing in Medallion.
The Time Has Come to Eliminate Inefficiencies in Clinician Operations
Poor incumbent offerings resulting in costly administrative hours, a lower barrier to adopt technology catalyzed by the pandemic, and the rise of telemedicine have created a massive opportunity for a modern provider management platform.
Founded in 2020 by Derek Lo, Medallion empowers healthcare organizations to simplify, automate, and expedite their provider licensing and credentialing workflows. Medallion's first product in the market was its state licensing solution, which providers leverage to become licensed in all 50 states. The offering supports all major provider types (MD, DO, RN, NP, PA, LCSW, etc.) and covers the complete licensing lifecycle (e.g form completion, source verification, status monitoring, automated renewals, etc.) Soon after, Medallion expanded into payer enrollment and credentialing, where Medallion helps providers enroll and contract with both commercial payers and public programs, like Medicare and Medicaid. Moreover, Medallion integrates directly with primary sources (FSMB, NPDB, OIG, SAM, NPPES, etc.) to automatically verify and monitor provider credentials.
"Medallion's mission from day one has been to enable continuous, cost-effective care to patients by combining an industry-leading team of healthcare operations experts with a modern, efficient, and powerful provider network platform that health systems, payors, and virtual care organizations can rely on," – Derek Lo, founder and CEO of Medallion.
The company has capitalized on these market tailwinds and realized tremendous growth. It's estimated that the Medallion platform has saved over 250,000 hours of administrative work for leading healthcare organizations like Carbon Health, hims, Tia, Headspace Health, Oak Street Health, and hundreds more. Since Medallion's Series B six months ago, the company has doubled its employees, grown its revenue by 2x, diversified its customer base, and expanded its leadership team with key hires.
As healthcare organizations face increasing pressure to adopt technology, Salesforce Ventures sees a massive opportunity to build a next-generation software infrastructure for healthcare administration. We are thrilled to welcome Derek and the Medallion team to the Salesforce Ventures family!