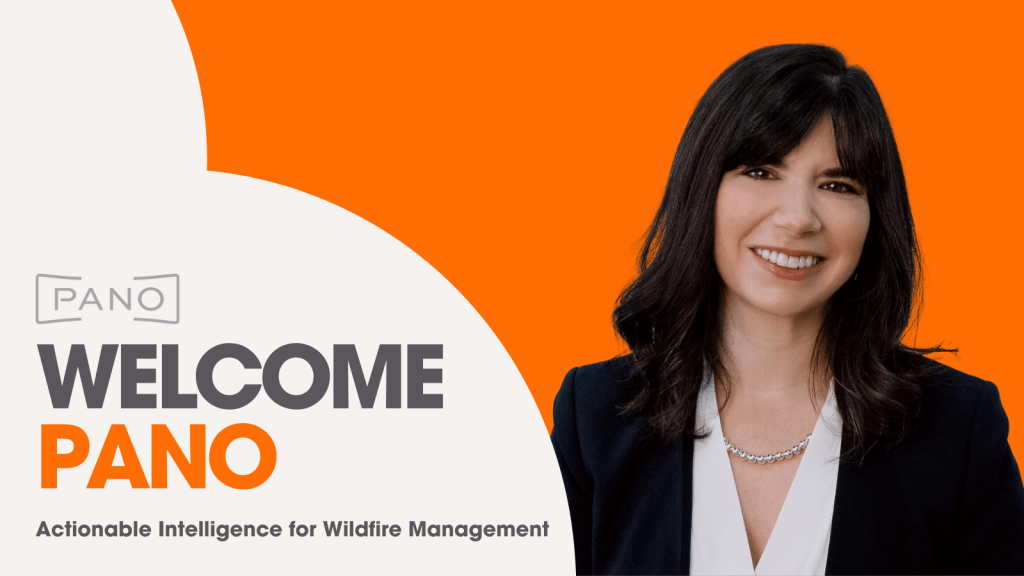 perspectives /
Welcome, Pano!
The Opportunity
At the Salesforce Ventures Impact Fund, we have been investing in climate tech for more than six years. While we remain optimistic about solutions that will mitigate climate change, we are also acutely aware of the irreversible damage from past emissions. The evidence is unavoidable, with the occurrence of climate-related natural disasters increasing at a rapid clip. In 2022, the U.S. experienced 18 separate weather and climate disasters costing at least one billion dollars each, a ~20% increase since 2018. Tragically, these events were deadly, resulting in at least 474 direct or indirect fatalities.
Climate disasters span many categories, including storms, floods, and droughts. Yet wildfires in particular pose significant risks to homeowners, land managers, and utilities. Roughly 70,000 wildfires occur in the U.S. each year, and they collectively burn an average of seven million acres. That's more than double the average acreage burned in the 1990s. And the losses incurred by states, utilities and private landowners have left them at financial risk. Most notably, PG&E filed for bankruptcy in 2019 to resolve more than $30 billion in wildfire liabilities. Just this month, wildfire smoke blanketed the Northeast as more insurance companies exited the California market due to climate risk.
The Solution
While we will continue to invest in solutions that aim to slow or reverse climate change, we also know we need to adapt. At this point, climate mitigation is simply not enough.
We met Pano AI as we began to survey the landscape of early-stage solutions to help organizations adapt to the realities of climate-related disasters. Very quickly, we understood that their platform will be critical as we navigate our changing environment over the next decade.
Pano is the first company to offer a fully integrated solution for active wildfire detection using artificial intelligence. Pano's products help authorities identify and extinguish new ignitions before they become a significant threat. Harnessing the latest developments in cameras, 5G connectivity, artificial intelligence, and cloud-based software, Pano AI provides fire agencies with real-time actionable intelligence and situational awareness to coordinate an informed rapid response. With Pano, we have the ability to identify wildfires before they escalate, safeguarding lives, communities, and the environment.
Even though Pano was only founded a few years ago, states and organizations across the country are already deploying the technology. Washington State, Portland General Electric, and Aspen Fire Protection, for example, are all using Pano to defend against wildfires. 
Why we're backing Pano
Wildfire management is admittedly a complex and challenging undertaking. But we believe that the team behind Pano is the one to do it. Sonia Kastner, the Founder and CEO, is uniquely poised to lead the charge. She is a climate tech veteran and brings a wealth of experience across both hardware and software – a rare combination. She oversaw supply chain elements for Nest products at Google, led operations at Whistle Labs (acquired by Mars Petcare), and ran procurement at solar manufacturer Alta Devices (acquired by Hanergy).
Sonia's ability to draw in top talent to Pano impressed us from day one. She has recruited Arvand Satyam, who managed sales and oversaw IoT projects at Cisco; Ryan White, who led machine learning teams at Amazon and Meta; and Michael Golub, who came from DoorDash where he led teams in Strategic Finance.
We are still early in the company's journey, but we believe this team has the skills and fast start out of the gate to scale Pano's platform.
What's ahead?
Wildfires are dangerous, but they are not the only climate-related hazard. Unfortunately, climate change will affect nearly every aspect of our day-to-day lives.
We are backing Pano not only because we see the immediate benefits of the current wildfire solution, but because we believe in the company's broader vision. Ultimately, Pano aims to be the operating system for climate disaster management. As we figure out how to adapt to the consequences of rising temperatures, we need visionary founders to build solutions to these evolving threats. We are proud to partner with Sonia and the rest of the Pano team to do just that.
Welcome to the Salesforce Ventures Impact Fund, Pano AI!