default hero for archive pages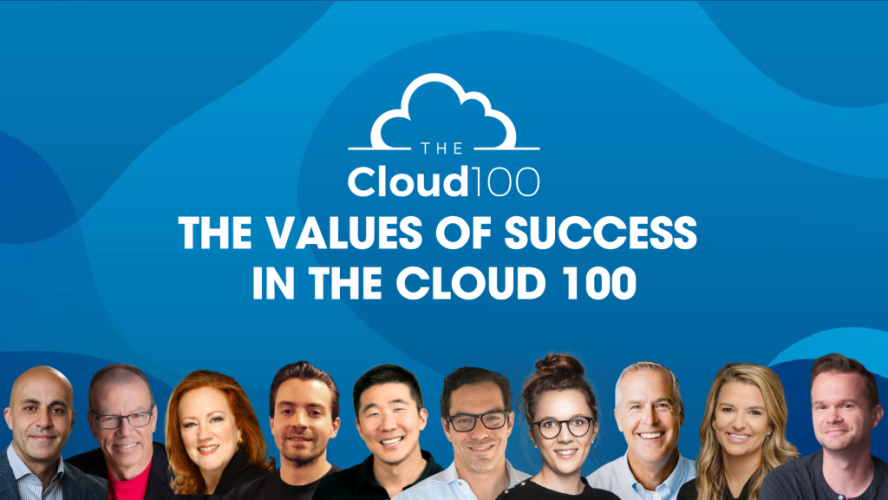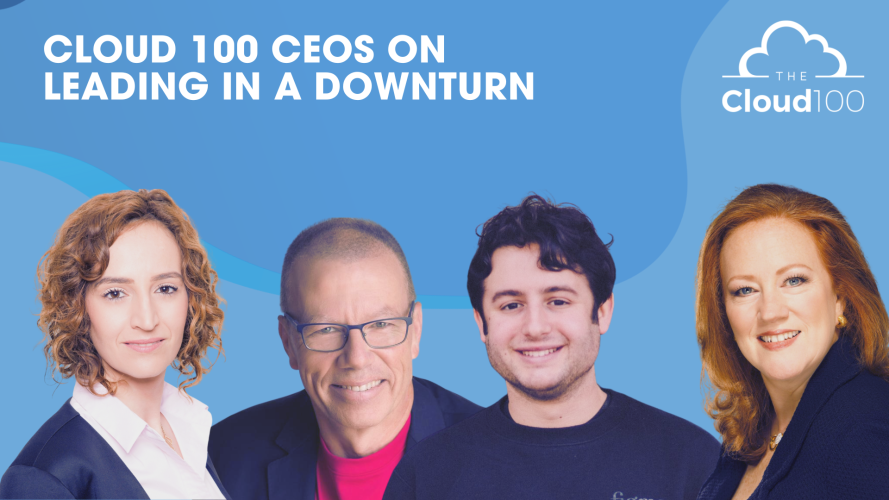 CEO Survival Guide: Cloud 100 CEO's on Leading in a Downturn
With inflation on the rise, interest rates climbing, and geopolitical uncertainty, 2022 has witnessed a dramatic market correction that has impacted economies around the world, including tech.
However, while public markets have reacted to inflated valuations, the SaaS and cloud companies are still examples of businesses with great fundamentals and spending on digital transformation is on the rise. Top leaders in the cloud strive to build faster, serve their employees in new ways, and build efficient revenue models that can weather the downturn.
Today's entrepreneurial conditions beg for not only practical advice for running successful upstarts, but also optimism to help CEOs and their teams reimagine how cloud can be a driver of innovation for the world during this time of transition.
We bring together four top cloud leaders — Dylan Field, CEO & Co-founder of Figma, Eynat Guez, Co-founder, CEO at Papaya Global, Bernadette Nixon, CEO and Board Member at Algolia, and Amit Bendov, CEO and Co-Founder at Gong.io. These Cloud 100 leaders share their stories from the trenches as they offer both strategic and tactical advice to founders on building enduring businesses. In this conversation, they'll explore:
Early stage obstacles and necessary pivots
New perspectives on talent retention
Go-to-market case studies to drive revenue
How to make the right choices for the good of the business and its people
Hear more from them here:
Transcript
Dylan: My name is Dylan Field, CEO, and Co-Founder of Figma.
Eynat: My name is Eynat Guez, CEO and Co-Founder, Papaya Global.
Amit: Hi, I'm Amit Bendov, CEO and Co-Founder of Gong.io.
Bernadette: Hi, I'm Bernadette Nixon, CEO of Algolia.
Bernadette: Hi, everyone. It's great to be here today for Cloud 100 and for this conversation. If you look at 2022, it's certainly been a crucible year for all cloud companies, and I also think for leaders and teams to showcase their potential and the vision of what lies ahead. That's so crucial for teams in this climate. Why don't we jump in with our first question? Certainly, we've all been SaaS leaders in bull markets and bear markets, but it is interesting to share how some of our priorities are shifting as we take a look at these headwinds. Maybe Eynat, could you start us off? How are things shifting for you guys?
Eynat: Yeah. 2022 is an interesting year, obviously, after quite a few years that each one of them has been interesting by herself. My three rules for these years are, first, be very pragmatic, and second, be very brave, because, at the end of the day, the decision that I take and each one of us are making our own decisions will impact our company. Be brave, be willing to stand behind them. The third is what I call "The trolley exercise." We all start, we want to travel, and we all start with quite a lot of things that we want to package, but if we want to fit into a carry-on, we need to ensure that we can take everything that is essential and critical, and fit the luggage. It's the same currently. It's making, again, critical decisions, trying to invest in the future on one hand, but also reducing the cost of everything that is not super critical for the business.
Dylan: Yeah. Bernadette, there are early stage issues that we all face, and one of them is, certainly, category creation. It's really convincing a market that they need the solution to the problem that you're selling. I'm curious, for you looking back, what's something that you feel you got right from the very start and, also, what's something that you got completely wrong?
Bernadette: There are definitely examples in both categories.
Dylan: Probably for all of us, yeah.
Bernadette: Exactly. From our perspective at Algolia, from day one, we focused on being a horizontal API product and platform. In the early days, when Nicolas Dessaigne and Julian Lemoine, our two co-founders, were incubating the idea as part of the accelerator that they were part of, there were a lot of naysayers. People were giving them advice, "You need to pick a vertical." And everybody was saying, "Go for e-commerce." But they stuck to their guns. They stuck with building out a horizontal, API first, platform that was focused on delivering a great developer experience. It was a crucial decision for the company, and, what it enabled us to do, was to have a really crystal clear positioning as a developer platform, API first, and really Search as a Service. API and Search as a Service were both very well known and understood by the developer community and then became more broadly known and understood.
Bernadette: That's one of the things that we believe we got really right from the beginning. The flip side of that coin is that we went upmarket, so a lot of companies that start with a product-led growth motion sometimes take a while to go upmarket and start a sales force. We went there pretty early, and that was really good for us, for the market that we are in. However, we forgot one thing we forgot that pricing was, actually, part of our product. And so we conflated this notion of pricing being part of our product and having to gate certain features that had applicability for all customers, but we put them and pigeonhole them in these enterprise plans to justify a price point. That did a couple of things. Number one, it slowed down our feedback loop from the market, and secondarily, it stifled our PLG, our product-led growth business, for a little while. We solved it, but it is definitely something we'd advise people not to do, based on our own experience.
Dylan: Yeah. The transition from bottoms up and product-led growth into sales is always… It can be very fraught, and a lot of companies have difficulty navigating those waters, so I don't think you're alone.
Bernadette: Yeah, I think you're right.
Eynat: From my perspective, maybe, I'll share our first few years because I came from a very bootstrap and operational background. When we started the company, we knew exactly what is the pain that we are solving, we were growing aside our customers from day one, but on the other hand, when we were speaking with investors, we had a really hard time convincing them that this is a real problem and a real need. The main thing is that they went and asked the CEOs of the company, "Do you have any issues with your global payroll?" And he said, "No, everything is great. I don't have any issues at all." They came back and said, "I don't see the problem; everything is going very smoothly," and I was constantly telling them, "You're not asking the right person."
Eynat: The people that are working behind the scene to make it happen, are the ones that you should ask. I think for us, the first three years were years of very rapid growth without getting, I would say, the market support from the investor side. But I think in reality, sometimes you are just coming from the industry, and you know things a bit before the investors understand the market or the problems. This is a piece of good advice for me, for everyone else that is an expert in this domain. If you feel that there is a real problem, if you're coming from the field, don't give up.
Amit: One thing that worked for us, we had very shell technology; we didn't develop a lot of that technology, almost duct taped something that looked like a product. We almost faked it. It was working, but we gathered together whatever we can find on the internet, components that we could put together, and we charged early. Again, we didn't need the money, we just wanted to know that we have something that people are willing to pay for. That was a good decision, in hindsight. Just duct tape something, don't sweat the technology too much, see what people want, need, and are willing to pay for, and then you can build it.
Eynat: So Amit, a question to you. What are the lessons that you can share with early startup founders trying to currently start their own companies on the cloud side for them to be successful?
Amit: This would be my fourth downturn, 2000, 2008, 2020, and 2022. It's helpful to think in terms of your mission for decades. This is a natural cycle that happens every now and then, every few years. Now it's every two years, but it could be like every eight or ten years, and not worry about it too much. Of course, make sure that you have cash. Without cash, it's a lot harder, but assume that you have that. Focus on the mission, the value to create for customers, and make sure that the value proposition is in line with what's top of mind for people right now. It's more, maybe, on efficiency and doing more with less versus growing some of the things that we've seen about a year ago. You worked on a product for two years just to launch a beta and a couple more years to start charging and selling, and you're growing. Tell us about your thinking and your learning from that experience.
Dylan: Yeah. So many thoughts. By the way, I'll start by saying there are lots of ways to start up, so I don't think that there's one right path. Tons of respect for what you're doing and you; nothing here should be taken as a counterpoint to that. For us, we started in August 2012, and figured out what we were doing around June 2013. I launched our close beta in December 2015, and our J release in October 2016 didn't make our first dollar until summer 2017. And so it was quite the journey. And I think I'd probably advise people not to do that and to make money faster and to get the thing out there faster. For us, it took a long time because we were building something with a big moat. It was something in technology that hadn't been done before.
Dylan: And I'm excited and glad that we have that moat but in contrast, when we started working on FigJam, our second product, which we launched in April 2021. FigJam is a whiteboarding product for ideation brainstorming. And we were hearing a lot of need for that during the pandemic. And so it was something we talked a lot about with the team was "Hey, we got to get this out there before the pandemic ends because we need to help our users now." And I think that urgency really translated into a fast development cycle that ended up being probably like eight months or so to build that in contrast to five years and then another year from there to monetize it. Or actually a little bit last like eight, nine months or so to monetize.
Dylan: And so I'm glad we're moving faster now. And I try to instill that in the rest of the team, too, that perfect is the enemy of good and just getting it out there. The beautiful thing about software is that you can keep improving it. We're not shipping couches or chairs, or you put it out there once, and then you're stuck with it forever. And so I feel very lucky to work in bits.
Amit: Love that.
Dylan: On the topic of go-to-market engines and pricing. I'm curious if anyone has lessons selling into this increasingly hybrid world that we're in now.
Eynat: I think for me, selling remotely in a hybrid world means two things. First, making things very, very easy. So try to create a very transparent, very easy pricing. I think that when you are overcomplicated at pricing, when it takes a lot of stages to get to a price proposal, you lose your audience. And also, eventually, it takes more time to go from just the prospect to the onboarding stage. But I think that the second thing which is much more important is that you have to ensure that you sell the product by the product. And I think I have two great examples here, Figma Gong, which we use internally in Papaya. And I think that if you have someone that loves the product when they see it, they are the buyer, they want to make it happen.
Eynat: They are your ambassador to assure that you are getting in… That you are going to all of the barriers, it can be legal, it can be pricing, and so on. So don't sell over a presentation; sell over the product, assure that people can see the product and can touch the product. I mean, be proud of the product. I think for me if I go to a sales call and I see a presentation or PowerPoint, I mean the first reaction is stepping backwards because I lose the trust that I have. I want to see the product. I want to understand what is it for me.
Bernadette: Yeah. So I joined Algolia back in May 2020. So in the first wave of the pandemic, really. And so the beauty of an API first platform is it can solve many different search use cases, for example, for our customers. But I felt that we needed to get to repeatability one use case at a time. And that's often a challenge that any platform out there will face. I know I've faced that challenge back going back to 2010, last 12 years only having experience with platforms. So we followed that philosophy, and obviously given the time with COVID and everything, it was a no-brainer to pick B2C eCommerce. So we instantiated that with the sales play, it became a cross-functional effort. It has to become a cross-functional effort in order to be successful. And it's given us great results.
Bernadette: So now we keep going with that, and we've got a cadence every quarter. So it works really, really well for us. I've got a question for the group, every SaaS company, it's in our DNA to be customer obsessed. I'd love to hear from some of you on how that manifests itself in your go-to-market strategies.
Dylan: I think it's worth thinking outside of go to market as it's traditionally defined for this one; for example, in the early days of Figma, I try to encourage our support team to think of themselves as marketing. I was like, "Hey if someone's [inaudible 00:13:34] into you and they have like a very long ticket full of feedback, build a relationship." Like you're basically our evangelist right now. And a lot of those people who had all that feedback, later on, became evangelists. Of course, some of them became trolls as well. So ignoring the trolls there, but for the most part, it was very helpful. Just deeply engage with customers and really build up the community. And I think you can build a community in lots of ways, not just through good-to-market marketing.
Amit: Right. At Gong, we call it, we're not saying we're obsessed. We want raving fans. Right. And you said there, we don't want happy customers. That's the table stakes. We want like raving fans. And, and this is the marketing, right? They understand and no, not just doing it… But first, it's fun, but we're doing it actually because this is the marketing. We believe that mass marketing is like a customer spreading the gospel, right? We're a new thing, a new category. The world doesn't even know we exist. Doesn't know why you need something like Gong. And we want it to rely on raving fans, which right away we extend both to employees. We want candidates which are our prospective employees, customers, and prospective customers. Everybody that has interaction with the customer. We want to rave about the company. And then when we succeed, that's what we celebrate. And that is our best marketing.
Dylan: I will say for a product like growth companies and companies with self-serve, it's so important to deeply understand all the mechanics of how it works and to also understand what metrics will affect other metrics down the road because it's very possible to miss over here. And then three months later, you're missing over here, and it's actually just one miss. And so really being hardcore about that and tracking everything and then being super diligent with your team, if you have a miss, I think is super important.
Eynat: Yeah. So I'd like to ask the group as a CEO of a global HR and payroll platform. I can't help myself and ask you and wonder what is for your… In your perspective, the best place to work means currently in these days; what makes it a great company for employees to work? What benefits matter? I'll be very happy to hear your perspective.
Dylan: I think especially on a call like this, where we're across the world and in very different areas of technology, I think it's important to note that there is such a thing as culture market fit. In terms of company culture and how that matches the market you're serving. I don't think that there's one answer to this question. And I think for Figma, for example, some of the things we think a lot about are how do you create a playful spirit when you come to work? How do you have fun and make it a really enjoyable experience to be here so we can all be creative together? And so we do things like make your weeks where we have the entire company gather and come together for a week to really be innovative. Other companies probably would not really have that same reaction to those things. Or they might be annoyed if that was the approach and culture that they experienced. And so I think there are lots of different ways to work together as a company. And again, not just one way to start up.
Amit: Right. I think it's like, it's easy to stay. It's not always easy to practice, but what you try first, people want like a sense of purpose, right? That they believe in what the company does. They have room for growth, they're trusted, and they have the freedom to operate. They have the right environment and setup, and they can shine and blossom. And work feels more like joy than a chore. Now you got to make sure that you have the right team in place, the right infrastructure, and really a good cause that everybody rallies around, but it boils down to this like purpose empowerment and self-fulfillment.
Bernadette: I often think in pictures. So I have a triangle in my head right now. So the three layers. And I look at the bottom layer as the table stakes. Yes, that's comp and benefits and rewards, but that's not what… It's just what it says. It's table stakes. It's not what you're going to differentiate on. You differentiate on, in my opinion, your employee value proposition, which is some of the things like Amit was saying, it's your values. It's really your contract with not physical, legal contracts, it's your commitment to your employees as to what your environment and their environment is going to be like to work in, whether it's physical or virtual or hybrid or, or whatever. But it's governed a lot by your values. Care and humility and trust and things like that are specific to each of us.
Bernadette: And then on top going to the purpose element, that's unique, and it's… We actually simplify it because I could never get my head around vision, mission, and purpose. It was all too much. So we said, it's the one thing for all of us our goal, for example, is powering discovery, our vision, our mission, we're doing it today. There's so much more that we want to do. And yes, it is our reason for being. So that's how I think of it table stakes, but then differentiate on the employee value proposition and your vision, and people can buy into it and relate to it and join or choose not to. And that's okay.
Eynat: I heard something nice recently that actually a successful company, you take this triangle, and it should be upside down because leadership should be on the bottom of it. And if you're building the company successfully. So actually, I mean the leadership is just the point that holds it, but the whole other team is the one that really creates the value and can grow and blossom, as Amit said. So yeah, I really agree with that.
Dylan: Eynat, I know that you're really passionate about social impact and just generally doing good in the world. And I'd love to hear more about what informed those viewpoints, how they manifest for your company, and also what you think the role of capitalism is. And should every company be participating in this social impact, and what are the bounds of that?
Eynat: Yeah. So it's really one of the topics that I'm really passionate about because I think that as CEOs, as founders of companies, we have a rare opportunity not only to create great businesses but also to leave a mark in the world. And I also always want to be in a place where I can come home at the end of the day and tell my kids that I contribute a bit to a better world for them. And for us in Papaya, it's really seeing how we bring more and more people from different backgrounds from different places to be part of this journey.
Bernadette: Yeah, it's interesting. I think when you look at some of your core values guides how you look at these things. Care is one of our core values, and we support many different and diverse, both social and humanitarian causes. And we do that employee-driven through a matching program, charitable matching program, which is good. But I think now we're being more intentional about how we go about leaving a mark, a positive mark on the world. And so we're taking what we've focused on historically around a carbon offset program that was very loosely administered. And really now I'll be doubling down, I should say, on becoming net zero; we're exploring the idea of becoming net zero by 2030 and doing it in such a way that it's provable, it's permanent, and you can validate it.
Amit: I'm grateful that we have inspirational leaders, like CEOs, like Bernadette and Eynat that inspire a new generation. They can see themselves and also with the underrepresented minorities. So we're pretty active and in dozens of ways. And I think that every company that does, that makes this world like slightly better and if we all do it'll, it'll be a lot better.
Dylan: The other thing that we started to do that I'm excited about is more unique to Figma is Figma and Chromebook. We just did a partnership with Chromebook where I need a school district in the United States. And hopefully even broader in that later on, can just press a button and then deploy Figma to all the Chromebooks in their district and really excited to see how this impacts high schoolers and kids that are, are on the younger side as they go and grow into their careers. I certainly didn't know that design was a viable career option when I was in high school or middle school. I hope that the next generation can actually see that as a great path forward. Especially as we have so few designers in the world and is such a huge demand, I think, across all of our companies to find and attract more designers right now.
Eynat: So question to the group, there is an all cliche that best tech companies has started in days like this over the downturn of the markets. So if you currently need to give your best advice to early startup founders about where they need to put their best efforts, what are the areas they need to double down? What would it be?
Dylan: I think it's a lot of the same lessons that we've had in the past with the addition of be really consider your cash. Don't assume that if you raise, you're going to be able to raise again. And I think by being conservative like that, you'll build an efficient and focused business. That's very on mission and targeted. And that's, I think, a really good predictor of success later on as well as you scale your business and grow. So if you're listening in your early stage, best of luck; we're all ready for you.
Amit: Right. I agree. You need to watch the cash, but hopefully, you have enough. Customers have needs; everybody of needs, right? They're different. Find them, and you can succeed in a big way.
Bernadette: You hear a lot of talk at the moment as well with regards to, you've got to ruthlessly prioritize. That's the name of the game. It's not as easy as it sounds. It's easy to say it. It's not quite as easy to do it. And so what's interesting is I think that the flaw in that notion of ruthlessly prioritizing is that's a very one-dimensional people typically think of that in terms of a list, doesn't give you a lot of options to think in a multidimensional way. So I think you need at least two Xes what's the effort it's going to take and what's the impact it's going to have and plot and figure out which ones you're not even going to bother with right now. So I think there's a lot of lip service to ruthless prioritization.
Bernadette: I think we need to talk about the fact that it's not that easy in reality when you get a group of people because of the competing vantage points that they may have. So I think having a framework that helps you with that is a step in the right direction. And I think that's going to be really important moving forward.
Eynat: I would just add to this that I think I would double down in everything that beat the metrics. So take the metrics and understand how do you beat them and double down there. So it can be the cost of customer acquisition that should be super efficient. It can be even eventually the ARR. It can be any metrics that matters in the business, but assure that you have all of the efforts and that you can double down and eventually be the best in class.
Dylan: Thanks all for this awesome conversation. Really good to see y'all congrats on getting on the Cloud 100.
Amit: Great seeing everyone and looking forward to next time.
Eynat: Thanks, everyone. It's been a pleasure to meet you all. Congrats on Cloud 100, and looking forward to meeting you again.
Bernadette: I loved the conversation today. Thanks very much, indeed. And congrats on Cloud 100 again.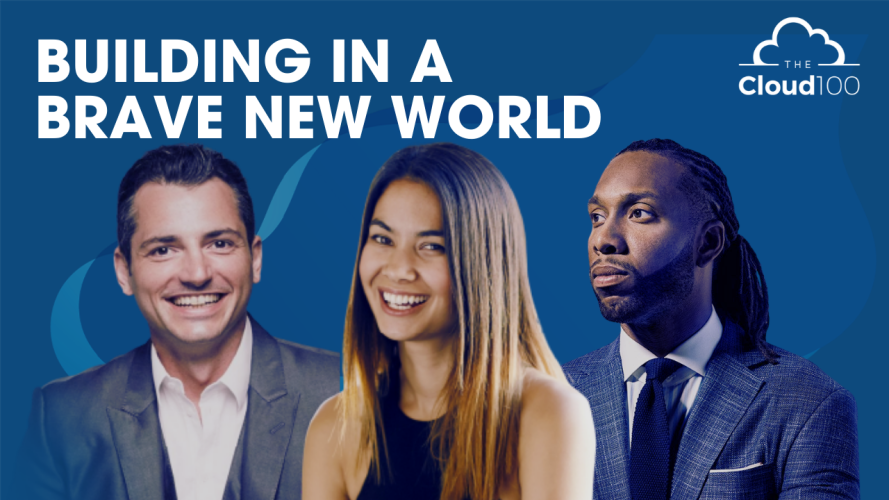 Cloud 100
Building in a Brave New World
Daring leaders build creative solutions from their bold visions, despite sometimes not knowing what the future holds. However, innovation is often an imperative and not a luxury. After a paradigm-shifting period, people across industries and the entire globe are living and building in a brave new world.
We bring together Melanie Perkins, CEO, and co-founder of Canva, Ara Mahdessian, CEO and co-founder of ServiceTitan, and Larry Fitzgerald, Jr., Hall of Fame athlete, investor, and philanthropist, to unpack how this past year has changed each of them as leaders and as people. They discuss the transformations their companies have helped spur and the necessary skills and mindsets teams need to adopt to set the pace of innovation during times of industry upheaval.
Speakers
Ara Mahdessian, CEO of ServiceTitan, Larry Fitzgerald, Jr., NFL Athlete, venture investor, and Melanie Perkins, CEO of Canva
Watch the session!
Transcript
Melanie Perkins: Hi, I'm Melanie Perkins, and I am the CEO and co-founder of Canva.
Ara Mahdessian: Hi, I'm Ara Mahdessian. I'm co-founder and CEO of ServiceTitan.
Larry Fitzgerald Jr.: Hi, I'm Larry Fitzgerald Jr. I've played with the NFL as a wide receiver for the last 17 years. I'm a passionate venture investor as well.
Ara Mahdessian: Given how much the world has changed, and how we're in the middle of a global pandemic and crisis. How has all this changed how you lead? And how has this changed how you and your organizations make decisions? Maybe, Larry, we can start with you given your career in the NFL — all the things you learned on the field that might be applicable now and today, your ventures, both on the investing side and on the philanthropic side.
Larry Fitzgerald Jr.: Absolutely. I appreciate that. And I would say the biggest thing for me is in terms of my foundation. I have a foundation I've been running for the last 17 years, and it primarily is focused on youth education and breast cancer research, which took my mother's life. And I really leaned in on that over the last year and a half because, as you know, funding around the world has been a lot less than what it's been over the last few years, just due to so many people losing their jobs and the uncertainty and climate. And so, I really try to be more focused and intentional in the things and the projects that I've been working on. It's brought me a tremendous lot of fulfillment. I've been able to involve my children in it which has even given me an added sense of value and responsibility when I see their passion for doing it. And so I think that's probably been the thing that's really kind of resonated the most with me.
Melanie Perkins: So, Ara, a question for you. What do you think has been the biggest challenge for you and your customers over the last year?
Ara Mahdessian: If I rewind back time to late March, early April, where the world was shutting down. I mean, at that point, we had no idea what was going to happen to the world. We had no idea what was going to happen to our lives, and we had no idea what was going to happen to our businesses. And as we looked into the data, we saw that while some customers were being severely impacted, other customers were actually thriving. And so this was our call to action to realize, in a moment of crisis, you can't control what's going on out there. But what you can do is determine your response and hope that if you act swiftly and you act decisively and you act correctly with the right plan, you can come out of the crisis better off than had you not acted at all.
We actually reached out to the community of all the tradespeople and contractors that are on ServiceTitan, and for those that were doing well, we asked them what they were doing differently in their businesses to not just survive but thrive through COVID and be able to continue to serve the families in their communities. And as we learned how they were adapting their operations, keeping technicians safe, keeping customers in their home safe, changing their marketing, changing the products and services in the home they were offering, we actually asked them if they wouldn't mind if we could share these best practices with our 7,000 other customers. We spent three weeks building all the features our customers needed to interact with the homeowners in a contactless way. We procured a hundred thousand masks that we donated to contractors to keep their technicians safe. And we formed what is, today, the largest community contractors who rely on one another for best practices, tips, and tricks. And collectively, through the contractor's efforts, through ServiceTitan's efforts, the industry quickly began to thrive in revenue, significantly increasing to even before pre-COVID levels.
So, Melanie, this was the craziest year we've all led through, the toughest environment we've all led through. But you guys at Canva have continued to do astonishingly well. I know you guys were valued at six billion at one time. The last I heard was 15 billion. Who knows where it's at today. What was the biggest challenge you had to overcome? And ultimately, how did you guys stay focused to see this kind of success?
Melanie Perkins: At Canva, we've always focused on solving real problems for our customers. And so, right from the early days, we wanted to solve problems to help make people be able to take their ideas and turn that into a design and communicate them really easily. But then, as the global pandemic hit, that really important and intense focus on our customers and solving problems that affect them, that transitioned really well to this new period, but they had different problems to solve. So students, all of a sudden, were working and were having to learn online. Businesses were having to move online, and people were having to work in ways they'd never worked before. And so, that really intense focus on solving problems for our customers transitioned through. So it did mean that a lot of people were creating less brochures and more online marketing materials. Students were creating less things in the classroom itself, and more things that were actually being done online and through visual and video communication. And so that transition was really aided by that continuous focus on solving problems that really affect our customers. We had three guiding principles right at the start. So, making sure that we're supporting our community, we wanted to ensure that we're looking after the safety and wellbeing of our community and then rallying together and growing.
And that really intense focus on looking after our team, looking after our community, and working together to solve their problems has been the guiding light and principle throughout this entire time, which has been really important. I think that if we didn't have such an intense focus on solving problems and the impact that that has on our community, it would have been really hard to rally our team to do all the necessary changes that needed to happen. So I guess focusing on problems that affect real people was really important throughout this entire period of time.
Ara Mahdessian: Okay, I got to ask this question to Larry. Larry, there's so much organizations can learn from high-performance sports teams. In fact, a lot of ServiceTitan's culture around high-performance and a winning culture comes from a lot of the fundamental principles that are in sports. But I got to ask you, in professional sports, when you're facing defeat, how do you keep morale high? How do you rally the group around the goals and the outcomes again and create the high-performance environment that is needed to win in professional sports?
Larry Fitzgerald Jr.: Well, I think the biggest thing, that you guys both know in your companies, is creating a culture — a culture of openness, discussions, creativity. You want to have an open dialogue with teammates and be able to gain and build trust amongst each other. And so, when tough times are upon you, you don't turn on each other. You find ways to inspire each other and push each other to get the very best out of one another. And I think sports is a great microcosm of life. I mean, there are times you're going to be knocked down and you've got to continue to get back up and persevere. I mean, we've all had to do that over the last year and a half, and it's just that a lot more people were able to watch you when you're playing professional sports, but there's a lot of dysfunction behind the scenes. And your players going out there and being able to execute at a very high level sometimes trumps things that are going on behind the scenes. But as a leader, you do your best to try to motivate. You have 53 different people on the team from different walks of life, different religions, different socioeconomic backgrounds. And you just try to find what makes each person tick. Everybody's motivated by different things, and as a leader, you have to find out what each person really is in it for, and that's how I do it. And I think that's been pretty effective for me over the past few years.
Switching gears, one thing I've noticed is in the cloud communities is the role of community. I want to know, what role does that play in your companies? And how do you create that environment where the community is very important to your organizations?
Melanie Perkins: Community is absolutely central to everything that we do. It's literally why we built our product and what really inspires our team every day. It's really central to absolutely everything we do, so not only is that why we built the product and the reason for our very existence, but it also is something that we need to continuously use to help inform our product roadmap. And so we have a weekly, we call it sit-down. It used to be a stand-up when we were meeting in person. And every week I'm showing off tweets from the community. We are listening to videos and testimonials. We're listening to the problems, and that's helping to inform our future roadmap. We've had over a million pieces of feedback from our community, and this is everything from suggestions to ideas from our community, telling us what they love about it. And so, I guess community is absolutely central to everything that we do and really the reason for our very existence.
Ara Mahdessian: Yeah. Great question. So we talk about innovation as serving unmet needs, and so I think there are two categories of this. There's serving unmet but articulated needs where customers can describe their needs, the problems they're having, the potential solution, and the value they would get out of that. And I think that often happens to be the easier form of innovation because you're effectively told what the potential innovation is. And then there's the second form, which is innovation being serving unmet, unarticulated needs, and that's where even the customer can't describe to you what a potential problem is or what a potential solution is, and you have to be able to observe this and figure it out. Or, you have to think about potential macro trends that are happening and how they're going to impact the customers in the future and anticipate how you can innovate to make the customers benefit from that potential macro trend.
In our case, what we've done that's been very effective and helpful for setting the pace of innovation in both categories of innovation is actually hiring a lot of amazing people from the industry into the ServiceTitan. We have over 60 industry experts that used to work at a plumbing company, an air conditioning company, electrical services company, or the like that are now full-time employees at ServiceTitan. And they range from people that used to be technicians in the field to being customer service representatives at a plumbing company to being dispatchers at an air conditioning company, to being general managers of these companies, to even being owners who built and successfully scaled and sold plumbing and air conditioning companies for 10, 20, 30 plus million dollars who then wanted to come and work at ServiceTitan to continue to innovate and help all the other hardworking contractors in the world through the ServiceTitan software.
Melanie Perkins: I've got a question for both of you. So what inspires you both to work so hard? Larry, I'll shoot it to you to start with.
Larry Fitzgerald Jr.: I think you all can attest to this. You wouldn't be in the positions that you're in and have built the companies that you built if you didn't have a burning desire to be the very best at what you do. And when your feet hit the ground in the morning, you're really driven and focused on doing whatever that is you need to do for that day. I think it's very important to be able to set short and long-term goals. You know you can't reach those long-term goals, but I'll set those short-term goals. So if it's, "I want to continue to do a good job of building my culture from day-to-day." Mentoring a couple of people on the team or in your organization that you think have great potential, but just are missing a few key ingredients to be able to be better team leaders in their roles. Or just small little things that you always are working on to achieve those short-term goals will help you reach those long-term goals.
And I think just that and wanting to see people be at their very, very best. There's nothing better than me being at practice and seeing a guy work so hard after practice trying to get something that he's been working hard for. And then you see it come to fruition on the football field. He scores a touchdown after something he's worked on for week after week after week. That brings me a lot of joy to see that. And I can imagine you guys see those same results in young people that are working at your companies, and there's nothing better than that. And as a leader, that's what it's all about — it's empowering people and putting them in a position to be successful.
Melanie Perkins: Couldn't agree more. It's so very true. What about you, Ara?
Ara Mahdessian: We have three core values, and that's why it's so simple because there are only three motivations we care about. Number one is changing lives. We want every Titan that comes on board to feel so much fulfillment, so much value in their life by impacting the lives of others, whether it's customers, whether it's other teammates, or whether it's the communities around us. That is what inspires them to work hard. Two is achieving the extraordinary that, as Larry mentioned, that Titans are motivated and get a lot of fulfillment out of doing things very few people have ever done before. And the last is building a dream team, to be able to work alongside so many heroic other Titans who are incredible at what they do. They help the people around them succeed and have such an incredible and fun time along the journey.
Those three things are what motivates me. I love every day I get a success story from a customer. Just two hours ago. I got a success story from a customer about how they grew their revenue from two million in 2018 to nine million this year. And these are not anomalies. If I have 7,000 customers, they get 6,000 success stories to share. This is what motivates me. I think this is what motivates so many other founders and CEOs.
Melanie Perkins: I would agree. So years and years ago, I was backpacking in India, and I met someone who was working at a computer cafe, and he was making literally a dollar a day, and he was working for 12 hours. He was away from his family, and he was literally working his butt off, trying to do absolutely everything he could to make money, and the maximum output of that was a dollar. And I, on the other hand, have had a great fortune. Growing up, I've had a great education, and I have this crazy opportunity to be able to create a company that has been doing really well. We've got this very simple two-step plan. Step one, build one of the world's most valuable companies. And step two, do the most good we can do. And I feel like that is such a huge, not just opportunity, but incredible responsibility.
The fact that we're able to make out, make progress towards step one, and we still got a long way to go, but we're moving in the right direction. And then on step two, that is just such a huge responsibility. The fact that we can create a multi-billion dollar company that can be used by billions of people around the world to help people with our product itself, to be able to solve problems, and to help them achieve their goals, but then to be able to have this huge opportunity to be able to create — to really live up to that two-step plan it's not really an option. You have to do that when you have that crazy opportunity presented.
I work really hard. That's true. But the guy in the computer cafe, was working really hard. And so to have that opportunity, I think, is incredibly important. And it's certainly what motivates me every day, to be able to create an incredible environment for our team, to be able to achieve their crazy big goals, to be able to create an environment for our community so they can achieve their crazy big goals. And then, hopefully, over my lifetime, I'll get to help the world achieve some of its crazy big goals, which would be pretty crazy.
Larry Fitzgerald Jr.: That's beautiful.
Ara Mahdessian: I love it.
Larry Fitzgerald Jr.: When I talk to a lot of founders, especially in the cloud space, I always hear them talk about just the lack of available talent. You know, engineers and software technicians. When you're meeting with prospective employees to come work for you-all's companies, what are some of the things that you talk to them about that would differentiate you from other companies that are competing for talent?
Melanie Perkins: We have been absurdly fortunate that we have had 130,000 applicants in the last year, and it was like 86,000 in the last quarter. So it was astronomical numbers. But that's really different from in our early days. In our early days, I had to pitch everyone. No one wanted to join my team. It took me a year to find one person to join my team, and at that point in time, we're having to do absolutely everything we possibly could to pitch. And if you look up Bizarre Pitch Deck, we're the number one result because I created a bizarre pitch deck to pitch someone and to get them to join our team. So in the early days, it was…we're having to really pitch the vision hard. Like, "This is going to be the future of publishing and design. We're going to create a company that's going to change the face of the internet." And most people rejected us despite our best pitch efforts. But nowadays, we're in a really fortunate position where a lot of people want to come and work at Canva, which is definitely a fortunate place to be in. I think that we've been able to differentiate ourselves because, firstly, when you've got graphs that are going in the right direction, that probably helps. But creating a company that really serves our customers and is so loved by so many people around the world, I think, that helps as well.
What about you, Ara?
Ara Mahdessian: It's interesting. My co-founder — my better half, Vahe — he and I started ServiceTitan because, ultimately, our fathers were contractors. So we immigrated to this country at a young age. Didn't have money, didn't have jobs. They didn't have knowledge of the language. They did all kinds of odd jobs to make ends meet, and one of those odd jobs ultimately happened to be plumbing and air conditioning work, et cetera. And then, they started their small contracting businesses. And we grew up watching all the pain points that they had, and it was wild, just how inefficient things were, how much manual labor everything required, and how much they would go work in the field 12 hours a day and then come home and spend dinners and then post-dinners, still processing shoeboxes full of receipts and taking care of invoices and calculating pay for other technicians.
And we realized there's got to be a better way than this, and that's why we created ServiceTitan. So for me, it's very obvious to me why I would be so motivated and excited about solving these pain points for my dad and ultimately many of the contractors just like him. But what I've been completely shocked about and surprised by, and I never expected this, is how so many other people who have nothing to do with the contracting industry — their parents weren't in the contracting industry — are similarly excited about the prospect of working at ServiceTitan. And I think it comes down to because they see these are incredibly hard-working people. They're essential. They provide such critical services for our livelihoods. They see how underserved these hardworking people have been in the trades by technology, and they see the direct impact that they're able to make on the professional and personal livelihoods of these customers. I talked about the millions of dollars that they're able to generate in increased revenue for these companies, but I also talked about a lot of the personal success stories. And I think I've been shocked that other people are just this excited about this as I am, but very grateful that that exists.
Melanie Perkins: The final question for today: If you could achieve anything in your lifetime, so you're like a hundred plus or whatever age you'd like to live to, and you're looking back at your life, and you have been able to achieve anything in your lifetime that you would like to have achieved, what would you have achieved?
Larry Fitzgerald Jr.: I would definitely say, with how technology is advancing, I would just say bridging the technology gap in schools. And through my foundation, that's what I try to do. I mean, when I go to the affluent schools as opposed to the lower-income schools, I think one of the biggest discrepancies I see is just access to technology. Through your cell phone, you can literally learn everything that's ever happened in the course of the world at your fingertips. And to be able to give young people that advantage to be able to research and use that to find new creative things that they may be interested in that they don't even know about, I think is very important. So I would do that.
And then, I have three sons. Just if they grow up to be good, respectful husbands, fathers, and community people, I will be elated. I mean, I think that, as parents, our toughest job in the world is just trying to get your kids on track. So I would say that's high on the priority list as well.
Ara Mahdessian: I feel you, Larry.
Melanie Perkins: A life well-lived.
Ara Mahdessian: I've got three young boys as well. I'd love similar outcomes. Going back to what you asked. I mean, at the highest level, I'd love to solve all world suffering, whether it's poverty, hunger, health, et cetera, at a lower altitude. Today, we do a lot of work with Children's Hospital of LA outside of trying to transform lives in the contracting industry. We're very passionate about helping little kids who suffer from health issues. I think that's the most specific thing we do today. What about you, Melanie?
Melanie Perkins: So I'll tell you where that question came from. When I was 15, I read a passage, and it was from a lady living in a nursing home, and she was 85. And it said…it was a whole reflection about how, if she could have lived her life, she would have done it over again and lived in a very different way to the way she had lived her life. And I feel like that's sort of the perspective that I've held in going through, is thinking about if you go far into the future and make a decision based on that far in the future, what you'd like to think about going backward, what you would do if you were not looking at the building blocks in front of you, but thinking about things retrospectively. So I think about this a lot.
And I think that if I could do…the most powerful thing that I could think I could do with my life is to help make the world more effective towards its goals. And so, we have a hundred thousand nonprofits and are using our product to help achieve their goals, but thinking a lot about how could we help governments and nonprofits and people in the world be more effective towards achieving their goals. Because I fundamentally believe that there is enough goodwill. There is enough money. There is enough kindness. There is enough of everything in the world to solve the world's problems. But I think that we're not orienting ourselves to actually achieve those goals in the world as effectively as we could. So it's a very big ambition. It will take many, many, many, many, many decades — my entire life. But I would love to be able to help contribute towards that over my lifetime. And if I could do that, I would be happy in my hundred-plus years if I'm so fortunate to live that long.
Ara Mahdessian: Well, you are no stranger to ambition, and you're no stranger to accomplishment. So I hope, I actually expect, you will accomplish this.
Melanie Perkins: That's very kind of you, and I expect and hope that you accomplish those very big, high-level goals as well. If we could, the world would be a better place.
Ara Mahdessian: Agreed.
Larry Fitzgerald Jr.: Melanie, Ara, it was a pleasure. I really appreciate you taking a little time to educate me on your guys' fabulous businesses, and your soul for so many of our world issues. It was a pleasure to be with you guys.
Melanie Perkins: So lovely to meet you both and to chat with you today. Thanks for all of your great answers and questions.
Ara Mahdessian: The feeling is very much mutual, guys. Very humbled and grateful to be in this very esteemed company. Larry, Melanie, and then all the other incredible companies in the Forbes Cloud 100, thank you.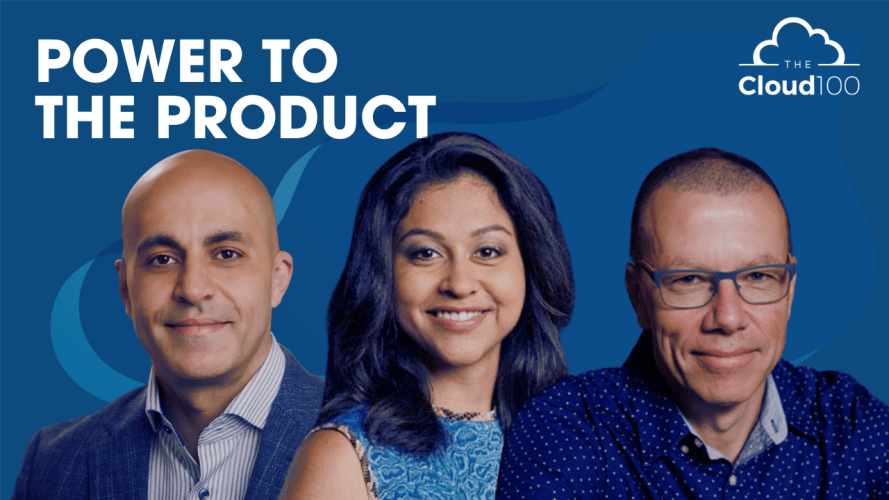 Cloud 100
Power to the Product
Across the cloud ecosystem, product leaders are constantly considering what customers need now and in the future. But how exactly do companies harness user insights to build top-tier products? From GTM strategies to weaving in feedback to drive product innovation, Ali Ghodsi, CEO of Databricks, Amit Bendov, CEO of Gong.io, and Neha Narkhede, Co-Founder of Confluent, break down how they build customer evangelists and continue to refine and adjust product strategy to drive sustained growth.
Speakers
Ali Ghodsi, CEO of Databricks, Amit Bendov, CEO of Gong.io, and Neha Narkhede, Co-founder of Confluent
Watch the session!
Transcript
Ali Ghodsi: Hi. I'm Ali Ghodsi, co-founder and CEO of Databricks.
Amit Bendov: Hi. I'm Amit Bendov, co-founder and CEO of Gong.io.
Neha Narkede: Hi. I'm Neha Narkede, co-founder, former CTO and board member of Confluent.
Ali Ghodsi: Hey, everyone. Super excited to be here and have a conversation with you, Neha and Amit. Thanks for being part of Cloud100. I'm really curious to hear more about your thoughts around strategy and innovation and the products that you all have helped build. But before we start, I'm curious, what book has had the biggest impact on your approach to leadership?
Amit Bendov: For me, it's "Mindset" where Carol Dweck discusses the power of having a growth mindset or a fixed one in really all walks of life. And it really resonated with me as it aligned very closely with the values I grew up with, which helped me take the leap to start Confluent and also actually to overcome my fear of the open waters, to learn scuba diving. But really as a leader, it has helped me think about motivation and influence people to overcome obstacles and really keep growing.
Ali Ghodsi: Oh, that's fascinating. I think that's also Satya Nadella's favorite book and he made everybody at Microsoft read it. So that's awesome. I really like that book, I have to say. And Amit, what about you? Do you have a favorite book that really influenced your leadership style?
Amit Bendov: It's tough. There is a ton. I read hundreds of books earlier in my career, but if I have to pick one, it's probably The Warren Buffett Way. It's not necessarily a particular book. There are quite a few, but I think it was eye opening for me at first that you can run an empire with just five people, like Berkshire Hathaway, with just sort of a small company. It shows the power of delegation and having sound structures and culture underneath, and there's many municipals, like don't do anything you don't want to read about in the headlines tomorrow, and how you run a business. I think it's incredible. Super influential for me.
Ali Ghodsi: So, Amit, I'm actually super curious. Speaking of leadership approach, you've talked a lot about listening and the importance of that, even on product strategy. So I'm curious if you could tell us a little bit more about that.
Amit Bendov: Yeah. It is important to listen. A common mistake that people do is assume that they know. And I think humility is key to innovation. Just come with an open mind. Don't assume that you know. Don't come up with premature ideas. It's listening to the customers, listening to sometimes what's not being said and to implicit needs versus explicit desires. We talk with customers. We also happen to record the conversation with users. So then we can come back with data. It doesn't have to be words. It could be numbers and research. But we always go to a customer's needs, whether they're explicit or implicit.
Ali Ghodsi: That's interesting. So at Gong, you actually listen to customer conversations, right? How does Gong work a little bit? Could you tell us a little bit about that? I find it super fascinating.
Amit Bendov: Gong is a system to really understand what's happening with customers, or they're like customers or users. It taps into conversations. Could be like emails, Zoom calls, phone calls, any channel. It uses natural language understanding to mine insights at a scale. So if you want to know like competitors, people will talk about that feature or some other features or the new product launching successfully. Before Gong, you'd have to go interview salespeople or some customers. Now, you can know almost in a second day if a product launch is being successful and how customers feel about your product.
Ali Ghodsi: I see. And are you using AI to do this? Or how do you actually listen to the conversations?
Amit Bendov: Well, it is AI. So to understand what questions people are asking, what their sentiment about a certain product or a certain competitor, what's working with the sales process, how is our customer success experience reflecting the way the customer responded. So it does understand quite a bit. It's almost like magic. Obviously, you could do the basic stuff, like listen to keywords — so product names, competitor names — but it comes with higher order things, like what are the action items, what's the engagement like on conversations. In a way, it's very easy to understand.
Ali Ghodsi: That's awesome. I wonder what it would say if it listened to this conversation. So the data is actually super important for that then, I guess. I'm curious, Neha. I mean, you started a company that's focused on data and data movement and data in motion. Can you tell us a little bit about Confluent and how it started?
Neha Narkede: Yeah. Absolutely. At Confluent, our mission is to empower organizations, like all the way from Goldman Sachs, Intel, Capital One, to put their data in motion and harness value from their data in real-time to create new products, new customer experiences. And we started this journey by creating a really popular open-source project called Apache Kafka and then later transitioning to providing both a cloud product and an enterprise software offering to essentially help organizations unlock their data and put that in motion.
Ali Ghodsi: With Kafka and now lots of competing sort of efforts around that, you basically created the category. Did you know that you were creating a category when you were at LinkedIn? Or is that just something that happened? Other people who are starting companies and they want to create the categories just like you did, what can they learn from you?
Neha Narkede: Yeah. I think the reality is when we started, we observed that existing data infrastructures just do not support a continuous real-time flow of data. And we traced that back to a fundamental architectural flaw in how systems worked. And actually creating something like Kafka wasn't really the first step on that journey. The first step was to hack together existing systems to see if we could just make them work. And when we realized it was more of an architectural flaw, that is when we took a step back and really envisioned this world where the whole foundation of how data would move and be captured in a company would change. And we envisioned that as essentially Kafka, that could fundamentally rethink of data as something that moves rather than something that rests and then occasionally moves around. And I think fundamental to category creation has been capturing the love and the mind share of the user, in our case developers. And that along with creating a category-defining product, I think goes hand in hand in really doing that, and not to mention that it is a 10-year journey.
Ali Ghodsi: So in some sense, just focus on your user persona, the developers and the problem you wanted to solve that there weren't anything good out there and just solve that really, really well, and then you then happen to also create a category along the way.
Neha Narkede: Part of telling the story, which is equally important in category creation.
Ali Ghodsi: So Amit, I'm curious. In the CRM space, there is like this 800-pound gorilla, Salesforce. Super successful company, been around…Huge. How do you carve out space for yourself in sort of among the companies in that space?
Amit Bendov: We created a new space. It does not replace CRM. It works like the CRM. So CRM was built for the leadership team, based on customer-facing people and sales, customer success, support, filling in data and forms. Gong, the first application focused on the customer-facing people. They absolutely love it, because it just does everything automatically. Gong just taps into conversation and then it can mine information from there without people having to fill in forms. And it does a lot for them. It gives them memory and it gives them insights on how they can be better with customers. And our net promoter score is almost always in 70, which is insane for an enterprise product. It's a consumer-grade NPS. It's higher than the iPhone in 2008. So by focusing on that persona in addition to leadership, that really helped us drive new growth. It's a new kind of system that doesn't take away from anything else.
Ali Ghodsi: So you have awesome products and you focused on the problem and the end user and telling that story, but we also have to sell the software. So I'm curious. Since Atlassian came on the market in the early 2000s, I couldn't hear the end of it: "Hey. They didn't need any salespeople. It was product-led growth, the product-led everything. And you don't need to rely so much on market and sales." And I'm curious about that interplay and what you guys think about it. So maybe, Neha, you can go first.
Neha Narkede: Yeah. I think with our cloud product and community downloads, Confluent has a very strong self served option model. Many prospects are in their earlier adoption stage before we ever engage the sales team. But a product that lends itself naturally to self-served option is a good fit for building a product-led growth business. Open-source software has been a good example of that as we've seen from the success of Spark Databricks and Kafka Confluent, but also another notable one has been self serve freemium offerings that allow you to swipe a credit card and just experience the product, like Snowflake Atlassian. But I think what's less talked about is the art of layering on a sales sort of touchpoint, then enterprise go to market motion on top of the ground swelling, that a product-led go to market motion creates. And I think that's a critical step on the path to building a multi-billion dollar company, which is really not only to build a bottoms up adoption model, but to layer on the right involvement of customer success and enterprise sales to really maximize the value from the offering.
Ali Ghodsi: Yeah. That makes a lot of sense. And I'm curious. Gong must have an opinion on this, because maybe we should all just be using Gong and we can automate away a lot of that sales process.
Amit Bendov: Well, I think the product growth is fantastic. Not every product lends itself to this. So the thing is in how complex it is to understand. A complex financial software is hard to buy, but something like a Kafka or a Databricks or Atlassian is fantastic. And our goal isn't to replace salespeople, but just take away all the stuff that they hate doing, like filling in forms, opening their managers, committing their forecast and all the stuff that nobody loves but they're forced to do every day.
Ali Ghodsi: But certainly the cost of sales and sales and marketing must reduce if you use Gong, no?
Amit Bendov: Yeah. Absolutely. First with product-led growth and with Gong, you could probably cut it by half. You take away half of what people do, which is not interacting with customers, it's just the hateful stuff, that's a huge saving. You ramp up time, increase quotas. The nice thing is it's easy to solve. Those are some of the stress points of that profession that may be notorious. There are movies about that cutthroat environment. All of that is not really necessary. You can make these fun.
Ali Ghodsi: Databricks was the same for what it's worth. When we started, we had Apache Spark, the open-source project, and it had just gone viral and there were so many downloads, millions of people worldwide. And we started selling to small, medium enterprises, or small and medium businesses mid-market, but eventually to really move up and get those much bigger deals for the company and get the revenue growing significant, double, triple digit, millions, you kind of have to have an enterprise sales force. That's what we learned, because enterprises buy in a certain way. They have a procurement department. Lots of people need to approve the budget. So eventually, it turned out that's really to unlock that usage in the big enterprises, we had to layer on sales and marketing, but you still need great product. And the more you product-led, the easier it's going to be for people to sign up and try it off and trial it. So you kind of have to do both.
Amit Bendov: 100%. I got to ask you, if you don't mind. 28 billion? I mean, that's insane. It's almost over 100 times from when you started. Teach me. How did you do that? What drove that innovation?
Ali Ghodsi: Short answer is luck. But if you want to really go back, I think we took a few bets and those bets were kind of out there. I think you all did the same. That's how you created the categories. And we bet on the cloud. Wasn't obvious in 2012. We bet on AI. AI wasn't known at the time. People thought of AI as robotics. And machine learning wasn't widely used. And we bet on open-source. And those bets weren't obvious. And most people told us, "Ah, that's not going to go anywhere." And it turns out those were the right bets. And eventually the market came there. I think that's the way you build a great business. If you're doing what everybody thinks is obvious and it's the right thing to do, then what prevents the really big guys that you're competing with to do the same? And then you can't grow.
So we kind of got five, six, seven years to build a cloud product, figure out ML, figure out open source monetization when everybody else was like, "Those are small markets. They don't matter." And by the time we were kind of ready and the market came there, we had that head start. So it wasn't that easy to catch up for the really big companies. So I think taking some bold secular bets and hopefully being right about them and that's where some element of luck comes in.
Amit Bendov: Yeah. You're being modest. This isn't luck. This is smart. Incredible. Incredible, inspiring story.
Neha Narkede: I agree. So on a completely different topic, all our ways of working have been upended by the events of 2020, but some businesses have navigated that transition really successfully. I'm curious to learn from you guys. Amit, to begin with you: What technologies or tools or cultural transition did you have to put in place to ensure that a consistent spirit of product innovation was promoted while working remotely?
Amit Bendov: Well, I mean, that's a great question. Obviously, like a lot of companies, Zoom and Slack, it's kind of like a table stack. We just communicate, communicate, communicate. So we want to make sure that everybody's connected. It was stressful at the beginning and still there are parts that aren't fun. I mean, we're doing very well as a business and I'm sure most of you are, but it was stressful. It's just crazy times where we have new hires out of college that not only didn't meet anybody, never worked at an office, don't even know what an office looks like. Maybe from TV. So we use Zoom and Slack to communicate frequently with everybody. We use this little thing, Donut, that gives people out random coffee, which is great. And from a product, obviously, we drink our own beer. So we use Gong a lot to communicate, both with customers and with users. That really kept everybody connected. So people can immediately. If someone has a challenging conversation in there, they're in Florida, and someone from California within three hours can chime in and help and win as a team together. So that really helps keep everybody together. But that's us.
Neha Narkede: Yeah. I completely agree. And not just teams, but we also learned that enterprise sales can be done over Zoom as well, which is something that nobody ever thought was ever possible. But now we all know we could cut down on some travel budgets.
Ali Ghodsi: Yeah. I think good hygiene. Those are things we should all be doing, but now we have to do them well. As you said, Zoom, Slack, but I think meeting hygiene, which means make sure that the meetings have a good agenda, make sure you have good summaries, make sure that you have good written communication in the company, so that people that are on different phones or at home or couldn't attend the meeting can read up on stuff and it's clear. So I think those are things that everyone should do anyway, but I think it becomes more necessary as you go into this work-from-home environment. But I'll tell you this. This is our first week back in the office here. And I step out and I talk to a lot of the engineers who just, as you said, for the first time in their life, they're coming into an office, and I kind of get this AB test between how things have been in the last year and a half and meeting people in-person. It's pretty amazing, I have to say. I forgot how powerful it is to just stop by someone's desk and say, "Hey. Who are you? Oh, awesome. Welcome to the company. What do you work on?" And they're super excited to tell you. I think that was really missing in the last year and a half. So I look forward to that. But I do think it's going to be a hybrid world, where we're going to have some work from home, some in the office. And we frankly don't know. We'll learn as we go into this next sort of episode.
Amit Bendov: Neha, what do you think?
Neha Narkede: I think we're entering in a hybrid world and I really am excited about that. But while some parts of getting access to global talent is really exciting, other parts of being able to meet people face-to-face and really connect with them is really essential. And I think this hybrid world is the new path forward.
Amit Bendov: Absolutely. I love that you're in the office. I'm envious, Ali. Just 40 people. It's incredible.
Ali Ghodsi: Yeah. And I think you could see the energy also from them as well. So I think this is something that I think we're going to relearn how important that was. And I think we probably over-rotated a little bit.
People thought, "I don't need an office," and people, "I can hire anyone anywhere and this is going to be amazing." But I think there are also a lot of advantages to the office. So it's going to be some kind of hybrid that we learn. This has been an awesome conversation. I just want to sort of wrap up and ask you each, if you look ahead, when it comes to product innovation, what technology topic do you think more people should know about that would further your company's mission?
Amit Bendov: If you look at Google versus Yahoo, Yahoo was a human-created system. People would put the top 12 pizza joints in San Francisco and Google said, "Forget it. We're going to index the world's information automatically." It's something 100 times more powerful and nobody needs to do anything. Gong is doing the same thing over CRM. It's a new system. It is an autonomous application that uses AI to kind of capture the information from the aether without anybody having to lift a finger. There are other applications that are actually more like Yahoo's, with a curated system, in healthcare, in HR, in other areas. And we believe this is a next generation of computing and applications.
Ali Ghodsi: That's awesome. And Neha, what about you?
Neha Narkede: Yeah. I think, no surprise there. It is data in motion. At least two companies here focus on different parts of that equation. But yeah, Apache Kafka is used by 70% of the Fortune 500, but many are still understanding the impact of data in motion to their businesses. So there's such a large opportunity ahead of all of us here, because organizations that can powerfully harness their data, whether it's analytical, contextual, intelligent, moment by moment will be the ones that create innovations of the future. So I really think that technologies like Kafka, Spark, Confluent, Databricks and many more are really just a starting point and there's such an exciting path ahead of us to truly innovate the core infrastructure that companies build around.
Ali Ghodsi: I feel, for me, if it was something I would say, data and AI and combining data with artificial intelligence or machine learning in enterprises, that way they can sort of build the future and disrupt whole industries that they're in. I think I'm excited about that. And I think people are only realizing that we're just scratching the surface of that and it's going to have a huge, massive impact on everything around us.
So I'm excited about that. So this has been an awesome conversation. Thank you so much for all joining us here at Cloud100.
Neha Narkede: Thank you. Thank you, Ali, for leading us.
Amit Bendov: It's a real pleasure. I had a blast.
Neha Narkede: Likewise.
Ali Ghodsi: Thank you.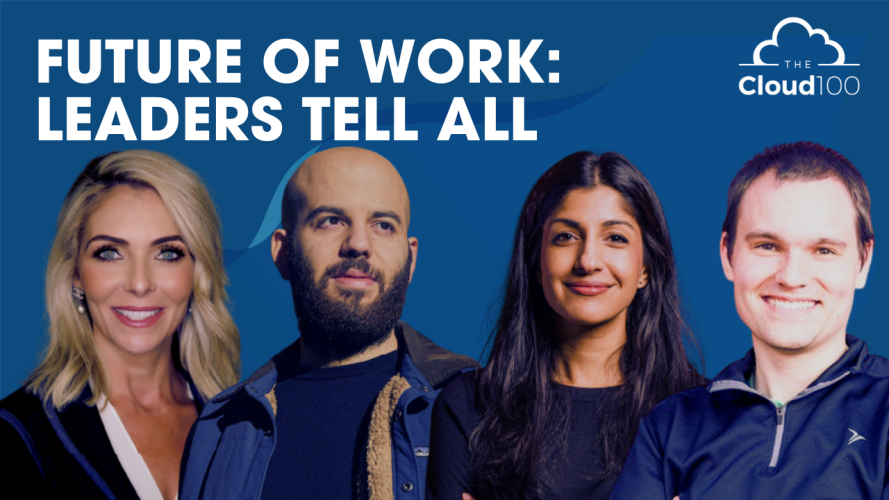 Cloud 100
Future of Work – Leaders Tell All
For the knowledge economy, going to work is more of a state of being than it is a destination. And for the past year, this concept was put to the test as many corporate leaders rose to the occasion to transition entire industries online and create new ones. But as offices begin to reopen, the question remains — what does the future of work look like? And how can technology and community drive innovation and a sense of purpose no matter where people work? Top CEOs — Christal Bemont of Talend, Wade Foster of Zapier, Johnny Boufarhat, of Hopin, and Anjali Sud of Vimeo — discuss their predictions regarding the work-from-anywhere movement, how tech is reimagining the way businesses operate, and their leadership insights into building inclusive and equitable hybrid work environments.
Speakers
Anjali Sud, CEO of Vimeo, Christal Bemont, CEO of Talend, Johnny Boufarhat, CEO of Hopin, and Wade Foster, CEO of Zapier
Watch the session!
Transcript
Anjali Sud: Hi, I'm Anjali Sud. I'm the CEO of Vimeo.
Wade Foster: Hi, I'm Wade Foster, co-founder and CEO at Zapier.
Johnny Boufarhat: Hello, I'm Johnny Boufarhat, founder and CEO of Hopin.
Christal Bemont: Hi, I'm Christal Bemont. I'm the CEO of Talend.
Anjali Sud: Welcome to Cloud 100. All right. Hi, everyone. It is great to be here at Cloud 100. I'm really looking forward to this conversation. We have four CEOs and leaders here who are building the companies of the future and the software of the future. And so we're just going to dive right in. Obviously, all of us in the tech world have had to adjust pretty dramatically in the last year with the pandemic and this immediate shift to remote work. But actually I think Johnny and Wade, you both were already embracing remote work before the pandemic, so I'm just curious how, if at all, did you have to change how you and your teams worked? And did you learn anything from this last year-and-a-half that's shifted how you think about your work? Johnny, maybe you could start.
Johnny Boufarhat: Well, I was hoping Wade would start because I mean, before the pandemic, our company wasn't that big. So most of the way that we operated, we were a fully remote company, but we didn't change much and a lot of what we learned about how to operate remotely was from Wade at Zapier and other great companies, like Gitlab, et cetera. So, I'll pass that on to Wade because I think he'll give a better answer than me.
Wade Foster: Well, you're too kind, Johnny. We started Zapier in 2011, fully distributed from the get-go. In terms of how the pandemic changed our operating model, we're fortunate in that a lot of the rituals and routines that we'd set up continued to work through the pandemic, but that wasn't universally true. Remote work in sort of a, I guess, "normal time" is different than when you're going through a pandemic and the key things or the things that changed around us. In particular, I think about things like caretakers losing access to the normal things that they have access to. Schools being shut down, daycares being shut down. If you're taking care of an older parent, all of those things now fall to the burden of all of us. And if you're trying to juggle a day job while watching a child at the same time, you know how difficult that is.
Wade Foster: And so, for many of us, 40-hour work-weeks that were sort of the norm became quite challenging and we didn't have the sort of normal rhythm of the day to get that work done. And so, I can't say that we were un-impacted by the pandemic because of that, just because we were remote to get-go, all the other stuff in the world definitely had an effect.
Wade Foster: There were things that we were able to do to sort of mitigate some of those hurdles. I think one big thing that we continue to strive to do is be asynchronous in a lot of our work that bakes in a lot of flexibility in terms of how you approach things. If you can handle things in the morning or in the evening, or whenever is best for you, that frees people up to do things like take care of their kids, help them with homework, help them with Zoom school, what have you, and then you can sort of get to work when makes sense for you. So I think really leaning into the flexibility that remote work can afford through asynchronous work was one of the key habits that really made work better, not great, but still better through the pandemic. So I think that would be the one really important adjustment that we paid attention to.
Anjali Sud: Yeah, that makes sense. And you know Vimeo is an example of a company where about 10% of our workforce was remote, so it was a big adjustment for us. And if anything, I think we've become more distributed globally as a team and it's actually been awesome because our user base is so global and we've really been able to kind of bring in talent from many more parts of the world, which I think has been a real benefit to the business. Christal, you had a really interesting experience, I believe. You literally stepped in as CEO like a few weeks before the pandemic hit. Amazing diving. So how did you navigate that transition of literally coming in and getting up to speed while also managing through this sort of crazy time?
Christal Bemont: Well, it certainly was an interesting time and it was something that no matter how long you were in the chair, I think it was a challenge. It was really about the uncertainty of knowing how much you could continue to run fast when you had a lot of plans ahead of you and how much you needed to slow down just to see around the corner of what was next. And I think what it did, if to put a positive spin on it, was really required action and decisiveness because there wasn't really a choice to just sit and wait. I didn't feel like that was the right thing to do. And so really it was about putting things into action, not just about what we were going to do from a strategy perspective, but how we were going to take care of our employees and what it meant to define wellbeing that went outside of physical health, but also mental health, which is a really big focus for me and the way that I think about taking care of the people that run this business.
Anjali Sud: Well, I think it's an incredible feat. I can't imagine having to do that while becoming the CEO of a company for the first time. So let's talk about, each of us are leading companies that are trying to use technology to help people work better. I know Vimeo since the pandemic and we saw a big spike in large companies using video in ways they hadn't before, live streaming their town halls in Netflix like quality, HR teams sending video messages to welcome employees. Every employee is sort of becoming a content creator and we've been sort of building the tools to make that easier. I'd love for each of us to share sort of what are the things that you've seen the pandemic has actually changed behavior and opened up opportunities for your technology and what innovation are you most excited about bringing to your customers? Maybe Johnny, you could start us off.
Johnny Boufarhat: Absolutely. So for us, obviously in the past few months we've seen a huge amount of adoption, not only of the typical type of events that you would expect Hopin to be powering like a virtual conference like this, but more on the internal conferences that people are hosting inside their companies. So whether it's a company all hands or a workshop or a sales kickoff or whatever it is across the company, that's where we're starting to see lots of usage because people are starting to adopt a more virtual and remote mindset. Even if you're going back into a hybrid work workplace, you still need to talk to all your employees wherever they are in the world.
Johnny Boufarhat: So, extended use cases outside a company, recruitment fair, and virtual conferences, we're seeing a lot of that. On top of that, we made some quite interesting changes to how our product works. And in terms of we, added Boom Stack, which is a physical event provider to our suite so that we're able to power these hybrid events right in the middle where you have people attending on site, but also virtually. And so, innovating in that space, which really wasn't a thing hybrid, the events, has been super exciting for us and also a huge opportunity for us to invent and that's what we love doing as a company.
Anjali Sud: I'm curious, do you think that you can create a world or technology and experience where the online experience is just as engaging and sort of effective as the offline experience?
Johnny Boufarhat: I think there are two parts to it when it comes to engaging and effective, I think when it comes to the effectiveness, I think 100%, I think organizers already who run events on Hopin see that they get to attract ten times as many people wherever they are in the world and the sort of data and analytics that they're getting from these events are unlike anything you could get from a physical event, from how engaged they actually are with the content that they're watching and who they're networking with and who they're engaging with at the event.
Now from an engagement piece, I think it really depends. I don't think the virtual component is going to compete with a fire-breathing sort of event where you're kind of learning yoga, whatever it is, where it's really, we call them experiential events. But everything else that's content-based, I think virtual can be a lot more engaging and that's why we've implemented so many integrations as a platform where you're able to now implement Trivia inside Hopin, you're able to really far third party projects, like if you wanted to play poker within a session during a Hopin event, you'd be able to have that sort of extreme setup. And all of these things add to that engagement piece.
And you asked about what the most exciting thing for us in the long-term is, we're super excited. We think that similar to how Vimeo sees the world from video being in the future, we also see video being the future like many other companies. And I think we're going to be doubling down on not only the larger events that you see Hopin in, but also smaller to medium-sized meetings and events and I think there's a next-gen that's coming because of the pandemic where companies realize how much innovation is needed in order to take us to the next steps of hybrid and remote work workplaces.
Anjali Sud: Well, you're definitely speaking my language. Wade, what are you seeing at Zapier?
Wade Foster: Yeah, I think Christal talked a little bit about the importance of speed and agility and decisiveness. And I think so many companies realized how important that was. And at Zapier, I think that's one of the things a lot of our customers benefited from was being able to build automation, build new systems and processes in minutes and hours rather than days and weeks.
We had a customer that provided event-building exercises at museums in New York City, and overnight that business lost basically all of its business. It went from three million dollars to nothing and had to lay everyone off, but they were able to pivot to teambuilding.com and start providing online experiences in part, because they were able to build out the entire business through Zapier in a weekend and that business now has more employees than it had before the pandemic. And so being able to build out these applications, websites, workflows, automations, whatever you want to call those, in such a short amount of time is something I think all of us have learned is that ability to adjust, adapt on the spot, and having technology that allows you to do that is so critical.
Christal Bemont: I think that's a forcing function. I think it's a wake-up call for something that's been long overdue. I look at it as if you could take a positive out of it, and I always try to look at the reality of a situation, is it checks you to see if you're working at the level that you need to be working both on behalf of your company and your customers. And I completely agree with you. I think it's more behind, quite frankly. I think if we take a look at how long it took us to get here, you would never want this to be the thing, but now that it is, it's like what's possible? How do we push ourselves beyond what's even thinkable right now?
And it's the same for us. We look at customers like Via Medical. Ventilators were pretty or have been a really important part of solving for at least the repercussions of COVID. And we have Via Medical who are, they could at most create 60 ventilators a week 60, 60. And Ed would tell me the guy who runs all of their data, their processes, the operations of their organization, he's like, "Christal, maybe we could get it to 61." They do 600 a day. And they do that because they had to rethink the way and it's automation exactly what you were saying. And they had to force themselves outside, but if they didn't have a good foundation of data and some of the things that require you to run operations at a speed that you can, for us was really about showing up for our customers in a way that they had to stay in business. They had to reimagine the way that they met their customers online.
And we have pharmaceutical companies that had to make sure more than anything that the data they were using was helping them instrument and make the decisions and operate their business. And you know what happens when you don't have good data. It's not necessarily the best outcome, but I just think this is a wake-up call and I don't need to wait for the next one, I'll tell you that right now.
Anjali Sud: Yeah, I think necessity is definitely the mother of invention and I think we're all experiencing it. And if anything, what we observe is a lot of people were very reactive at the beginning of the pandemic because they had to be. And now, as we're sort of re-emerging, people are becoming more intentional. Intentional about the way that they design their technology stack and workplace environments. I think it's a good segue to a topic that I'm sure you all have been dealing with a lot, which is culture. If anything, I know I've learned a lot about being more intentional about sort of supporting employees, ensuring people are informed, productive, engaged during this time. And I'm wondering, does anyone have any great hacks or solutions or things that have just worked incredibly well beyond what you imagined or that you're definitely going to be continuing, that you want to share for other leaders? Anyone who has a good one.
Christal Bemont: Go for it.
Wade Foster: You would think having run a remote company for a decade that we would have this solved, but I still think this is even an area where we realized how important any in-person activity is. We relied on in-person events twice, three times a year to really build that human connection. And when that disappears, I think you start to notice how transactional distributed work can seem. It's an email, a Slack conversation, a quick Zoom call, and it's usually down to business. And if you do that for a prolonged period of time, you start to notice things just don't click quite the same way because those relationships aren't established.
Wade Foster: And so, one simple thing that we've started doing in our executive meetings at the beginning of the pandemic is regular green check-ins just to make sure we understand how people are doing. How are people showing up? And then two, we have these silly icebreaker questions. This week we asked, "What was the first concert you ever went to?" And it just is a quick reminder that, "Hey, we're working with other people who have lives outside of work, who have things that we care about outside of work." And I think that when we get into the difficult problems that we face inside of work, those reminders just help us treat each other as humans along the way.
Christal Bemont: Yeah. I'm just going to draft up to that. I think first of all, that's awesome because it's a, we're all humans, right? And we have obligations outside of work. And I always thought that it was interesting that people thought you walk in the front door and then you can shut everything else out. It really doesn't work that way. And I think that if you look at the type of people that you really, if you want authentic, diverse culture, where people really bring their best selves, that means you have to support them in things inside and outside the company. And this again was a wake up call, I think to say, "Hey, first of all, people can't turn things on and off, so fluidity and flexibility is key." But also we have to really think about what it means to take care of our people. And they spend a lot of their time focused on the things that we do at work. So, it's an eye-opener, I think, for a lot of people.
Johnny Boufarhat: I think one thing for us, we implemented a Hopin Vibe team. And I guess this is something a little bit different, and I can share for us, it might be a honeymoon period type thing, but at the company we have an internal MPS of over 90. And I think the way we've done that is through this Vibe team, as well as being obviously is probably a honeymoon period with how long we haven't been around for as long as a lot of the other companies, but it's worked incredibly well for us as the team basically runs events weekly for people, from mental health events, to trivia nights, to events now city by city. So wherever we have more than ten people in a city, they have a community member that works with the Vibe team to run whatever type of events per city they want to run or per town, so for anyone within ten people plus. So that Vibe team has been instrumental for us. And I got to say, it is a little bit of a pitch, but we've been using StreamYard even before the acquisition of StreamYard to basically turn our all-hands events into a shell. And I think it's something that most of our employees talk about. Our all-hands events are really fun because we really produce it the same way we would a TV show and it's really enjoyable for everybody.
Anjali Sud: Oh, that's awesome. I'll share two hacks. One, it's sort of related to the vibes thing, which we've definitely as we've scaled and gotten more distributed, just we need to be better at recognizing great work. It's really hard. It's one of the things I think a lot of us have lost with the pandemic. So we rolled out all these like team love initiatives to basically make sure like at every corner of the company, no matter where you are working, we're kind of giving people shoutouts. And then the other thing, and I'm sure everyone can empathize with this, but we went through a period right when the pandemic hit, where it was like meeting overload. And one of the things, to the point that we made about asynchronous communication, doing things like asynchronous video messaging, we use our Vimeo record tool, but there's a bunch of others. We've really shifted the mix of when meetings actually need to happen versus recording your screen to walk through my presentation or a demo, quickly sending that out and getting comments back. And I think there was a real, tangible productivity benefit while also retaining this sort of connectedness that you get of seeing somebody, their face, talking through a complex and nuanced idea. So I think those have been two that we will definitely be kind of leaning into as we look to the future.
All right, so we're running out of time, but I want to ask one last question for the group. If you could wave a magic wand and make any future-facing technology or capability just be available in your palm today, what would it be? Christal, do you want to start?
Christal Bemont: You bet. It would be what we're working on right now and what we're providing, which is data health. And what I mean by data health is the ability to actually have a confidence monitor, if you will, for every person in the organization who interacts with data so that when talent is running your data operations, we actually can let you know that everything is on track in terms of the quality of data. It's ironic to me that no one can measure the quality of data today or define it, but more importantly, help people see trouble coming. And there are a lot anomalies in operations and in instrumentation of a business that if you could get in front of those, imagine how much we could help companies really think about avoiding risk, but also looking for opportunities. And I just see it as a foundation and being core to everything that companies are looking to do. So, that's what we're working on and that's what I'd wave a magic wand to develop.
Anjali Sud: Wade, what do you think?
Wade Foster: Well, not necessarily directly related to our work at Zapier, for me, affordable, renewable energy for all, to me, has got to be the thing that if I could wave a magic wand, I would give that to all of us.
Anjali Sud: Johnny?
Johnny Boufarhat: Yeah, I'm going to go outside of the business as well. And I think for me, it's teleportation. I'm really into accessibility and what's more accessible than being able to be wherever you are anywhere in the world? So that's something I would easily wave a magic wand and beg for.
Christal Bemont: Johnny, if you figure that out, buddy, I'm right there. Sign me up.
Wade Foster: Virtual events, what is it? It doesn't matter…
Christal Bemont: Does it?
Anjali Sud: I love that. Thank you all. It was a really great discussion and we appreciate it. Bye.
Christal Bemont: Thank you so much. Bye.
Johnny Boufarhat: Thank you so much.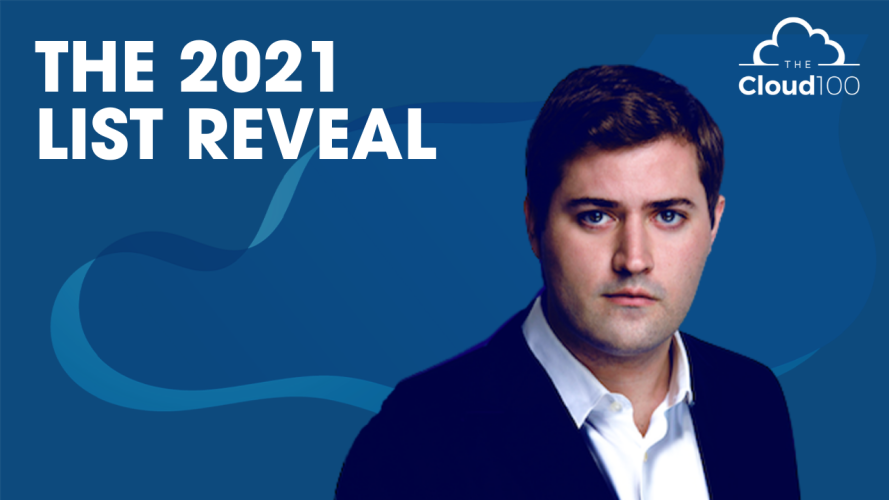 Cloud 100
The Forbes Cloud 100 2021 List Reveal
Alex Konrad, Senior Editor of Forbes, walks us through the highlights of the 2021 Cloud 100; the top 10, the newcomers, the biggest jumps, and what the list reveals about the industry.
Watch the reveal!
Transcript
E-commerce's recent growth of more than 13% from pre-pandemic levels helps boost Attentive and Klaviyo into the top 20. As brands look for new ways to market to buyers online. The top 20 also see some new faces due to a record number of companies that graduated off the list since last year. 19 and counting, including names such as Snowflake, UiPath, Procore, WalkMe, Auth0, Segment, and many more.
The top 20's biggest movers are Talkdesk, which moved up 36 places to number 17, and design tool, Figma, which moved 22 spots, and now sits at number seven. Check out our Cloud 100 package on forbes.com for much more on Figma and CEO, Dylan Field. The list's biggest movers overall revenue intelligence provider, Gong, leaped up 43 positions to number 28. Amplitude and product intelligence, and Highspot and sales enablement, both jumped 52 slots to numbers 37 and 46 respectively. And LaunchDarkly jumped 53 slots, all the way up from last year's number 100. Check out our cloud 100 package for more on that dev-ops business led by CEO, Edith Harbaugh.
Now, let's talk more about the top 10, the cloud's private company leaders. Number 10, Freshworks, customer support software business, Freshworks, is valued at $10 billion based in the Bay Area. Nine, Checkout.com. London founded Checkout.com provides online payment solutions that improve a user's checkout experience. It's one of Europe's most valuable start-ups. Eight, ServiceTitan, the software platform for tradespeople cracks the top 10 after raising $200 million at an $8 billion valuation two months ago. Seven, Figma, led by CEO, Dylan Field, design software business, Figma, recently launched a punny brainstorming product FigJam, and reached a $10 billion valuation. Six, Plaid. It looks like FinTech startup Plaid would be off these lists moving forward when it agreed to be acquired by Visa in January 2020. But with that deal off the books, the open banking company is now flying high with a valuation north of $13 billion.
Five, Toast. Despite a trying year for restaurants, Boston-based, Toast, held on to its number five slot as business has bounced back for its hospitality software. Four, HashiCorp. Forbes 30 under 30 alumni, Mitchell Hashimoto and Armon Dadgar, maintain their number four slot from last year. But CEO, Dave McJannet, now calls the shots at the open-source Cloud infrastructure business. Three, Canva. Led by Melanie Perkins, Canva moves up to number three on the list. As its design software spreads across the globe from Australian roots. Two, Databricks. Based in the Bay Area, Databricks software for AI tools has gone from the UC Berkeley project to a $28 billion valuation. Number one, Stripe. After falling all the way to number two last year, Stripe is back at the top of the Cloud 100 list. That makes it five of six years at number one for the payments company founded by the Collison brothers and valued at $95 billion.
These ranks get tougher to reach and remain in every year. So it's quite an achievement for any company on the Cloud 100 lists to breakthrough. Our rising stars list of up-and-comers, which have raised less than $25 million in funding, also gets more and more competitive. To see that full Cloud 100 list, this year's 20 rising star companies, and much more coverage, be sure to join us at Forbes.com/cloud100. Check out our interactive lander for more info on the complete list, breakdowns by categories, stories about new and notable list makers, and much more.
And be sure to join me later in today's programming, when I talk to Kelvin Beachum, NFL offensive tackle and cloud investor. Sevetri Wilson, founder and CEO of Resilia and Danielle Cohen-Shohet, co-founder and CEO of GlossGenius. We discuss the challenges up and coming entrepreneurs are facing, how they're doing things differently and their advice for other founders building Cloud businesses today. Congratulations to all our list makers and enjoy the rest of your Cloud 100 event.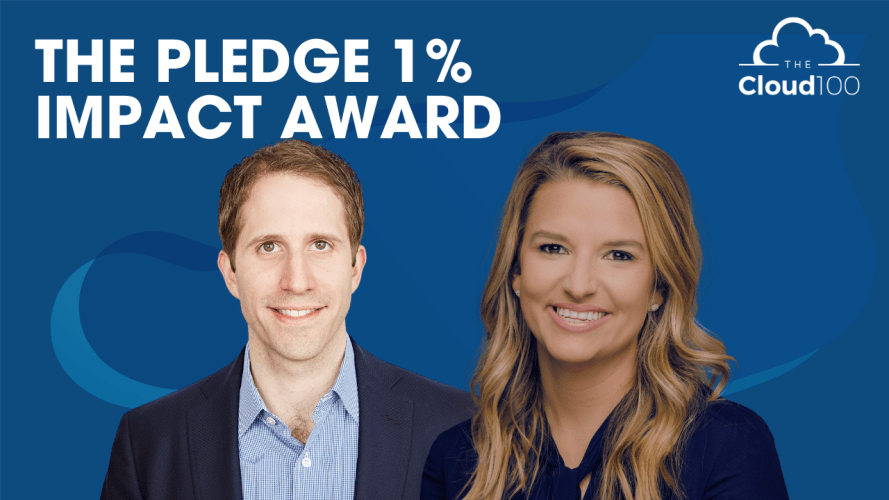 Cloud 100
The Pledge 1% Impact Award
Join Salesforce Ventures and Bessemer Venture Partners as we award one of the Cloud 100 companies the 2021 Pledge 1% Impact Award. Each year the Pledge 1% Impact Award is given to a company that demonstrates an outstanding commitment to social impact, not just by delivering programs that directly make a measurable positive impact, but also by rising up as a leader to inspire and empower others to make a difference.
Speakers
Alex Kayyal, Managing Partner at Salesforce Ventures, Byron Deeter, Partner at Bessemer Venture Partners, and Rachel Carlson, CEO of Guild
Transcript
Alex Kayyal: Thank you again for joining Salesforce Ventures, Bessemer Venture Partners in Forbes for the 2021 Cloud 100. Time and time again, we have seen Cloud 100 honorees step up to leverage their time, products, profits, and talent to support their communities and help us navigate this new world. We've seen more and more businesses set aside a percentage of the company equity prior to their IPO to ensure funding for future social impact.
This year, in particular, we've seen companies collaborate generously as they work together to promote vaccine equity and take on some of our toughest societal challenges.
Byron Deeter: That's why Bessemer Venture Partners and Salesforce Ventures are strong supporters of the Pledge 1% movement. Pledge 1% is a global movement to inspire, educate, and empower companies like yours and leaders like you to be this force for good
Alex Kayyal: Each year at the Cloud 100, we award the Pledge 1% Impact Award to a company that demonstrates an outstanding commitment to social impact, not just by delivering programs that directly make measurable, positive impact, but also by rising up as a leader to inspire and empower others to make a difference. I'm honored to name this year's recipient, Guild Education.
Rachel Carlson: Thank you so much. Rachel Carlson here, CEO and co-founder of Guild, and it's an incredible honor to represent the Guild organization. And thank you all for being recognized for the Cloud 100 and Pledge 1% Impact Award. At Guild, we're on a mission to unlock economic opportunity for America's workforce. And we do so by providing education and up-skilling to those 88 million employees who are in need of a path to the middle class. However, the way we do our work beyond that mission statement is through a double bottom-line business model, where we've put all of our revenue at risk, tied to the success outcomes of the students we serve. And so for that reason, this award is so meaningful to Guild, and so tied to the work we aim to do every day. This past year was obviously unlike any other. Beyond our core commitments to our mission and our students, the events of 2020 compelled us to think about how our solution might serve our community and an even broader group beyond the customers we support today.
As part of our reflection and all of the work that our team did in thinking about how we ought to have a bigger impact in 2020, Guild did a few things. One, we open-sourced our technology and became a founding partner of Skill Up, a nonprofit created to help more than 40 million workers who were displaced during COVID, to get rehired into on-demand jobs of the future. Beyond that technology, Guild also donated 1% of our team's working time to support that organization and its mission. Additionally, we wanted our employees to be able to give back in their own way to causes in their own communities that were near to their hearts. And as a way of doing that, we added a benefit where all Guilders have five paid days off for volunteering and civic engagement each year. That meant we had team members across the country doing things like volunteering as poll workers during the election season, creating restaurant coalitions to provide free and healthy meals to frontline workers during the crisis, volunteering at food banks and a myriad of other opportunities within their community.
Guilders also raised hundreds of thousands of dollars between individual contributions and matching for COVID-related relief efforts, racial justice movements, and other local and national philanthropic causes.
I'm so proud of my team for this work. These efforts are really about who we are. We built Guild with that double bottom line mission so that we could ensure that we're aligning incentives of our stakeholders, to drive to something bigger and societally positive outcomes. And one thing we've learned is that we need organizations like Pledge 1% and the B Corp community to hold us accountable in that work. For that reason, it's such an honor to accept this award today, and I'll choose to view it as an encouragement to continue to do our best and push others to do the same. Thank you.
Byron Deeter: Pledge 1% was created with a vision of baking philanthropy into the DNA of every business around the world. Together, we've already unlocked hundreds of millions of dollars of corporate philanthropy. Today, we want to encourage all of you to join us as members of Pledge 1%. whether it's pledging your company's equity, time, product, and/or profits, you can grow your business by giving back. It's a small commitment today that can make a huge impact tomorrow.
Alex Kayyal: Thank you again for joining us today to celebrate The 2021 Cloud 100. We want to thank our valued partners, The Cloud 100 judges, and our fantastic speakers. And of course, a big congratulations to all of the Cloud founders and CEOs who made this year's list
Byron Deeter: Until next year, see you in the Cloud.
Cloud 100
The Rising Stars of the Cloud
While cloud companies are thriving with record-breaking growth and access to capital, the next generation say this is only the beginning. Here, Forbes' Alex Konrad will talk to the rising stars of the cloud, including Danielle Cohen-Shohet, CEO of GlossGenius, Kelvin Beachum, NFL and tech investor, and Sevetri Wilson, CEO of Resilia. They'll outline their visions for the future of the industry — their "north stars" for how it will operate, the steps they're taking to get us there, and what current cloud leaders are perhaps not paying enough attention to.
Speakers
Alex Konrad, Senior Editor at Forbes, Danielle Cohen-Shohet, CEO of GlossGenius, Kelvin Beachum, NFL and tech investor, and Sevetri Wilson, CEO of Resilia
Watch the session!
Transcript
Sevetri Wilson: Hi, I'm Sevetri Wilson, and I'm the founder and CEO of Resilia.
Danielle Cohen-Shohet: Hi, I'm Danielle Cohen-Shohet, the CEO and co-founder of GlossGenius.
Kelvin Beachum: Hello, I'm Kelvin Beachum, starting right tackle for the Arizona Cardinals.
Alex Konrad: I'm Alex Konrad, a senior editor at Forbes. Welcome to Cloud 100. As one of the most fun things we get to do as part of our Cloud 100 list, we profile rising stars. Up and coming entrepreneurs who have raised less than 25 million in venture capital, but are showing a lot of promise and have technology that could make a big impact. This year I'm lucky enough to be joined with two of our rising star CEOs, as well as Kelvin Beachum, both a star NFL player, whether he would admit that or not, and also a very active angel investor who works with entrepreneurs every day. Thank you all for joining us. Now, Kelvin, I have to start with you. I'm curious how many companies you are usually working with so that we know what we're about to put these two entrepreneurs through?
Kelvin Beachum: It's over 50 at this point, so I'm staying pretty busy.
Alex Konrad: All right. So we've got an expert investor here with us. Sevetri, could you tell us a little bit about how long you've been working on Resilia and what you would say the overarching mission of your startup is?
Sevetri Wilson: Absolutely. So we launched Resilia to the public at the end of 2016, and our mission is really simple. We're seeking to democratize philanthropy, making it more accessible to all. And by doing that, we're able to bring more people to the table.
Alex Konrad: Awesome. And you're based in New Orleans, right?
Sevetri Wilson: Based in New Orleans with a second office in New York.
Alex Konrad: That's great. And Danielle, can you tell us a bit about GlossGenius and your mission there?
Danielle Cohen-Shohet: For sure. So we believe that anyone should be able to participate in small business entrepreneurship and be able to achieve their economic and personal dreams. So GlossGenius is building an ecosystem that empowers business owners, helps remove barriers to success, and instead replaces them with very fun, memorable product experiences so any business owner can feel like they're on the journey of a lifetime. The industry we serve today, the beauty and wellness industry, is perfect for this and very exciting given a lot of things that are happening. So yeah, in a nutshell, that's what we're doing.
Alex Konrad: And where in the world are you these days Danielle?
Danielle Cohen-Shohet: I'm in New York City.
Alex Konrad: Great. Okay, we've got two east coasters. We've got someone in-between and then we've got Kelvin down in Arizona, trying to say cool. Great. So this has been a pretty intense past few months for everybody, but especially for entrepreneurs, maybe starting with you Sevetri, what has it been like for Resilia? I feel like your name is perfect for a company that's going to handle adversity well, but has this been an exciting time for the business? A difficult time? What comes to mind first?
Sevetri Wilson: So the first thing that comes to mind really is yes, it's been an exciting time, both exciting, but also very empathetic to what's happening around us with the pandemic and how we're trying to all come out of this. But as a company, we actually thrive when there's more capital being deployed in the philanthropic space. So in 2019, there was over $430 billion given by corporations and individual giving, not even including the government. In 2020, that number went up 7%. So when we see that type of capital being deployed to philanthropy, that's where Resilia thrives. We come in, we help, whether that's foundations, whether that's new funds, set up, and help them deploy that capital, but also support the capacity of those who are receiving it. And those who are boots on the ground doing the work. And we all know there was a lot of much-needed work to be done over the past few months and still is.
Alex Konrad: Got it. Yeah, that's no surprise. And Kelvin, you have a non-profit, right? And you're working a lot, both on the for-profit and nonprofit sides. So is this something that is resonating with you as well?
Kelvin Beachum: It always has. Me and Sevetri have talked in the past, we've crossed paths already, so great to get to actually share the stage with her again. But I sit in a world where I get to intersect in both. Sports plays a huge role in both the for-profit and nonprofit side. So to see Resilia doing the type of work that they're doing, not only in some of the southern states, but across the globe, is impactful right now.
Alex Konrad: That's awesome. GlossGenius is a little different. Danielle, I know it is for-profit but your customers have probably been going through some interesting times. What would be the perspective that you would bring to the table here?
Danielle Cohen-Shohet: Yeah, a very interesting last 18 months. Moving into 2020, the shutdowns happened, a very challenging time for customers. And even internally, the company we were in the trenches, making a lot of internal shifts and thinking about how we could continue to help customers navigate a lot of the shutdowns during that time. In a very short period of time, we were shuffling things on the roadmap around. We were changing features that we had expected to take months to develop — we deployed them in days. We struck relationships up overnight with lenders. In a matter of six days, we facilitated around $40 million of loan applications and even moving out of the shutdowns and into the reopenings we've been at the center of helping many of our business customers facilitate safer and better client experiences as they're servicing more and more clients. So contact less payment solutions, getting those out to business owners. And I think really the last year and a half has been marked by a very firm commitment to double down on helping customers, not just when they're doing well, but also in times of need and making sure we're helping them not only survive, but thrive.
Alex Konrad: Got it. I'm curious if, any of you please feel free to start on this one, but as an entrepreneur, or when you're working with entrepreneurs, how do you balance that short term need and all hands on deck mindset to want to help your customers, help your stakeholders with that long-term vision and mission that you also want to stay true to and not lose focus on. So how does one balance that, so that you're excelling both in the short-term and the long-term at the same time?
Sevetri Wilson: So I think 2020 was unlike anything that any of us can imagine. So our initial reaction was to jump in and see how we could support the communities around us. We immediately did that in New Orleans where we're based, also in New York. Ironically, both of those cities were the highest per capita of COVID-19 cases. And so there was so much need not only here, but all over. And so we knew that organizations just by nature of how capital was going to be dispersed because you have to realize, I lived through a life-changing experience overnight with Hurricane Katrina. And so I knew that when things began to lockdown, when the pandemic hit, when government aid began to flow out, some of those things were very similar to what we saw after Katrina. And so being able to really enact some of those historical, type of reactions that I did in the past was something that we did as a company at Resilia overall. And so, although we definitely don't want to have mission creep and we don't want it to get off our goals and our roadmap, we knew that there were immediate things that we needed to execute for our not only users and our customers, but also for the community, that buys into the product that we are ultimately selling. And so, yes, very important to stay mission aligned and mission-driven, but I think 2020 was truly just extraordinary and many of us had to do what we felt we needed to do in order to support our customer base.
Danielle Cohen-Shohet: I think for us, we were in a very fortunate position, given our mission of helping anyone achieve entrepreneurial success and particularly business owners in the beauty and wellness space was very closely aligned with some of the things that we actually needed to shift towards to help them survive and thrive in a post-pandemic world. And so I even think some of the things that we did as we made a lot of internal shifts and shuffled things around the product roadmap and got experiences and amenities out to customers, were actually initiatives that in some part informed an even furthered the mission we could be on, and gave us even more conviction that the mission we were on was an incredible mission and a worthy mission and something that customers also really supported given the depth of customer relationships that we developed over the pandemic and continue to further. So it was interesting to see how we could connect the dots, and we were in a fortunate position given the type of business we have. But certainly a lot of learnings from that. And the thing underpinning all of this is just stick to what you know, and the constants and the values. And that really helps you stay true to your mission regardless of short-term or longer-term changes.
Kelvin Beachum: And just to piggyback on both founders, it's one of those things that I preach to the founders and entrepreneurs that I was involved with, was just executing. Us, as football players, talk about this all the time on the football field, is execution. And I think during the pandemic if you have great fundamentals and just great unit economics, you understood what you needed to do and where do you needed to sprint during the pandemic, and we're still in the pandemic. But as we've come into 2021, execution is still the number one thing that I've continued to preach and try to talk to some of the entrepreneurs that I've backed.
Alex Konrad: One thing that I found interesting is it seems like this generation of entrepreneurs is also trying to find partners and investors, other stakeholders who share their values or care about the mission as well. I'm curious for our entrepreneurs if that's something that you look for in bigger partners or in investors in your company today. And of course for Kelvin, as you're looking to invest in startups like these, if that's something you're looking for in up-and-coming entrepreneurs as well. So maybe Kelvin, you could start with that zoomed-out look, and then Sevetri and Danielle, you could talk about what it's been like fundraising and looking for that on your side too?
Kelvin Beachum: Yeah, it's a combination of both. I think it's a combination of, do I want to spend the next seven to ten years of my life with the founder? That's the number one thing that I think about. And then from an alignment standpoint, is what they're doing something that I want to align myself with? Whether it's an enterprise company or whether it's a FinTech company, or what have you. Is this a mission and is this something that I want to back and provide my energy to? And it's something that has really helped guide me and something I've learned from mentors across the country, but really just finding things that I resonate with and want to continue to back and want to continue to support through the ups and downs because this is not an easy journey for founders. It's not easy, so is this something that I want to be in through the thick and the thin? And for me, that's been something that's really guided my decision-making.
Sevetri Wilson: And I would agree with that, I think that from a founder perspective, I am definitely looking for investors and partners who align with the vision, not only that I have for the company, but the overall mission of the company as a whole. Oftentimes I think when you're early out of the gate as a startup, and you're trying to raise those first dollars, you're just happy that anyone is believing in your company and will give you money. And so sometimes you can overlook the values of an investor that say two, three, four years down the road, when your company is doing great, you're thinking about, "Wow, do I really want this person around or not?" And so you want to be able to, very early on, understand and know that you align with investors that you're bringing on from out the gate, because those investors are going to be around as Kelvin said, for a very long time, and with you on the journey. And one other thing I think is really important is that now, in this day and age, I think even investors are looking to ensure that they are aligned with founders' values and missions as well. And I see this because of the type of partners that are being promoted right at these different funds and those who are reaching out and how they reach out and how they've done their research. And so I do feel that it's also changing from an investor landscape and they're realizing, "Hey, if we want these founders in our portfolio, we also have to ensure that we're mission-aligned from the start."
Danielle Cohen-Shohet: And to Kelvin's point, approaching it from a different angle, from the entrepreneur's perspective, Kelvin said, do I want to spend the next seven to ten years with this entrepreneur? And I think every entrepreneur should be asking, do I want to spend the next seven to ten years with this investor as a partner in my business? And for me, something that's very important is to align yourself with investors that understand what a mission-driven company is. And like Sevetri said, as investors that can be behind that too. Taking a step back, I always think, and there are a few different types of companies to kind of define what is a mission-driven company for any entrepreneur out there, I think there's a few types. The first is a company where a business opportunity exists. The second is a company where there's a business opportunity with an added mission. Toms Shoes, for example, is one of those types of companies where great opportunity to help improve this world, but the very fact that a free shoe is being given away, doesn't actually inform how the product or the shoe itself is developed. And I would say the third type and you'd make sure all investors that really support what it is you're doing if you're a mission-driven company align with his view, and it's that a company that is mission-driven is one in which the product and operations and everything has to do inside the company is evolving because of the very mission you guys have. And making sure from day one, any investor is on board with the mission and sees companies in that way is very important.
Alex Konrad: For sure. I'm curious, when you guys are building your business, do you feel like you do anything differently or do you make any different decisions then maybe if I were doing another work software company for other startups or something. Do you have to make any choices that are proving that, out there, in building the business, as opposed to just at that abstract level, I'm curious, Sevetri, when you're meeting with nonprofits or something, is there a different approach you have to take than perhaps if you were a non-mission driven company, because I think for entrepreneurs who might be in our audience, they might be wondering is there a way to be more intentional here? Is there a way to infuse some of that into what they're doing too?
Sevetri Wilson: Absolutely. So it's interesting because Resilia is a two-sided market. So yes, we work with non-profit organizations, but we also have charities like Oxfam America, we have corporations like Goldman Sachs and Citi. And so we see such a wide spectrum of clientele and customers on our platform that we're working with. And so for us, because we're seeking to democratize philanthropy, and we're essentially trying to undo who generally has had and held all the decision-making power in the philanthropic space to make it more equitable. And so our mission is so aligned when it comes to how do we bring these corporations, these organizations and individuals to the table, and make them buy into what we're doing, right? So this more equitable world that we're seeking to create where that is, organizations led by people of color, or led by women, who have generally not been at the table in an equitable way. And for them to say, "Yes, we're actually going to change the way we're doing things." Right? In order to accomplish this. 2020 actually helped us move that mission farther, faster, but it's still a very antiquated way of doing things. And philanthropy has very much so been known for moving very slow and in many ways, hoarding wealth, right? And so we're trying to really undo that, so our mission and the values that we bring to the table, we bring those to the table every single day and it's interwoven into the makeup of our company.
Kelvin Beachum: This is to the entrepreneurs, how do you all think about decision-making? You're growing businesses that are mission-driven, driving value for all types of stakeholders, but how do you all think about decision-making? Some of the small decisions that you make and some of the major decisions that you make may unlock a completely different market for the company.
Danielle Cohen-Shohet: I think just taking a very mission-driven approach to decision-making and really being intellectually honest about whatever decision is in front of you, is this driving value to customers and stakeholders you're serving, and is it furthering your mission? I think many times you'll find answers, no, it doesn't. And in fact, being very mission-driven with your decision-making is very effective because it helps you make decisions faster.
Alex Konrad: Danielle, does that mean saying no to opportunities though, that might seem lucrative or an easy thing to do, but it just doesn't fit that criteria?
Danielle Cohen-Shohet: Totally. Yep.
Kelvin Beachum: And going forward, we've hit 2021, it's in the middle of 2021. You know, what do you all see as the challenges moving forward with the mission, with growing those businesses? Knowing that both of you have raised quite a bit of money, but what do you all see as the challenges moving forward?
Sevetri Wilson: Kelvin said something earlier that just really sticks with me to answer that question and that's execution, right? So I am constantly telling all of my team members and my department and my managers, we have the plan, we have it, right? We have that thing that's going to help us take it to the next level and scale. It's all about execution and what we do with what we know and how we begin to ensure that this message is filtered throughout the company. Right? And so for us, this year we began to hire our first sales team. And so now the weight of revenue doesn't solely rest on me and my VP of revenue, Ash, came in and he's been killing it across the company. And really just not only mission-aligned, because sometimes when you bring in the sales side of things, you have some conflicting things that can happen with the product and other departments. But at this point in the company, we were really jelling and it was like, how can we continue to do that and grow and scale and do the things that are mission-driven, but also do the things that helped scale the company, right? Because that's what we're here to do. We're here to grow a SAAS tech company at scale, and so a lot of things that we think about really lie in the foundation of "Can we execute?" right? And how we do that.
Danielle Cohen-Shohet: Yeah. And even on the topic of execution taking you down, instead, I think something that is always embedded in very successful execution is prioritization. And so, Kelvin to your question of what are some of the challenges, I think whether we're in this operating environment or not, a challenge with execution always is prioritization. It's something we spend a great deal of time thinking about, and for us specifically helping customers and achieving our mission, there's a number of ways we could be doing that. And there's a number of ways that are extremely worthy of pursuing our efforts towards. And so we, I think the focus is important, we think prioritization is important. And ultimately we look at that and we say, well, that is the best way possible we could ever achieve our mission and execute because making sure we're prioritizing the right things, helps us do them faster. And so in theory, we could be doing much more at the end of the day, once we've put one foot in front of the other in the right way and taking the right steps. And so I think that's an accelerant to achieving your mission in many ways. And so challenges, tactically for us, do we spend more time on product and these features or more of the thought leadership that we could be doing in this kind of world and all of them have their merits, but it's an exercise in prioritization.
Kelvin Beachum: Yeah. How do you all think about culture? Culture with how you're hiring as you're starting to scale and starting to grow? And then the culture that you have also internally, being mission-driven? Could you all touch on that briefly before I kick it back over to my friend Alex?
Danielle Cohen-Shohet: I'll jump in. I'll address one area specifically around how we're hiring as we're scaling so quickly right now. Very important that we hire everyone not only on the basis of merit, but also can they align with the mission? Can they get excited about it? And do we think they're going to contribute to the mission in a very unique way? We have a whole entire interview panel and many of the interview slots are dedicated to fleshing out if someone is values-driven, are they mission-driven? And aside from any type of skill they would need to bring to the company for the role they're interviewing for, it's really understanding their values and whether or not they're a good cultural fit for the specific mission we're pursuing. So yeah, we put a great deal of thought into that.
Sevetri Wilson: And likewise at Resilia, culture is really the foundation of the company and building Resilia with individuals who are passionate about the work that they do every day and come in with this idea that, yeah, we can actually change the world with our product, literally we can change the world. And for us, we just ended a three-series D&I workshop on social justice with the amazing Shanelle Matthews. We have all of these workshops and bringing people in from various backgrounds and ensuring that everyone's waste is heard and echo throughout the company even if they don't physically want to say a word. And we have just experienced such great feedback and an overwhelming response from our team, because we're always thinking about how we build the most inclusive culture that we can with our team members at the center of our work. So we are huge on culture and constantly thinking about it and constantly putting people in place to ensure that we continue to grow because sometimes as you grow, it can be hard to keep that culture that you had imagined when you first started your company in place.
Alex Konrad: Can I just say it is unfair that Kelvin is a starting player in the NFL, long career, community organizer, investor, and he's now a better interviewer than me. I wish he would have given me one thing. But that said, I am curious, seeing Kelvin and talking to you guys, I am curious if Kelvin, is this something you ask potential investments about their culture and about their mission? And let's say you were meeting Sevetri and Danielle for the first time and trying to understand their businesses, what would be the top question you would ask them about how they operate as an entrepreneur? Because I think it might be really interesting for our audience to kind of see what matters to someone like you.
Kelvin Beachum: For me, the first thing is I have to get to know you and it's been cool getting to know Sevetri over the years. It's about getting to know you and getting to know the founder, getting to hear their story. Because in asking questions, and I asked very poignant questions because I want to get to know about where they came from, the struggles that they had, the successes, the failures. And these are the types of questions that I asked in an everyday fashion, because it helps me at least be able to relate and empathize on a personal level. I've never been a founder, I'm a football player. I love playing football. I haven't been in that seat, so I need to understand their journey and what they've been through before I can make a decision on whether this is something that I need to spend time with. But for me, that is the most important thing is really taking the time to spend time and hear the stories of the entrepreneur. Because every single entrepreneur and founder and CEO has a different way in which they get it done, a different way in which they believe culture should be interwoven throughout their company I've had founders that, they have a selective shoe that they use every time an employee gets a year in the company. You have parties for certain companies, you have fireside chats where they bring in different high-end speakers. So it's different things that different entrepreneurs and founders use to motivate and bring that inclusive culture together internally. And I just like to know about it, I'm inquisitive, I'm an avid learner, so these types of questions are things that I want to find out about.
Alex Konrad: That's awesome. Well, Sevetri and Danielle, you've both had success fundraising. For entrepreneurs who are in our audience, maybe starting with Sevetri, what has been the single most important thing to really break through and find that success fundraising? And what advice would you give from your journey there so far?
Sevetri Wilson: To be honest as a Black founder, traction. It has been the defining point between the difficulty of raising our seed round and the ease of raising series A and investors who reach out every single day, interested to know if we're going to raise more capital. But outside of that, relationships and network, I think that being in the south, when I first went out to raise capital, New Orleans isn't a big tech ecosystem. And so I had to leave New Orleans to go try to find capital and then bring it back. And I realized very early on how difficult it was because I had not built those relationships early enough and no one knew who I was, right? So I wasn't a popular founder and people may say, "Well, Sevetri, you're kind of popular now, you've been in Forbes and Cloud 100 and these other places." But when I first started out, no one knew who I was and I had to build those relationships and networks. And so when I went out to raise capital, I had to really lean on the traction of the company and say, "Look what we have already done and this is where we're going. We need you along for the ride." And I used a lot of my past performance, right? Of building a previous company, since there were profitable companies. You build a profitable company, great for you, but really showing the drive of how we're going to scale this tech company and how we were going to grow and bring Resilia to the forefront of tech for good. And so, yeah, it definitely has been an experience raising capital, but I would definitely keep those things in mind.
Danielle Cohen-Shohet: As a company that was largely revenue finance for some time before going and raising a lot of capital, I will absolutely agree that traction is a very powerful card in hand to have when you're going and raising. And traction for companies can mean a lot of different things. Generally, I think it means customer count and revenue, but for very early-stage companies, you could think about traction in terms of things you've learned, things that have worked, things that haven't worked, and knowledge generally, that's been amassed in the early part of your journey here. So I encourage everyone, traction is very important, but there's a lot of different types of traction you could have. And it's really how you think about it and how you value that and communicate and share that with investors that's important. And then the other thing I would say, that's really important, there's this idea that what you aim at determines what you see. And I think in many ways, when you think really big and you come to the table with a very ambitious picture of what a business could become, I think you see things very differently and investors definitely can catch onto that and they're very excited by someone who's able to see things in a very big way. And I would encourage anyone to think very big about how they're spending time and the business opportunity in front of them when they're engaging with investors to raise a lot of capital.
Alex Konrad: Now, we're almost out of time and this has been so fun. For the founders I have a question which is, do you have a question for each other? Because you both have been successful fundraising, you do have traction, you do have a mission that I think we all understand now, and yet, Kelvin and I are not entrepreneurs. And so we will never quite know what it feels like to be doing that. So what is on each of your minds, as a way to end this, what would you ask each other if Kelvin and I weren't here?
Danielle Cohen-Shohet: I have something because I think it's always great learning from other entrepreneurs and exchanging notes. But to you Sevetri, I would ask you, what's maybe one thing you wish you had known before starting out and creating your company?
Sevetri Wilson: So I think it goes back to the idea of relationships. I think one thing that we see now is that investors are like, "Oh, you can build from anywhere. You don't have to build from Silicon Valley." And so much of the universe was trying to push me to Silicon Valley. And I stayed pretty diligent with staying where I was, but had I known a little bit about the ecosystem itself, I would have done things a little bit differently as it relates to when I started raising capital, how I structured my company, right? So structuring my company, I just went out and I started an LLC and converted it to a Delaware corporation upon raising my first capital. And so there's so much I did not know, right? Early on as a tech founder that I learned along the way. And so the power of finding your tribe where you are and the importance of understanding and putting mentors and advisors around you very early in the process would be critical. And I would do that a lot faster than what I did when I first started my company. And the question that I would ask you would be, what are you looking forward to? What next are you looking forward to?
Danielle Cohen-Shohet: Many things. I would say one of the things that I'm most looking forward to is seeing very different leadership capabilities being stretched and developed, even in my own self. I think looking back on the past set of experiences and the journey behind me has obviously shown that there were a lot of different requirements needed and a lot of adaptations you need to make as a leader. I didn't necessarily know any of those were required when I was starting out. And so where I am right now, I think there's a lot about the leader I'll become that I don't know right now. And I'm excited to see that and continually push and challenge myself to succeed in that area.
Alex Konrad: Any final advice or words of encouragement for our entrepreneurs, Kelvin?
Kelvin Beachum: Keep doing what you're doing. I love what both of y'all are doing, excited to see you all continue to grow.
Sevetri Wilson: Thank you.
Danielle Cohen-Shohet: Thank you.
Alex Konrad: Awesome. Well, we're honored to have you all as part of the Cloud 100 community. Thank you so much for the insights and we can't wait to see what you all do moving forward.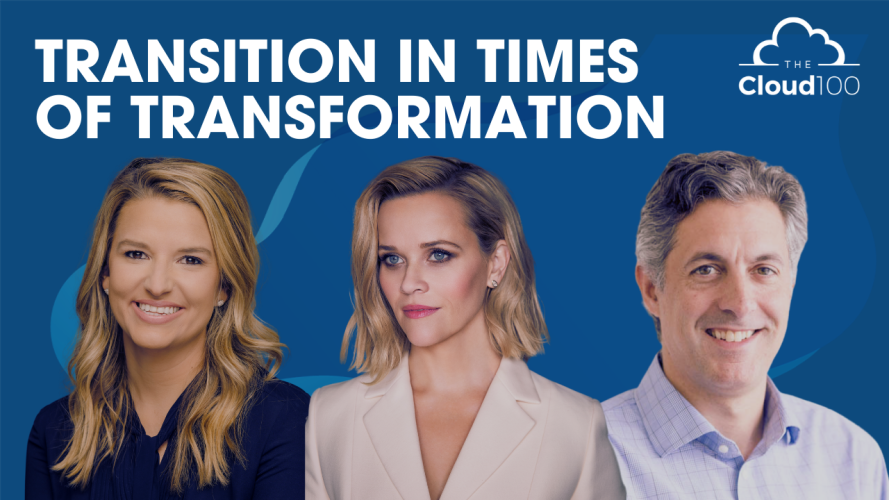 Cloud 100
Transformation in Times of Transition
The pandemic isn't over, but the light is at the end of the tunnel. During this great reset — when the way people work and live is more fluid than ever before — figuring out how to navigate the digital and the "real" world seems to be on everyone's mind. For many leaders, this shift is an opportunity to explore what they can do differently as the world begins to open up again.
To help explore this transition, we bring together three leaders from industries undergoing major change who are leaning into the shifting landscapes and pointing their respective industries towards the future. Reese Witherspoon, Rachel Carlson of Guild Education, and Chris Comparato of Toast share the transformations they've made this year, the values they continue to carry, and how that informs the way they build and lead.
Speakers
Reese Witherspoon, Founder of Hello Sunshine, Chris Comparato, CEO of Toast, and Rachel Carlson, CEO of Guild
Watch the session!
Transcript
Reese Witherspoon: Hi, I'm Reese Witherspoon and I'm the founder of Hello Sunshine.
Rachel Carlson: Hi, I'm Rachel Carlson and I'm the CEO of Guild.
Chris Comparato: Hi, I am Chris Comparato and I am the CEO of Toast.
Rachel Carlson: All three of us spend time in big industries in the US that have really undergone an enormous amount of change over the course of the pandemic in the last almost year and a half now. So I'm curious as you think about the broader change, but more specifically change as leaders and how you figured out how to lead during this crazy period that we've all gone through. What are the leadership changes you've made or any leadership resolutions that have been impactful for you as you've navigated leading? And I'll ask Chris to start.
Chris Comparato: Toast is a cloud-based end-to-end platform that powers the restaurant industry. So as a backdrop, the COVID pandemic had a pretty significant impact and it threw a punch into the restaurant community. And when the restaurant community started to feel pain, we felt pain. When your whole customer base is suffering, you feel that pain. If you go back to last March and April, it was pretty tough. And while you're reading signals from different sources, you've got to make some calls. So for me, one of the biggest self-improvements is really about decision-making. And then on top of that, how do you communicate when you're in a little bit of a crisis and you're analyzing where to go next, how do you communicate to your team, how do you communicate to the customer base, and all of the key stakeholders?
So I think that's one thing that jumps out at me is really decisiveness and resilience, and then also communication because it's important to stay aligned and give people clarity. But it's continuous improvement. So. I think I'm always looking to up my game and continuously improve and that part continues. Reese, how about you? The media industry, the media industry has gone through amazing transformation in the past year and a half. So when you look to your role as a leader, can you reflect on any changes that you had to make within your space and your industry?
Reese Witherspoon: Yeah, I think March, I want to say the 11th, we were in the middle of shooting The Morning Show in downtown Los Angeles and everything just came to an abrupt halt. I remember Jennifer Aniston calling me and saying, we have to shut this down. Do you see what's going on in Italy? And within 24 hours, we were on the phone with the heads at Apple and just saying, we got to shut this show down. At Hello Sunshine, we had four shows in production that just immediately stopped. And it was very abrupt. We were all told we were going back in two weeks. It was not two weeks. And that's hard. Once you've started production, it's a speeding train forward where you lose so much money every single day. And I have to say that our corporate partners, our studio partners were incredible with the way they took care of our workers, really compensating them, making sure that they were still paid for as long as they could be. But I would echo what you said, Chris. It was a lot about learning to communicate with people. It was, wow, we all got on Zoom really fast and started connecting and reassuring. And not just those everyday scheduled meetings, but it was picking up the phone and calling people and going, how are you managing this because we're now talking all day on screens and how are you handling that with your team. And mental health check-ins. Right? And Zoom-free Fridays became really important as the pandemic progressed. Come back in October, we were back to production again, and that was a great relief to us, but then we had to implement tons of COVID protocols. So it's been a really hectic, crazy time, but I feel really optimistic that those skills that we learned during that time are really going to help us grow and feel even closer as a company. What about you, Rachel?
Rachel Carlson: For us at Guild, we are focused on up-skilling all of America's workforce, but with a real focus on the frontline workforce. And the frontline really was undergoing, I think the most intense impacts of COVID. When you think about employees who work at a Walmart or a hospital or in a Chipotle and had to move to all app-based orders, you name it, those are our students. And so empathy became really the driving characteristic that we had to focus on at Guild because of course, we're deeply empathetic to our students. And at times that felt at odds with some of the other stakeholders, we serve like our employers or our university partners who all come together to do this up-skilling. But really everyone was struggling because employers were trying to figure out how do we keep our people safe, but keep our stores open. And then universities had an incredibly difficult time during the pandemic, particularly the schools we work with that have both on-campus footprints and online. So empathy became the driving theme for Guild. And then for me, as a leader, it became wildly important. 54% of our students are women. 70% of Guild employees are women. This was a tough year for moms. And 56% of our students are students of color. And this was probably the most important, but the most difficult year of conversations, decisions around race. And for me, just trying to constantly find a way to connect and stay aware of what my team and my customers were going through, became my north star. And it was hard. And I've learned so much. I look back with a lot of gratitude for what I learned this year.
Reese Witherspoon: So, Chris, speaking of your business, so many brick and mortar locations of restaurants had to pivot to digital solutions. Where did Toast jump in and help with those solutions for restaurant owners?
Chris Comparato: Sure. So before jumping into, really, 2020, I think it's important to zoom out and talk about the industry at large. And the restaurant industry is this amazing diverse industry that we all love and cherish so much, but it's been underserved by technology firms and financial service firms for decades. It's fallen behind other industries in modernizing around technology. When COVID hit, I'd argue that some of the products which used to be optional became indispensable and must-have. So if you think about the restaurant which typically served their dine-in population, and maybe they had delivery, or maybe they had takeout or online ordering, all of a sudden when COVID hits, people are not coming into the restaurant, obviously, and restaurants really had to pivot. And how do you drive those orders into the door? So whether it's first-party delivery to get orders in on delivery, whether it's curbside pickup and take out, whether it's online ordering. So at Toast, we very much tried to expedite products that we already had in motion, but really turbocharge them and get them into the hands of restaurants so that restaurants could get orders in the door. And then once the restaurant had consumers and guests' orders, how do you increase efficiency, because these restaurants were struggling when it comes to staffing and employment and safety protocols and compliance. So how do you enable that restaurant to really run efficiently and run a streamlined business and get those meals and orders out the door, whether it's to frontline workers or to consumers?
And then lastly, how do you do all of this and still delight your guests and make sure that as an entrepreneur and as a creator and an artist, you're still making these fantastic meals, but you're delivering them through different channels. And how do you still make sure that you've got this edge on delighting your guests and creating a fantastic experience? So if the three of us were sitting on my patio, how do we enjoy a great meal, but we're on my patio, or maybe we're doing takeout and going to go in and do curbside pickup and sit at a park. But how do you make sure that you're also delighting the guest? And I think a lot of this came front and center, I'd say, in the middle of 2020. And we had to expedite products that we had already been working on. Another good example is the ability to, when restaurants came back, for us to walk into a restaurant and order and pay at the table, but perhaps, not touching a menu, not touching a terminal, but the ability to have the health and safety of the consumer and the employee in mind. So products like order and pay at the table and scan-and-pay became really critical indispensable products for the restaurant industry.
But Reese, what about media? Media has gone through an amazing transformation. So maybe you can comment on some of that same transformation that's happened within media.
Reese Witherspoon: Yeah. I mean, it's been really interesting to watch audiences shift their viewing patterns. So watching that behavior change so rapidly, unfortunately, the decline of a movie-going definitely impacted my business greatly. We were primarily a streaming-based company that are scripted and unscripted pretty much lives on streaming. So, just doubling down on those strategies. And also thinking about, kind of trying to predict what the future will be, what do people want to see? I think it's going to be really important as we emerge from this time that people are going to want to see hope and optimism, humor, comedies, things that lift you up. It was also really hard too because a lot of shows came out and they were very, very hard and dark. It was hard to watch. So I think a pivot there too, about what we're making, not just how we're making it but the content inside, how audiences are going to want to feel cheerful. And that's something that we were really talking about a lot and incubating new ideas and finding new scripts during this kind of time of quiet.
Rachel Carlson: Reese, I'm really curious. Your career has spanned so many different industries and you've been quite entrepreneurial in a number of them between the work in media and Draper James and the Book Club. I'd love to hear, what inspires your entrepreneurship?
Reese Witherspoon: Well, I just have a billion ideas and I like to…Sometimes they're terrible ideas and then sometimes they're good ideas. But I've always been entrepreneurial ever since I was little. I always had some business I was running out of my desk in the third grade or doing something enterprising when I was seven or… So. I don't know. I've always thought of myself as a problem solver. So when I see a very clear glaring problem, I'm always trying to figure out my way to fix it. And when I looked at Hollywood in general and media in general, I started to see that women as audiences were migrating to different platforms, but they weren't really being spoken to on those platforms. Right? So my industry was pretty much focused on movie-going. And with the emergence of streaming, created this real white space and social media, I would say, where women were very early adopters. I think it created an opportunity to build a multimedia brand that could really bring entertainment to women where they were, whether it was on their phone, whether it was on the TV, whether it was on their computer screen, but instead of asking audiences and consumers to come to us, we were going to them. And that was why we were very consumer forward. And trying to just always keep on top of what women are looking at right now, and in the process doing it with authentic authorship across all marginalized voices. It isn't just about women per se, but it's about women of color, LGBTQ representation, differently-abled women. These stories have not been told for years and years, hundreds, thousands of years, because the creators couldn't authentically tell those stories.
But we're in a unique spot where the convergence of streaming and the secular tailwinds of me too, or time's up or black lives matter, has really brought consciousness to audiences and companies alike. So I think, whereas I used to be talking in an echo chamber 10 years ago about these things, now studio heads are like, yes, bring us all that content. We need it. So it's actually been a really encouraging time for a change in my industry. This kind of dovetails with what I was talking about. There have been major resets in so many industries. And I wonder how you have perceived that and been in front of all of this progress and how you kind of chart that with your business.
Rachel Carlson: So for Guild, we, in 2014, felt like the future of work was coming and the need to upskill America's workforce was prescient in a way it hadn't been for any other generation. Because if you think about it, the grandfather was maybe a member of an agricultural economy. The son, who was then in the industrial economy, saved money for college. College was quite affordable then. And the grandson moved into the knowledge economy. That's how we used to make the change over generations. Now it's the great-granddaughter and she's going to have to re-skill herself every five years. She can't wait for her children to enter the next economy or to learn the next skill because the half-life of a skill is no longer a generation in length, it's four and a half years. And so what that means is for the average American they're going to have to re-skill and up-skill themselves every five years. That doesn't mean a four-year degree every five years, but it does mean three, six months, sometimes one to two years of learning a new technology or a new set of people leadership skills or elevating themselves into the next step of their career.
So we had a pretty deep conviction on that seven, eight years ago, but it took a long time to convince organizations to follow. So we had to find the more innovative companies and the more innovative universities to build this two-sided marketplace who were willing to take a risk. And some of those are companies and schools you've heard of like the Walmarts and Chipotles and the University of Arizona, but others are ones you've never heard of, that were just on the tip of the spear, where they had leaders. And it always comes down to leaders who see what's needed the same way you mentioned knowing what women need from media. And I'm a happy, grateful customer of that from your behalf. So thank you for your book club and for Draper James and that type of innovation. I think it's about understanding what the mass American public needs. And that's something I like about the work that all of us do, none of us call Silicon Valley home, but we are doing innovative things that live in streaming, on the internet, but from what I would call mainstream American perspectives.
Reese Witherspoon: I love hearing that Rachel. It's so interesting because I've never really thought about every skill that you have. Right? Because we all have skill stacking in our careers. But it's so important to stay nimble and continue to learn, every four years, new skills. For us, it's about all the new social media platforms. And it's like, sometimes I'll have a moment where I think, another platform and we have to learn it. And the answer's yes, we do. We have to adapt and innovate at all times if we're going to stay current and part of the creative economy. So I think that's really interesting that you say that. But I've never heard anybody sort of talk about it as every industry needs that kind of constant updating and learning.
Chris Comparato: Yeah. One of the things I was going to mention is Rachel, I applaud you because you're making it so accessible to everybody. And I guess a question for you is, how do you think remote learning long-term will have an impact on how we all learn? And can you comment on remote learning and sort of the virtual environment and what that's going to look like long-term?
Rachel Carlson: Yeah. So I like to think about it from an entrepreneurial framework of what's the job to be done. And y'all might've heard that theory before, but I think we sometimes forget school is a lot of things. So the job to be done for school looks very different depending on your age. The job to be done for kindergarten through sixth grade is often social, emotional learning. The job for middle and high school is often more social than books. Even though we talk about the SAT scores, you're really becoming a human, you're finding yourself through adolescence. The job to be done for 18 to 22-year-olds going to the classic college experience, that's a coming of age experience, right, with the football games and the experience you might have on campus. But the job to be done for the average American learner, who today is a 32-year-old single mom, probably a woman of color, probably working a job between 14 and $20 an hour, she's actually the new normal student. And what she needs is needs skills. She's hiring a college or hiring a school for skills acquisition. And so she doesn't care about the football games and she doesn't care about the campus. And that doesn't mean the campus isn't important. It's wildly important to that 18 to 22-year-old, but today only 27% of students have ever slept in a dorm. And that number is declining. And so when we talk about the other 73% of learners, they're hiring college for something else. So that's my take on remote learning is for those who are hiring school for the social, emotional coming of age experience, we need to preserve the classroom, the campus, et cetera. For those who are hiring it for skills acquisition, remote learning's an awesome tool.
Reese Witherspoon: I could talk about that all day, Rachel, because my kids are applying for college. One daughter's in college. Another one is applying to college and this crush in New York and Los Angeles and maybe other metropolitan areas, that this academic stress has on the children, I think is so misplaced because it's so much about social, emotional learning that I value most in my employees. My most valuable employees are ones that have social, emotional intelligence. The ability to work well with others, are great team members, and pivot quickly, and find solutions. So when I see all this crush by the SATs and studying for the honors and the APs, and I think have we lost the importance of soft skills and social learning? So I do think that pivot within remote learning so that you get what you need out of it. Right? But to really nurture that artistic and social side of yourself is important. Anyway, I could talk about that all day.
Rachel Carlson: I love that. That's a perfect pivot to the last question because the question I was going to ask is about waving a magic wand. If you could make one change in your industry. Because for me, it's what you were just hitting on Reese. We call it durable skills. How do we turn the conversation away from skills that expire, which are often the ones computers can do as well? Right? The computer is going to be able to do great on the SATs, but what are the durable, soft power skills that we need all Americans to have so that we can have a nimble economy that can survive the next big pivot, which I hope isn't a pandemic, but is some other industrial change we haven't seen yet. So, that's my wish. I'd love to hear Chris, what would be your magic wand you could wave for your industry?
Chris Comparato: Yeah. So as I mentioned, it's an industry that's been underserved. And if you are a minority entrepreneur or a black entrepreneur, and let's say you want to start a restaurant, the odds are even more stacked against you. So if I were to wave a magic wand, I'd say, what can we do to help the artists, the entrepreneur who's underrepresented? Maybe they can't secure capital. Maybe they can't secure the right technology tools to be successful. Maybe they can't secure the right education and the skills training and the consulting around running a P and L and running a restaurant. So I think it's important to focus on that because especially given the past year and a half, the impact to these communities and especially restaurant entrepreneurs who have been underprivileged, what can we do to change that? And I think we have an opportunity ahead of us to create systemic changes to help any entrepreneur, no matter what your background is to start a restaurant and run a great business. And I think that's an important magic wand. And I think many people are leaning into it, whether it's banks that are sponsoring entrepreneurs of color funds, we are leaning into it with pilot projects in Boston to help minority restaurants try to be successful. But I think we're going to learn a lot. And back to this educational journey, I think we're on an educational journey to help everybody be successful, especially when the odds are stacked against you. And I think that's going to be an important piece of the puzzle moving forward. Reese, how about you? If you had a magic wand, what would you do with it?
Reese Witherspoon: You know what, it's such a great question because I think a lot about it, and I've thought about this a lot about how artists get paid. And I think that is revolutionizing right now. Whether you look at the emergence of NFTs and the ability to have direct payment from the artist to the buyer and have this continued connection, that's something really encouraging and I hope to see more of because growing up in this business, I've been in Hollywood and media for over 30 years. Oh God, I can't believe I just said that. But what always gnaws at me is how artists are not directly paid for their work and have no ownership over their work. So as more work is done to connect the financial economy with artists, and we're cutting out the middle distribution piece, I think we're seeing more money and financial stability go to the actual creators. And I find that enormously encouraging. So if anything, I would love to wave a magic wand and make that happen even faster. Thank you so much for this great conversation. I really enjoyed this time. I could talk all day to you guys, but we're going to wrap up now.
Chris Comparato: Thank you both. This was exciting. I think just within this time I learned a lot. Rachel, we should be partnering on education. And Reece, maybe there's a way to partner within media. But I really enjoyed this.
Rachel Carlson: Reese, Chris, thanks so much for an awesome conversation. Excited to figure out how to partner more with both of you.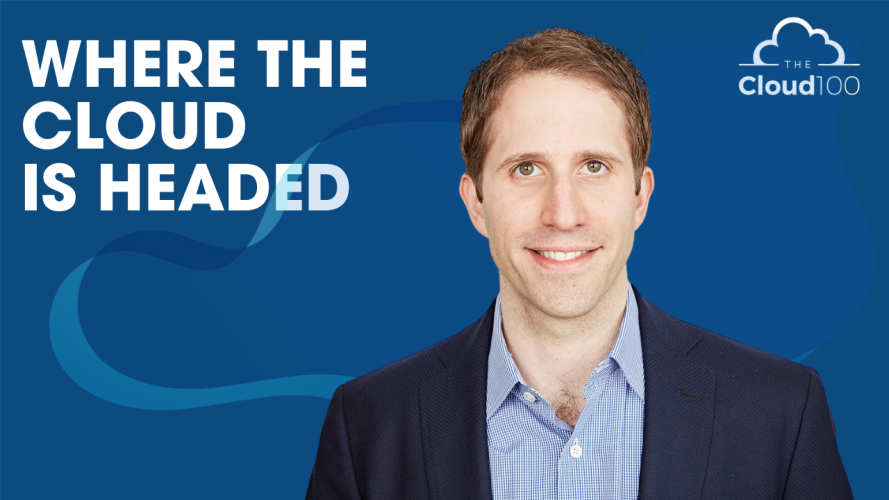 Cloud 100
Where the Cloud is Headed
Alex Kayyal, Managing Partner at Salesforce Ventures, Byron Deeter, Partner at Bessemer Venture Partners, and Elliott Robinson, Partner at Bessemer Venture Partners discuss the high bar companies had to reach to make this year's list, the latest on the cloud economy, and the trends they expect to see over the next year.
Speakers
Alex Kayyal, Managing Partner at Salesforce Ventures, Byron Deeter, Partner at Bessemer Venture Partners, and Elliott Robinson, Partner at Bessemer Venture Partners
Watch the session!
Transcript
Alex Kayyal: Hello, everyone. Thank you so much for joining us for the sixth annual Cloud 100. My name is Alex Kayyal, managing partner at Salesforce Ventures, and we're so excited to have you here today as we celebrate 2021's Cloud 100. Over the past 18 months, we've experienced one of the most challenging periods in recent memory, but also one that has seen unprecedented innovation.
Elliott Robinson: And I'm Elliott Robinson, partner at Bessemer Venture Partners. This is indeed been a banner year across the entire venture capital and startup ecosystem. In the first half of 2021 alone, VCs from around the world have invested a total of $288 billion, which is an all-time record for our industry. Entrepreneurship is gaining momentum around the globe, as more than half of the venture capital dollars raised went to startups based outside of the United States. Powered by cloud technology itself, we're seeing generational shifts in both established and emerging markets when it comes to opportunities for cross-border collaboration, communication, and the ability to scale world-class remote teams from just about anywhere. But today, we're all here to celebrate a unique subset of the venture-backed community, the top 100 privately held cloud companies.
Alex Kayyal: With two of the largest cloud portfolios, Salesforce Ventures and Bessemer Venture Partners have partnered with Forbes, the top publication in venture capital. Together, we recognize the leaders in businesses shaping the future of the cloud economy. The global pandemic has changed the way the world works, and we're not going back to the way things were. Customer and employee expectations have changed, and companies have digitally transformed at a faster pace than ever before. For many founders all over the world, these challenging times have brought a renewed sense of purpose, which we've been so grateful to be a part of.
Times of adversity are often the greatest moments of transformation and opportunity. Many of the changes that were instigated by the pandemic are becoming permanent societal norms. We've seen a shift to remote and hybrid work, an increased focus on automation, personalization and convenience, and entrepreneurship is on the rise. This is the new normal, and we're so excited for the role that the cloud ecosystem will play in driving that transformation.
Elliott Robinson: All of you watching today, the people that are leading, building, and fueling the cloud economy are the real trendsetters in the new future of work. And your collective efforts, you are the ones that define best in class culture and the never-ending innovation that helps industries thrive. The tech sector continues to drive value and wealth creation in the broader global economy. And the cloud represents a source of economic opportunity across almost every industry you can think of. Since January, Cloud 100 companies grew their employee ranks by a net average of 26%. That translates to a total of more than 17,000 new hires. And it's probably no surprise to learn that after the FinTech sector raised a record $33.7 billion from venture capitalists in Q2 alone, FinTech companies on the Cloud 100 list also created the greatest number of new jobs this year to date.
Alex Kayyal: Compared to 2020, U.S. workers are feeling more confident than ever to try for new opportunities. Economists say this signals a healthy labor market, as people gravitate to jobs more suited to their skills, interests, and personal lives. And as employees seek values-driven, supportive, and flexible organizations, great leaders are responding in kind.
For example, Guild Education, co-founded by CEO Rachel Carlson, recently opened a daycare center for their employees. By better catering to working parents, Guild has maintained a 96% retention rate amongst parents during the pandemic and set an example for great leadership. In today's environment, being values-driven and values-led matters more than ever.
Elliott Robinson: 80% percent of workers also say they want business leaders to speak up on social and political issues, and think companies can do more when it comes to diversity, equity, and inclusion. But it's not about furthering diversity theater or promoting empty pledges in public statements. It's about turning your values into tangible, measurable actions that drive exponential impact and generate superior business outcomes.
All of this is exemplified through the culture and products that you build, how you treat your customers and employees, and ultimately who you empower to be the leaders within your organization. Plus, as the cloud economy taps further into talent pools from all over the globe, companies need to rethink and retool their human resources technology stack. For example, companies like Papaya Global help businesses navigate the complexity of a rapidly evolving remote workforce to more effectively manage international taxes, payroll, and benefits across one unified platform.
Alex Kayyal: How we work has undergone a paradigm shift and businesses of all shapes and sizes are re-imagining the tools that are needed to ensure the work from anywhere in the world is a sustainable, long-lasting solution. That could be driving additional team collaboration with solutions such as Miro and Loom, securing remote devices with Tanium, or leveraging tools that enable better sales and service such as Gong, Outreach, and Highspot.
And thanks to the rise of low-code and no-code solutions, our capacity at work continues to expand. Anyone can collaborate on building beautiful designs with Canva and Figma, and in a few clicks, Zapier, Workato, and Monday.com can turn routines into automated processes, helping people do their jobs more efficiently.
Elliott Robinson: We also saw the promise of the work from anywhere movement come to life, as vertical software giants such as Procore, ServiceTitan, and Toast demonstrate that the power of the cloud is not only found in what we think of as the more traditional enterprise software environments, but also for all professionals, from construction to plumbing, landscaping restaurants, and beyond. When we compare this year's Cloud 100 list to previous years, we've never seen so much dramatic change. Companies from the Cloud 100 continue to achieve fantastic success via both large acquisitions and record-breaking IPOs. As you may recall, Snowflake, which earned the number one spot in the 2020 Cloud 100 rankings, went public just moments after Forbes revealed the list, making it not only the largest cloud IPO in history but the largest IPO in the entire history of software. And since last year's event, we've seen more than 19 Cloud 100 honorees also graduate from this prestigious list, including companies such as UiPath, Confluent, Procore, Auth0, DigitalOcean, Gainsight, and many more.
Alex Kayyal: And speaking of publicly traded cloud companies, top CEOs who grew this market into what it is today served as judges and helped us determine this year's list. Thank you to the many cloud giants and leaders who have given their time and support to participate as their 2021 judges. And of course, we want to recognize the generosity and support of our event partners for helping us bring these amazing speakers to you at home today.
So on behalf of Salesforce Ventures, Forbes, and Bessemer Venture Partners, I'd like to give a big thanks to our sponsors. We really couldn't run this event without you. Now, over to you, Byron, for an industry update.
Byron Deeter: This time last year, we saw historic rates of digital transformation as companies rapidly transitioned to the cloud as a necessity. After all, it's even harder to work with legacy on-premise software if no one's on-premise. But we continue to see these trends and they further accelerate. Because one thing is clear: Cloud is not a fad, it's a business imperative. Your employees and customers demand it, and increasingly, the cloud is a necessity to survive and to compete in our digital ecosystem.
Even further accelerated by the global pandemic, our digital economy is going through this historic period of re-platforming. Cloud continues to be the growth driver of the tech economy, and it's no coincidence that the companies with the largest market caps in the world, Microsoft to Amazon, Google Alphabet, and even Alibaba are not only worldwide tech giants, but they have multi-billion dollar cloud business units within them.
Now, for years, investors have talked about the FAANG stocks, the internet revolution with the emergence of Facebook, Apple, Amazon, Netflix, and Google as the flag bearers of the new economy. But as the trends of the internet and mobile mature, there's a changing of the guard underway. At Bessemer Venture Partners, we coined a new basket of high-performing stocks called MT SAAS, consisting of Microsoft, Twilio, Salesforce, Amazon, Adobe, and Shopify. Last year, MT SAAS outperformed FAANG by over 100%. What MT SAAS illustrates is the power of the cloud and how it will continue to drive technology and innovation forward. Simply put, cloud computing is increasingly consuming software, hardware, and services, and it is, therefore, the most exciting mega-trend in technology, making it one of the most compelling themes impacting global GDP over these coming years. Last year at Cloud 100, we made two predictions. First, we predicted that the public cloud markets would surpass $2 trillion in total market capitalization. Well, we've blown through that number. Over the past months, the total market cap of public cloud companies has added another $1.3 trillion of market cap on top of the already impressive $1 trillion, hitting $2.3 trillion in total market cap, and growing 130% over that time. The public cloud markets have never grown this fast in all of our cloud index history. Our second prediction had to do evaluations. In 2020, 87% of the Cloud 100 was already made up of unicorns. Well, we're excited to announce that in 2021, we've crossed another milestone. Every single company on the Cloud 100 has a billion dollar plus valuation. We've even seen a few emerging decacorns continue to merge onto this list. This community continues to astound us. When we created the first list six years ago, this milestone seemed inconceivable. And yet today, we've had to leave dozens of unicorns off the list because there are just too many in this amazing cloud community. Now, there are thousands of amazing cloud companies worthy of potential inclusion, and now over 150 of them are cloud unicorns. Yet our judges could only pick the 100. This compounding power of the cloud is a model and a thing to witness, especially considering that 15 years ago, there were zero public and private cloud unicorns on the index.
Private cloud valuations are getting bigger and bigger as the market's appetite for the cloud continues to grow. Over the past six years, the average Cloud 100 valuation has grown by a tremendous 5.2X from $1 billion in 2016 to $5.2 billion in 2021. And when we compare last year's average cloud valuation, which stood at $2.7 billion, that number has doubled again over this time period. Together, the cumulative value of the Cloud 100 in 2021 totals an impressive $518 billion. Again, almost a complete doubling in just a year with a 94% increase.
As we reflect on how far the cloud economies have come and where it's headed, it's amazing to see that today's Cloud 100, the definitive ranking of private cloud companies has a cumulative value worth more than what the public cloud markets in total that just a few years ago. So, for the investors and founders alike, building a cloud business today has never been more valuable and very different from just a few years ago. We're seeing more and more of these exciting cloud businesses being built outside the traditional Silicon Valley zip codes.
Alex Kayyal: Indeed, cloud globalization is a macro trend and the pandemic has further accelerated this trend. As an example, in the first half of this year, venture funding to startups in Europe totaled an unprecedented $59 billion. Having been based in London and invested in companies across more than 20 countries across the globe, I've seen firsthand how innovation really has no boundaries. Companies such as Stripe and Intercom originating in Ireland, Contentful in Germany, Snyk in Israel, and Culture Amp in Australia have proven that the cloud ecosystem is thriving everywhere. We're also seeing more companies take a remote-first approach to building their teams. Hopin is a great example. Initially based in the UK, the company now has over 600 employees across the world as they've catapulted onto the stage. And with technical talent all over the world, we continue to see mega giants rising out of Asia Pacific, India, and other international markets.
Elliott Robinson: Cloud globalization will continue to fuel innovative startups from all over the world. As Byron mentioned just a minute ago, the cloud will have a sizable impact on global GDP in the next few years, but the footprint of the private cloud market now rivals some of the world's biggest economies. This year's Cloud 100 companies have a greater cumulative total value than the individual gross domestic product of 87% of countries on the planet.
Byron Deeter: The cloud universe is expanding in terms of geography, as well as the industries that they serve. Cloud 100 honorees span more than 10 different sub-sectors, including vertical software and enterprise automation, collaboration, productivity, and several more. On the list this year, we've seen the most powerful growth in FinTech startups, totaling a cumulative $146 billion in total valuation addition, which makes it more than a quarter of the Cloud 100's cumulative value.
In second place, data infrastructure businesses making up an impressive $63 billion. When we look at these two leading subcategories and how they've grown in cumulative valuation over the past three years alone, it reflects this market upward trajectory. Cloud 100 data infrastructure companies have grown 70%, and the FinTech companies have ballooned an impressive 461%.
As financial services infrastructure is being rebuilt and redesigned for this modern world, we've seen this similar transformation happen within the cloud data stack, as amazing startups like Databricks and Fivetran, DataRobot, BigID, and Firebolt are offering better and easier to use infrastructure for accessing, analyzing, and furthering, this use of data. The reason why cloud companies continue to grow in value is because they continue to deliver larger portions of the tech stack to their customers.
For example, vertical software and FinTech are increasingly converging, as leaders such as ServiceTitan, Procore, and Toast shift entire businesses into the cloud and they embed these FinTech solutions. Essentially vertical SaaS giants now process payments and payroll more efficiently and provide more capital and credit on better terms for their customers than many of the traditional banks themselves.
Alex Kayyal: In parallel, we've seen e-commerce penetration and payment volumes accelerate massively during the pandemic. In 2020, for example, we saw 10 years worth of growth in e-commerce penetration in a matter of only three months, as consumers shifted their behaviors online. This momentum has sustained this year. This has led to a new crop of companies that are embedding financial services and payments directly into their applications as software and FinTech come together. Interestingly, we've seen this impact come through in the B2B payment landscape as well, with companies like Airwallex, Melio, and Razorpay leading the way.
Byron Deeter: We believe that cloud will become a majority of all software very shortly and help us all reimagine entire industries, such as healthcare, automation, gaming, and entertainment. We continue to see how the cloud is forging infrastructure of tomorrow's digital economy and driving innovation for the future generations. Congratulations!
Alex Kayyal: Congratulations!
Elliott Robinson: Congratulations!
Byron Deeter: Now onto what we've all been waiting for, 2021's Cloud 100.
Archive main content for default archive pages