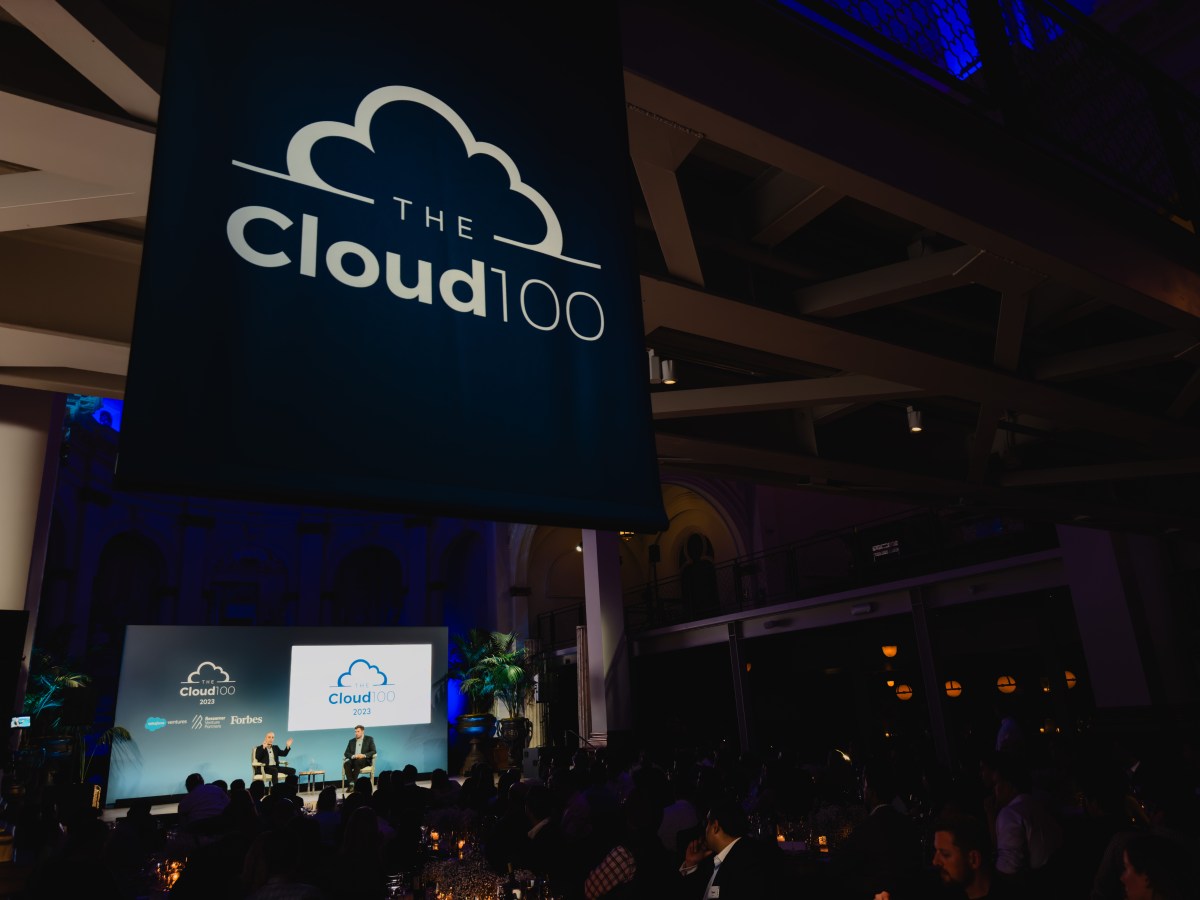 perspectives / Cloud 100
Highlights From Our Cloud 100 Celebration
Last month, Salesforce Ventures hosted its annual Cloud 100 celebration in San Francisco, where we honored members of this year's Cloud 100 list. This list, produced in partnership with Bessemer Venture Partners and Forbes, recognizes the achievements of the world's top private cloud companies, as well as the rising stars poised to join their ranks. In 2023, 33 companies in the Salesforce Ventures' portfolio made the Cloud 100 list. 
With the Cloud 100 celebration now over, we wanted to take a moment to revisit some of the key themes and ideas shared at this year's event and offer guidance to founders aspiring to make next year's Cloud 100 list.
Cloud 100 🤝AI
Despite ongoing macroeconomic upheaval, we contend that the cloud industry's long-term outlook is stronger than ever thanks to recent innovations in generative AI—which is delivered via thousands of GPUs working together in the cloud. Per Salesforce research:
The profound impact of AI on business was well reflected in this year's Cloud 100 list, which featured five companies with a current cumulative valuation of $36B in our inaugural AI-native category: OpenAI (which is reportedly looking to raise at an $80B+ valuation), Anthropic (also in talks to raise a new round at a $20B+ valuation), Midjourney, Hugging Face, and DeepL.
More broadly, a recent Salesforce survey found that 62% of people leaders say their company is considering ways to integrate generative AI. Salesforce Ventures' market map research also indicates hundreds of AI startups have received funding in 2023. 
The beacon of AI—and the enthusiasm with which the business community is adopting it—allows us to remain bullish on the long-term prospects of cloud despite short-term challenges.
Trust & Safety
If the cloud industry—and society at large—is to realize the enormous potential of AI, we must lead with trust and safety. In his address at the Cloud 100 celebration, Salesforce Ventures Managing Partner Paul Drews cited a Salesforce survey which found that 64% of potential users would embrace generative AI more enthusiastically if they could be confident in its safety and security, as well as the safety and security of their data. 
Trust, security, and privacy are key focus areas for Salesforce Ventures, and should be a top priority for AI founders building their companies. Many of the AI companies on this year's Cloud 100 are leading with trust. Anthropic, for instance, is pioneering the field of constitutional AI, which aims to ensure AI systems are "harmless." Additionally, Hugging Face's open-source approach allows researchers worldwide to inspect, audit, and improve their code, thereby promoting transparency and trust.
We find ourselves at a crucial juncture, in which groundbreaking technology is propelling business and society forward at an unprecedented pace. As business leaders and investors, it's necessary to lead with our values to ensure the promise of AI isn't squandered by a lack of trust. 
Data Implementation
Before AI can be delivered through the cloud, it must be created using large amounts of data. The importance of data in AI development is why Databricks—which makes software that helps organizations store and transform massive datasets—earned a top ten ranking on our Cloud 100 list.
Earlier this year, Databricks acquired MosaicML, a platform that enables users to train and deploy generative AI models. With MosaicML in the fold, Databricks can now allow all its users to build and deploy their own generative AI models while maintaining control of their data.
Innovative applications of data as it relates to AI training and development are an essential ingredient for organizations hoping to establish meaningful connections with their customers. Databricks is but one example of a company leveraging data, cloud, and AI to drive the industry forward (other notable companies on the Cloud 100 leveraging data: OwnBackup, Plaid, and Dbt Labs).
Integration
The enthusiasm organizations felt for AI last year was quickly replaced by more practical concerns: how do we incorporate AI into our products and services? How do we build something scalable? How do we preserve the trust and safety of our users?
As we wrote in August, we've observed companies on the Cloud 100 list take one of several approaches to the question of AI integration:
Integrate with a frontier model like OpenAI, Anthropic, or Cohere. This approach allows for a simple integration, albeit with low visibility into pre-training data.
Integrate with an open-source model like Meta's LLaMA. This approach offers insight into pre-training data, but also requires more technical expertise (many companies turn to a service like Hugging Face to help them access these open-source models). 
Build a proprietary model. This approach offers complete governance over the model, but can be expensive, time consuming, difficult to scale, and also requires deep technical expertise.
Fine tune an existing frontier or open-source model. This approach requires less technical expertise than building a proprietary model, but can still be difficult to tailor to a specific use case.
While all of the aforementioned approaches are viable, we're generally seeing a trend towards companies leveraging multiple approaches to build their AI stack. For instance, an organization may start by using a private model from Anthropic, but then integrate dozens of open source models throughout the enterprise for more specific use-cases.
Pledge 1%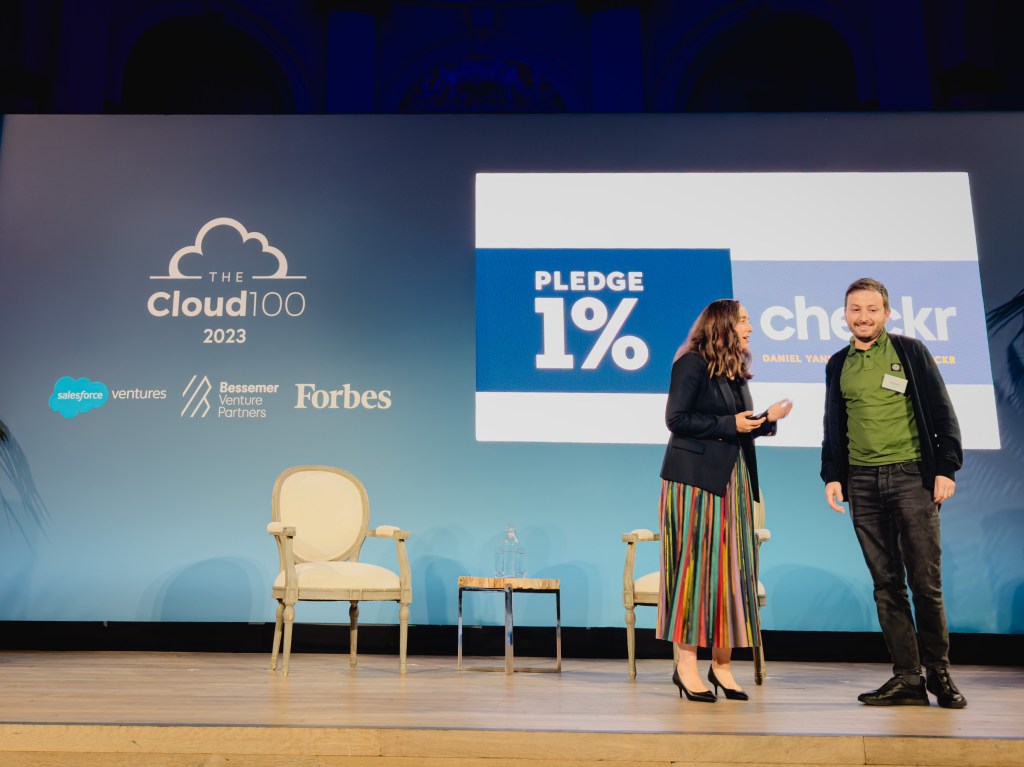 Salesforce Ventures is guided by our core values of trust, mutual success, courage, and equality. One of the ways we live our values is through Pledge 1%—a global movement that aims to inspire, educate, and empower companies to leverage their assets to be 
In the final address of the evening, Claudine Emeott, a Partner at Salesforce Ventures' Impact Fund, announced the recipient of this year's Pledge 1% Impact Award, awarded to a standout organization using business to be a force for good.
To date, 17k+ companies in 100+ countries—including 30% of the Cloud 100—have used Pledge 1%'s flexible framework to unlock $2B+ in new philanthropy via equity set aside to fund social impact programs.
This year's winner, Checkr, set aside equity for social impact and gave $2.2M in product through Better Future—a free service for people with arrest or conviction records—in an effort to support everyone's path to living wage work.
Congratulations to CEO Daniel Yanisse and the entire Checkr team.
—
Although the AI hype wave may finally be cresting, the real work is still just beginning. The members of this year's Cloud 100 represent some of the trail blazers leading us into a more creative, efficient future for all.
To revisit this year's Cloud 100 list, click here.