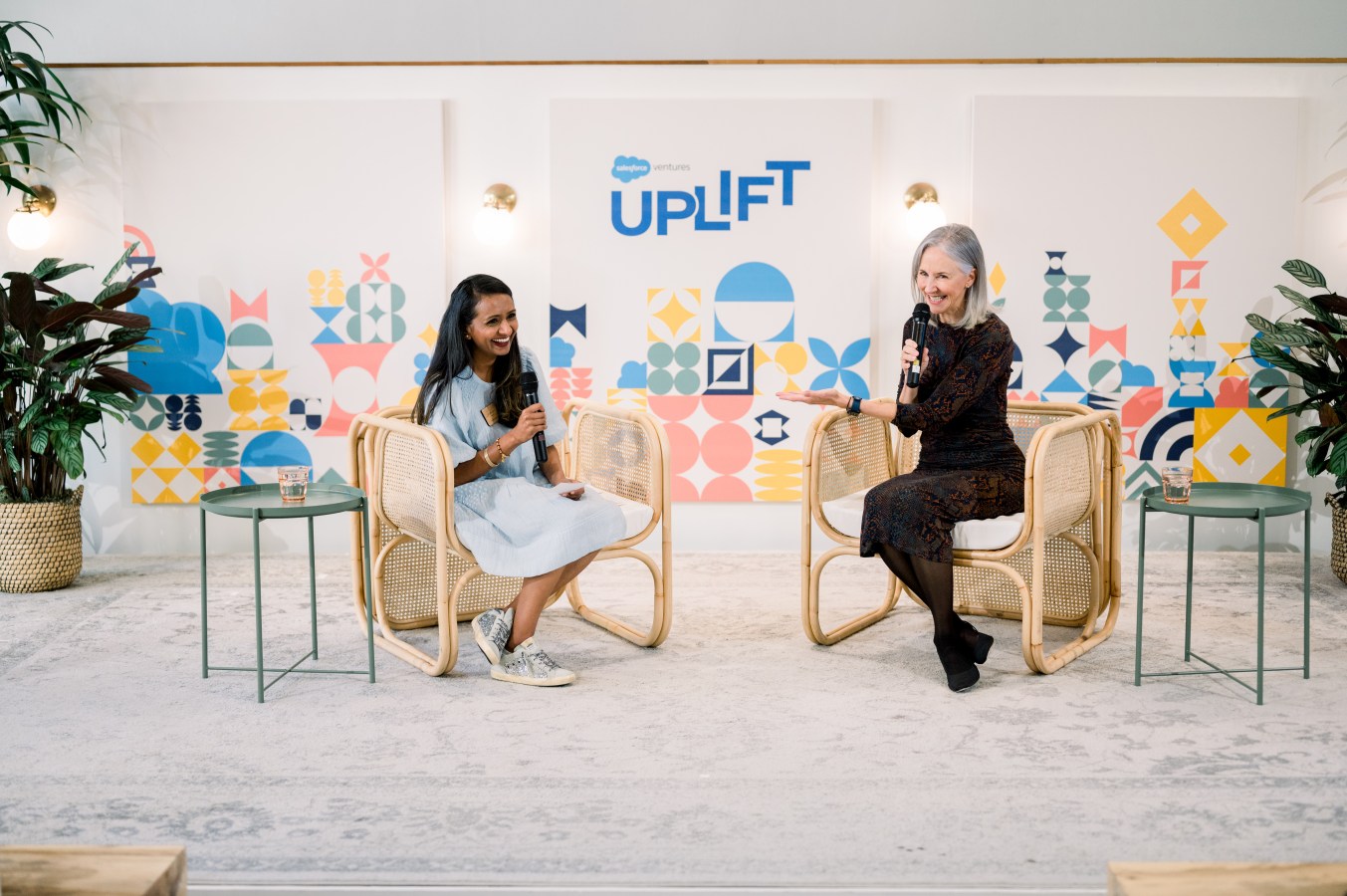 perspectives / Insights
Forget Leadership Tips: Stay True to You
Leadership lessons for emerging leaders from Salesforce President and CFO, Amy Weaver, and Salesforce Ventures COO, Khushboo Patel
At Salesforce Ventures, we believe that values-led organizations are more successful and contribute more to the communities around them. We know that the most sought-after organizations foster communities where people share a sense of values, purpose, identity, trust, and belonging. Along those lines, on a brisk day in early November, we hosted "Uplift," a full-day mindfulness and leadership event to support female-identifying and non-binary leaders, including founders and investors.
On a stage bathed in stained glass-tinted light, Salesforce President and Chief Financial Officer, Amy Weaver, and Salesforce Ventures Chief Operating Officer, Khushboo Patel, got together to discuss leadership and dove into topics such as authenticity, identity, and advocacy.
The importance of diversifying senior management
Their shared perspective was that as organizations begin to diversify their ranks of senior management, society needs to become more open-minded to, and welcoming of, new styles of leadership. This includes what a leader looks and sounds like, as well as how they behave and the behaviors they reinforce on their teams. "I think we've made strides in getting more people of every background, gender, and race into the workplace," said Weaver. "What we haven't done as well is show differences in styles of leadership. And that's what we really have to concentrate on."
"In the next ten-plus years, there will be a different group of people leading many companies. How do we meet them in the middle? How do we tailor our approach so that it's a great working relationship?"

— Khushboo Patel
One of the challenges in attracting, retaining, and elevating underrepresented talent is that, in large part, many companies are still expecting the next generation of leaders to be more like the legacy model. Leaders from underrepresented groups can be perceived to be quiet, and lacking in gravitas, or, conversely, they can be judged as too aggressive — a largely unwelcome personality trait for women and people of color. Either way, they can struggle to be heard in meetings, build trust, maximize their performance, and convey confidence.
"It's great to get people in the door but if you're saying the only way to move up is to act like every other leader who came behind you or in front of you, that's not diversity. That is not authenticity."

– Amy Weaver
Striking the right tone can be a balancing act. Trying too hard to act like a more traditional leader can feel uncomfortable and inauthentic. Yet being yourself can also end up backfiring — especially if you're in an organization where you are among the first underrepresented leaders in a senior position.
With so many expectations, how are underrepresented people supposed to find their way?
Weaver, who has had a number of senior roles in her career, including Executive Vice President and General Counsel of Univar Solutions Inc., and Senior Vice President and Deputy General Counsel at Expedia Inc., says finding your leadership style is a constant evolution. It takes practice and patience. Weaver is a soft-spoken person. Years ago, in preparation for an important meeting with a senior male executive, her mentor advised her to use four-letter words and demand what she wanted. She refused. It didn't feel authentic and she didn't think it would work. She was right. She went in as herself, highlighted her record, and got what she came for.
"It's not enough to say niceness isn't a weakness," Weaver says. "We have to treat it as a strength. We've got to reward the people who are acting this way. We need to elevate them, make sure that is the behavior we are modeling, and not for a second think that it is a negative."
Sometimes, you need to give yourself and the people around you some grace as you find the right approach.
"We've got to show that there are different ways to lead. A leader does not have to be the loudest. A leader does not have to be pounding the table. They do not have to be the person who's speaking the most. We've got to make room for that and encourage that. We've got to make room for the fact that there are going to be different ways of succeeding."

– Amy Weaver
Patel added that this goes both ways: When you "have the floor," you should go out of your way to ask others what they think — especially those who haven't spoken up in a while. Then listen to what they say. That will go a long way toward building a culture where people aren't afraid to speak up when they disagree with the rest of the room. "When you're feeling empowered to speak your mind, you have psychological safety to voice your opinion and concern," says Patel.
Lately, multiple companies and investment firms have been in the news for decisions they made that were counter to the organizations' historical norms and stated values. Those decisions ended up putting them in precarious situations where billions of dollars were put at risk. Much has been written about the idea that there must have been people in those rooms who disagreed with the choices being made, but didn't feel they could state their opinions without experiencing backlash.
"Existing leaders need to look around and leverage all the people around them and ask, 'Who is missing? Who is integral to this decision? Who can add value to this company, this firm, or this initiative? Are the right folks at the table?"

– Khushboo Patel
The biggest takeaway from Weaver and Patel is that if you are an emerging leader and you look and sound different from the historical standard, don't be dismayed. There are allies and advocates all around you. Stay true to your values. And when you have the chance, extend the same opportunity to the next generation.
For more takeaways from Uplift, visit: salesforceventures.com/uplift