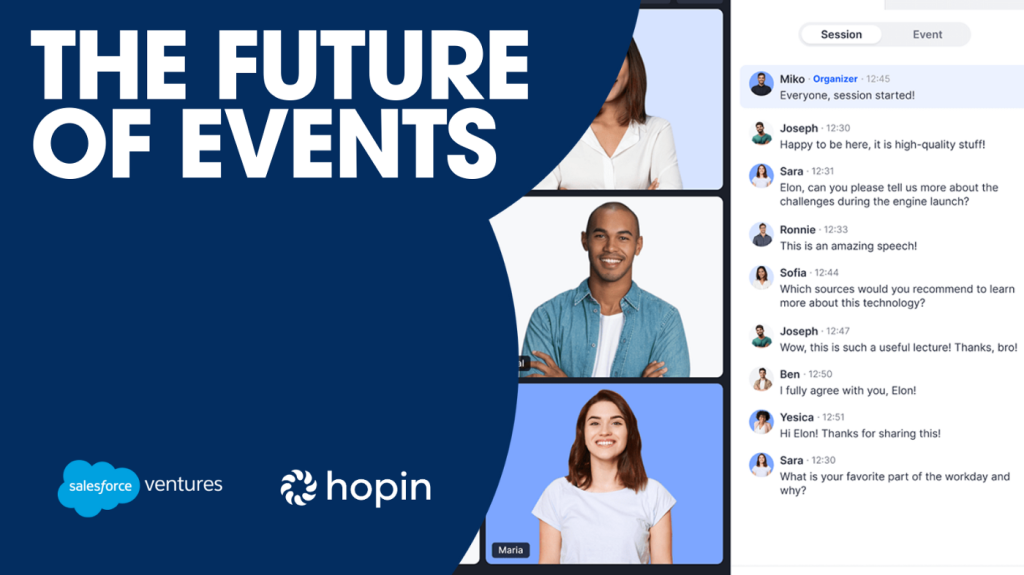 perspectives / Portfolio
Hopin and The Coming of Age of European Tech
Earlier today, Hopin announced its $400M Series C at a $5.65BN valuation, just over a year after closing its Series A, bringing its total funding to over $550M.
Earlier today, Hopin announced its $400M Series C at a $5.65BN valuation, just over a year after closing its Series A, bringing its total funding to over $550M. This is a remarkable achievement for such a young company and a testament to the team's relentless execution over the last two years. In just a short amount of time, Hopin has added 80,000 organizations to the platform while scaling from 6 to 400 employees. The company has grown its ARR to north of $70M from launch in March 2020, making them one of the fastest-growing software companies ever — incredible!
When Johnny Boufarhat started Hopin, he dreamed of a future where location simply did not matter and attendees could experience engaging online events from anywhere and everywhere. He wanted to upend an old way of doing things and reimagined the future. Visionary founders can often see ahead of the bend, and in Johnny's case, he started Hopin before anyone even knew what COVID-19 was.
When we invested in their Series A last summer, Johnny's sense of clarity and purpose shone through. As a VC, those are rare moments where vision and opportunity collide. Since our investment, we have been continuously blown away by Johnny's rare combination of tenacity, humility, and grit. He has also assembled a world-class team around him, as they continue to build on the company's vision. We've also been thrilled to help bring Salesforce as a Hopin customer across numerous parts of our business and to also facilitate a product partnership conversation across the two platforms.
Importantly, despite all the success Hopin has had so far, the business is only just getting started. Johnny's vision is to reinvent not only events, but online experiences more broadly, and we're so excited for what the future holds for the company and our continued partnership together.
Taking a step back, this represents yet another inflection point for European tech. I can still remember a time when starting a company in Europe was seen as a disadvantage. It was unthinkable back then that one of the world's fastest-growing software companies ever would come from Europe. Not anymore.
We've come a long way since then. Companies like Anaplan, Elastic, and Adyen have shown the extent of what is possible, and in many ways, Hopin is a preview of the sorts of success we can expect to see out of Europe in the coming years. With access to funding, global talent, and a thriving ecosystem, it's one of the most exciting times to build an enduring software business out of Europe. We're no longer only tracking how many $1BN+ companies there are in Europe, but rather how many $10BN+ and $50BN+ companies we have.
What's more, last year really leveled the playing field for entrepreneurs outside Silicon Valley, despite the challenges that COVID-19 presented. In Hopin's case, what started as a UK business has now flourished as a global company with incredible talent across 42 countries.
At Salesforce Ventures, we've long believed that great companies can come from anywhere. We look forward to continuing to back these amazing entrepreneurs across all of Europe and beyond.