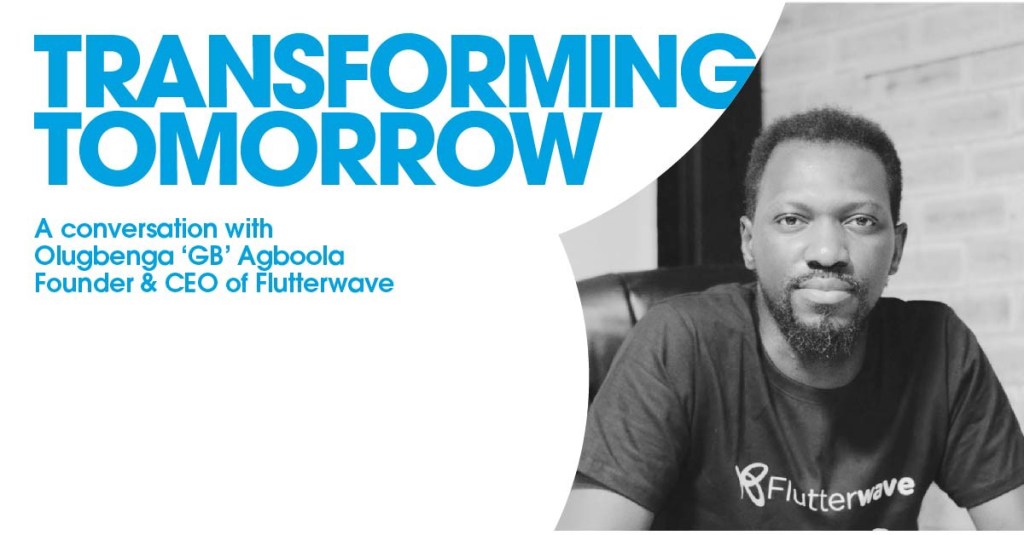 perspectives / Portfolio
Olugbenga 'GB' Agboola, Founder & CEO of Flutterwave, on his Quest to Unite Africa through Payments
Transforming Tomorrow is a series where we share lessons learned from the leaders of the enterprise technology companies shaping the future. Founder and CEO of Flutterwave, Olugbenga 'GB' Agboola, shares his plans for transforming payments in Africa, and the rest of the world.
While many apps tap into Game Theory and Gamification to boost engagement, African payments company Flutterwave was built on an altogether different principle: Chaos Theory — or, more specifically, The Butterfly Effect.
Introduced in a 1972 paper by meteorologist and mathematician Edward Lorenz, the Butterfly Effect is the idea that a small, unpredictable variable such as a butterfly flapping its wings, could impact a complex system and set off a major event such as a tornado in Texas. GB tapped into this theory when he and his co-founders started Flutterwave, a mobile app that lets people pay bills, send and request money, and track funds.
GB imagined that one day the payment infrastructure that he and his team built in Lagos, Nigeria, could make a significant positive impact on the economies and people of Africa by making it easy for its under-banked population to trade with people and companies nearby and across international borders. The vision: If you are a fabric seller in Lagos you will someday be able to use Flutterwave to collect a payment from a customer in Austin, Texas — and vice versa — in real-time. "Payments have been a barrier to African trade," says GB. "We wanted to connect Africa to the digital economy and provide access to new prosperity."
GB is well-suited to such an ambitious challenge. Since he was born and raised in Nigeria, he has firsthand experience with the financial infrastructure of his birth country, as well as neighboring nations. A successful entrepreneur who founded two previous companies, he's also a software engineer with an MBA and a Master's degree in Information Technology Security and Behavioral engineering. Earlier in his career, he worked on fintech solutions at several tech companies and financial institutions such as PayPal and Standard Bank.
Just five years after its founding, Flutterwave's impact on Africa's fragmented financial and technological ecosystem is becoming clear: The company is now Africa's largest payment platform by coverage. Flutterwave is knitting together the vast continent's nations via an API that connects multiple niche payment methods onto one platform. Flutterwave processes 150 kinds of currency and is used in 34 of Africa's 54 nations, including Ghana, South Africa and Uganda. More than 25,000 entrepreneurs use the Flutterwave store to sell their wares, and the company processes payments for more than 300,000 merchants.
The company's addressable market is astonishing. The African population is expected to double, to 2.5 billion, by 2050. So far they have few banking or lending options; less than 5% of the African population has a credit card. Prior to Flutterwave, digital payments in many African countries were fragmented and difficult to navigate. Businesses found it difficult to integrate multiple card schemes to receive money from customers. And the only way to pay someone in another country was to use a wire transfer, which is expensive, slow, and not optimized for small payments.
Flutterwave allows people to send and receive money to each other in real-time via Barter; pay with a credit card equivalent using Virtual Card; sell goods over the internet with its Store and Invoices products; and pay bills using Checkout.
Flutterwave is also creating new markets and opportunities for multinational corporations who want to tap into Africa's young, fast-growing, mobile customer base. Because of Flutterwave's newly-introduced payment options, Microsoft, Netflix, and Uber have been able to expand into countries such as Nigeria.
"The goal was, 'How do we do something that makes it easy for a business to scale using an advanced payments infrastructure?' That was the driving force," says GB. "In the future — for small business, international finance, large multinational business, and the African continent — all the barriers will be broken down."
Trust and security were critical considerations for the product team, says GB. "When you have money in your bank account, you care about the fraud that can happen with your money." So Flutterwave requires two-factor authentication for each transaction — another first for a payment app in Africa and has built a proactive support strategy to ensure that its merchants' payments systems do not break.
As the company continues to march toward its goal of connecting the African people and economy to the world, it will need to contend with the myriad laws and regulations of other countries. Earlier this year, Flutterwave hired its first executive in charge of regulations and government affairs. The company has prioritized building trust with regulators, banks, customers, partners, and the public, through robust compliance architecture and security processes that support verification, security, and compliance.
"The world is becoming more and more of a global village," says GB of his mission. "Any service that people like to use in San Francisco will be used in Lagos. When payments can exchange hands quickly, borders become less and less important."
The proliferation of digital banking worldwide has been a critical development for financial inclusion of those historically excluded from traditional banking services. At Salesforce Ventures, we target fintech solutions that promote equal opportunity and economic empowerment for women and underrepresented groups. If that sounds like your business, we hope you will reach out.