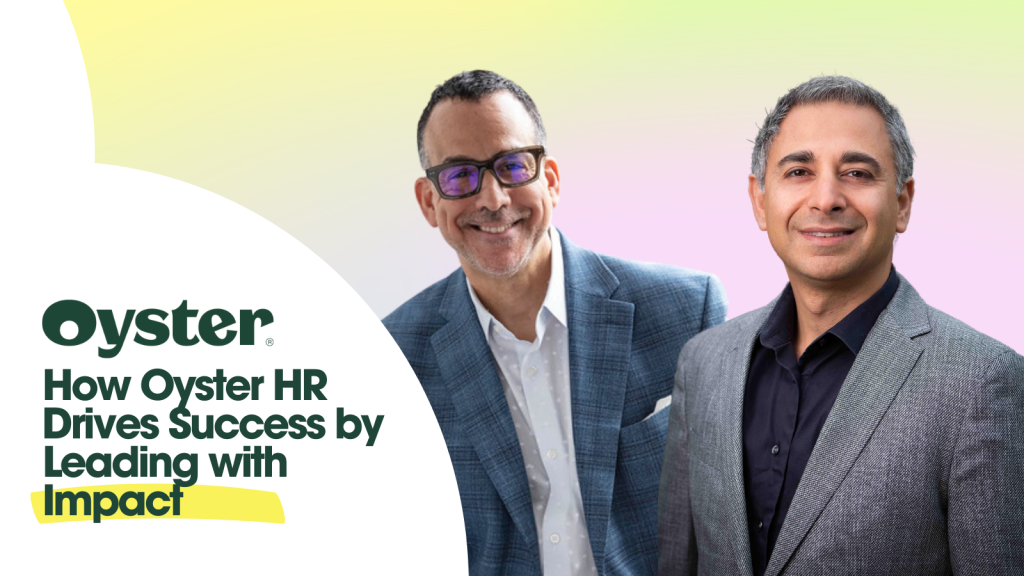 perspectives / Impact Fund
How Oyster HR Drives Success by Leading With Impact 
What happens when two business leaders motivated by providing opportunities for others, come together to create a company? An industry-leading technology business, centering impact is born.
Oyster is a global employment platform that allows it easy for companies to hire, pay, and take care of a globally distributed team. Their goal is to empower and enable companies that are particularly excited by the benefits and implications of diversifying their teams across borders and embracing remote work. Their overarching mission is to create opportunities for historically under-reached populations to engage in the knowledge jobs of the future.
Oyster tackles the core issues that companies have in overcoming the compliance and regulatory barriers when hiring outside their local country. Additionally, given the focus on being a human-centric company, Oyster is able to design and integrate solutions into the platform that make the employment experience easy and approachable.
The idea for Oyster was born from its two co-founder's unique lived experiences. Tony Jamous, co-founder and CEO of Oyster, was an immigrant and refugee who left Lebanon in his teens to move to France, fleeing the bombs of Beirut. He did so with a clear understanding of the unfairness that comes with the roulette wheel of where you are born and how it can impact opportunities in your future. Fueled by these early experiences, Tony grew to have great success as CEO of Nexmo, later acquired by Vonage. At Nexmo, Tony met Jack Mardack, Oyster's future co-founder. Jack had been a long-time student of the evolution of work and spent his career straddling both the corporate and public service sectors. Having been on the board of San Francisco CASA for six years and an advisor to dozens of nonprofits across the Bay Area, he gained a deep understanding of the challenges nonprofits face in tackling the world's biggest problems. These insights drove him to learn more about alternative business and funding models and the impact of software and technology on the transformation of work and employment.
Tony and Jack's rich backgrounds led the team to join in their next entrepreneurial journey, building Oyster. And their mission driven approach is also resonating with customers.
"When organizations are human-first, like Oyster, it makes a difference in everything—the way the software is built, the experience of how it feels, the way in which they do business. At Chili Piper, we're a fellow people-centric company, so when choosing Oyster, we felt like, 'Oh, you're our people.' There's a level of trust there, and it was a really strong foundation for our continued working relationship."

— Tyler Parson, VP of People at Chili Piper
One clear differentiator for the Impact Fund has been the focus and thoughtfulness Oyster has placed on embedding impact into their core operations and products. Very quickly, the company was able to confirm its impact by seeing the flows of capital going to countries in the emerging world. Using the UN's Human Development Index to benchmark between emerging and developed countries, they were able to identify where opportunities and financial flows were expanding, largely driven by Oyster's platform. Incredible metrics appeared; while only 25% of first hires were employed in the developing world, by the third hire, this grew to 75%. Oyster can see the change they drive through their customer's new hiring practices.
For Oyster, understanding these impact metrics was critical to its success as a platform. The link between impact and business growth places Oyster into a new class of companies. It leans on its ability to drive diversity, lower inequalities, and drive more financial growth in emerging countries, all while simultaneously generating revenue growth through a scalable business model. In 2022, to document their learnings and provide guidance for other companies looking to pair growth with impact, Oyster published their first impact report.
Oyster took their impact review a step further in 2022 and conducted an analysis with 60 Decibels to learn from their users the impact Oyster had. The results were outstanding, with a few highlights including:
64% of individuals reported Oyster increased their ability to support their family.
60% of individuals reported improved quality of life.
3 out of 5 individuals reported an increase in job access from different parts of the world.
64% of individuals noted that Oyster was key in securing a remote job.
These results also resonate with Oyster's customers. Over 38% of their closed customers note that Oyster's commitment to impact was a core factor in their buying decision.
Both the Salesforce Ventures Impact Fund and Slack Fund are proud to be investors and supporters of Oyster. We see Oyster as a model for building a successful company that drives financial growth and is committed to positively impacting the world through expanding hiring opportunities. We encourage aspiring entrepreneurs and current founders to read more advice from Jack on how to build an impact-centered company.