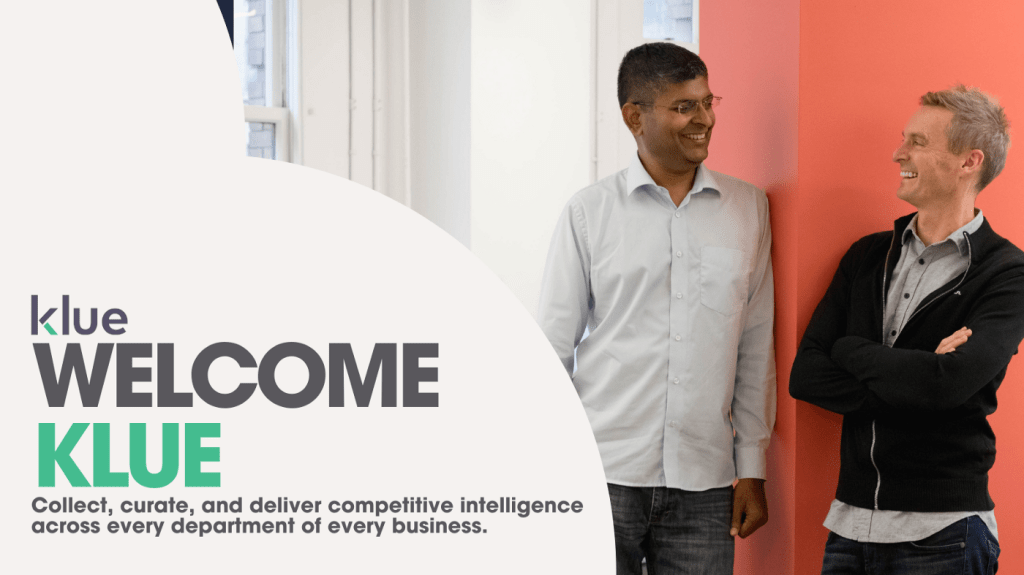 perspectives / Portfolio
Unlock the Hidden Value of Competitive Data with Klue
Salesforce Ventures announces its investment in the $62 million Series B round of Klue, a powerful competitive intelligence tool that enables its customers to win more business.
Would you say your business is more, or less competitive now than a few years ago? Do you feel confident that everyone on your sales team has the most up-to-date information that will allow them to win out against the competition?
In today's highly competitive environment, chances are, you feel less confident and less prepared than you used to. Nine out of ten executives say their business has become more competitive in the last three years. Competitive intelligence is a must-have: 95% of companies invest in their compete function.
We all know that well-informed sales and marketing teams have a much greater chance of success. Yet very little of the data that companies collect or share on competitors, competing products or strategy get to the people who need it most, when they need it most. Globalization and remote work have made a comprehensive compete driven strategy even more difficult, as teams are less coordinated and less able to share valuable competitive intelligence through traditional channels.
That is why we're happy to announce that Salesforce Ventures has joined Tiger Global in Klue's $62 million Series B round. Klue is an AI-powered competitive intelligence tool used by industry leaders across the board. Klue is based in Vancouver and is a signal of our continued confidence in the rapidly-expanding sales enablement technology segment.
Data, data everywhere — but where are the insights?
We all know that the amount of data available has been roughly doubling every two years — much of it unstructured. Publicly available and internally-generated competitive data and insights are no exception. This trend has been further accelerated by the increasing use of collaboration tools driven by remote work. But this also makes it challenging to get any value from it — the data spread out all over the place. It's exhausting and expensive to try to surface valuable insights, especially using manual processes to collect data, curate intel and distribute insights.
Your teams work hard to uncover and compile competitive data — but where is it exactly, in what form? Is it up-to-date and comprehensive? Does the team in Sydney have it? How about your external sales channel partners? That new rep who just joined in Dublin?
Putting "Intelligence" into Competitive Intelligence
When we first met Jason and Klue over a year ago, we could not have been more impressed. Klue's AI-driven insights collection and curation engine autonomously maps and surfaces critical competitive insights from over three million sources across the web and all of your internal applications / collaboration tools. Including Salesforce, Slack, Highspot and Gong, as well as email, presentations and white papers, then curating and driving key insights to your sales and marketing teams to win, defend and expand business.
Jason Smith, Klue's CEO and Co-Founder, brings a range of relevant experience in the tech industry. He was president of Vision Critical, a customer intelligence SaaS company, and VP of sales and marketing at GAIA Custom, as well as prior co-founder of two businesses. He understood the necessity of helping sales teams move faster — especially in relation to winning deals — which led him to found Klue. Today Klue counts over 100,000 users from customers including Cisco, Workday, Shopify and Zoom. Klue was also just named a winner of Deloitte's Technology Fast 50 Canada!
The initial wave of sales enablement was all about improving workflows, now leaders and new entrants alike are focused on driving intelligence and automation through their solutions. Klue's automated collection, curation and distribution of the right insights at the right time is key to driving Competitive Intelligence and the Sales Enablement industry forward. We believe this is just the beginning.
We hope you will join us in welcoming Klue to Salesforce Ventures!