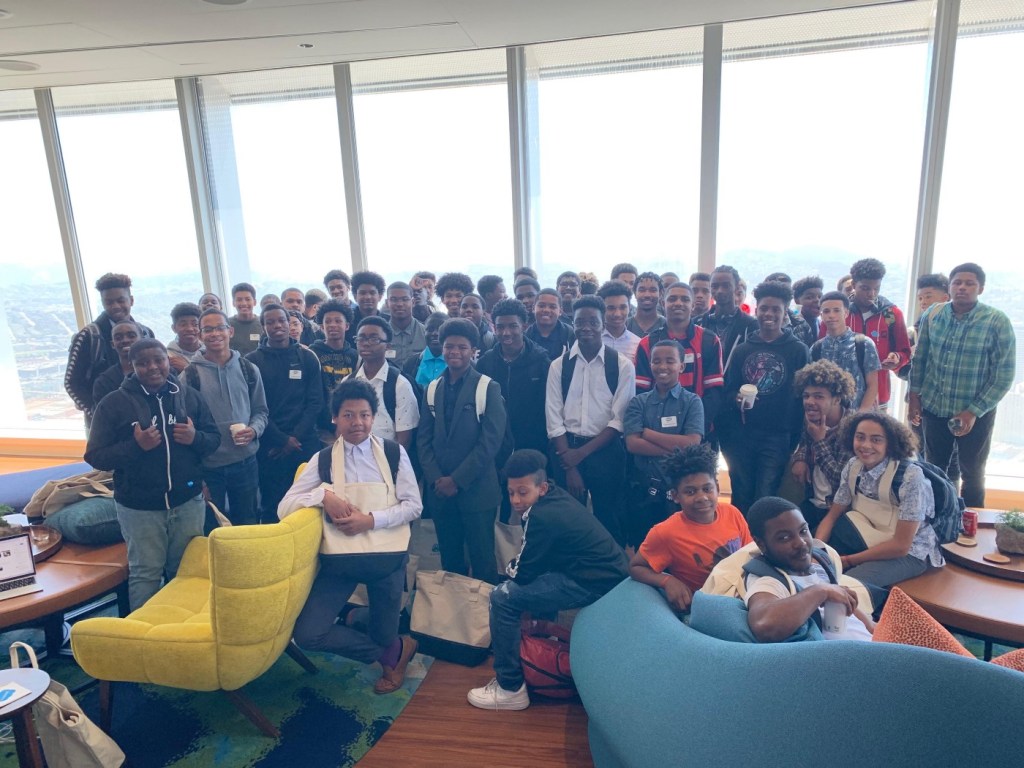 perspectives / Giving Back
The Hidden Genius Project & Salesforce Ventures
Salesforce Ventures and the Salesforce Trailhead team teamed up to host a day of education, mentoring and collaboration with groups from The Hidden Genius Project. Founded in 2012, The Hidden Genius Project was established to train and mentor black, male, high-school students in technology creation, entrepreneurship, and leadership skills to transform their lives and communities.
In 2018, Leah McGowen-Hare and the Salesforce Trailhead team hosted a group of students for the first time at Salesforce to get them introduced to Trailhead and how to build products on the Salesforce platform.
This year, the Salesforce Ventures team was thrilled to host the alumni, a group of young men who had gone through the program and were back with more ideas for 2019. Building on what they'd learned in their first year of the program and their introduction to Salesforce, they came ready with business ideas and apps in development.
The students spent time with members of the Salesforce Ventures team in working sessions where they received guidance and feedback on their business ideas, their app progress, advice on their pitches, and help with the next steps in their entrepreneurship journey. The Salesforce Ventures team also hosted talks to give the group more exposure on topics including how Salesforce Ventures thinks about investing, the venture capital landscape, raising money from VCs (advantages and drawbacks), and best practices for growing teams and ideas.
After a full day of content and learning, the Geniuses and Salesforce teams enjoyed hanging out in Salesforce Park, and then the Salesforce Tower to take in views of San Francisco.
We were honored to host this group of young men and wish them continued success with their endeavors!