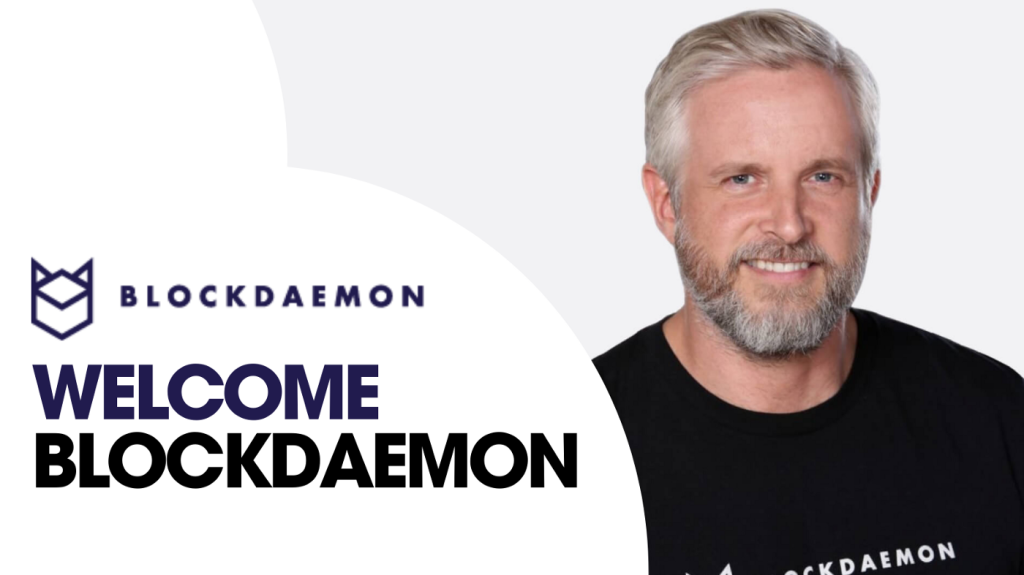 perspectives / Portfolio
WELCOME, BLOCKDAEMON!
Today we are excited to announce our investment in Blockdaemon, which powers the blockchain economy with an easy-to-use, secure, and scalable node management platform.
Today we are excited to announce our investment in Blockdaemon, which powers the blockchain economy with an easy-to-use, secure, and scalable node management platform.
The problem
Institutions are increasingly interested in finding ways to leverage blockchain technology, however, they are unlikely to look to build or manage their own blockchain infrastructure — much like few businesses, today would choose to manage their own cloud infrastructure. Enter Blockdaemon.
Blockdaemon's solution
Blockdaemon provides easy configuration, guaranteed uptime, around the clock coverage, and secure and compliant access to the blockchain ecosystem for institutional customers removing the need for institutions to stand up and manage their own node infrastructure, with a product suite that includes white-label validators for staking, dedicated node clusters and APIs for reading and writing transactions and querying data feeds.
Today, Blockdaemon is the largest institutional node operator, with over 40,000 nodes, and supports over 50 different protocols which include over 25 proof-of-stake protocols. Nodes are fundamental to the blockchain, acting as the network participants that transmit and collect information, as well as engaging with the creation of new blocks via proof-of-work (PoW) or proof-of-stake (PoS).
Blockdaemon leverages this node network to provide enterprise-grade staking-as-a-service. Blockdaemon's staking solution allows customers to utilize their token holdings to receive rewards in exchange for acting as a validator on PoS networks. Given concerns around energy consumption and sustainability with PoW protocols, this additionally supports a more sustainable method of validation for the blockchain while earning yield.
Why we're backing Blockdaemon
In spite of price volatility, the crypto market is booming and 2021 was a significant year in terms of adoption. The crypto market cap hit all-time highs of $2.8T in 2021 driven largely by growth Ethereum (ETH) and significant consumer adoption in NFTs and DeFi.
As we see more regulatory clarity around crypto and blockchain, we expect to see greater investment in and adoption of blockchain technology by enterprise and Blockdaemon stands to benefit. Indeed, in the financial sector alone, the use of blockchain is estimated to reach a value of $22.4B by 2026.
Today, Blockdaemon is supporting an impressive group of blockchain-native and traditional enterprise customers including BlockFi, Fireblocks, Revolut, and Citi. Customers are leveraging both the node management services as well as delegating digital assets to Blockdaemon for staking. This is driving incredible growth in Blockdaemon's tokens under management and is averaging more than $10B in monthly staked assets. Over the past year alone, Blockdaemon has scaled dramatically with 12x revenue and 6x headcount.
​​In addition to the market opportunity and the product that Blockdaemon is building, we are thrilled to be backing CEO & Founder Konstantin Richter who has over 20 years of experience building technology businesses. Konstantin leveraged his experience running Ethereum nodes to build Blockdaemon, an infrastructure platform focused on catering to the blockchain. Additionally, his focus on building and scaling Blockdaemon with compliance as a priority is a long-term competitive advantage for the enterprise use case.
What's ahead?
As adoption of blockchain technology continues to accelerate, Salesforce Ventures sees a large opportunity to build scaled businesses that provide the building blocks for enterprises to participate on the blockchain.
Today, Blockdaemon is a one-stop-shop for blockchain transactions, staking, and liquidity. Going forward, there is a huge opportunity to extend further into DeFi and other emerging services that support enterprises in all their interactions with the blockchain.
Welcome to Salesforce Ventures, Blockdaemon!