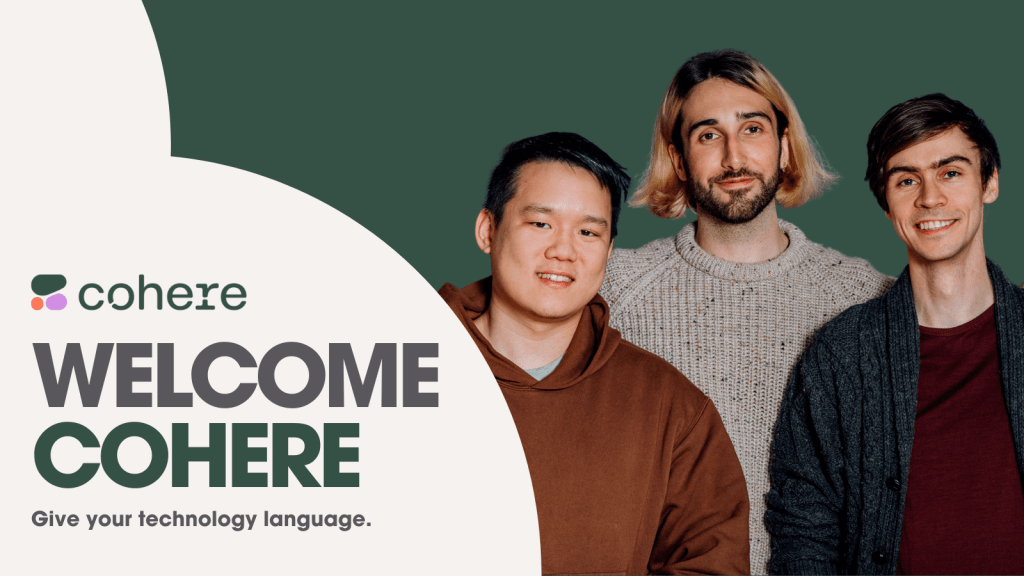 perspectives / Portfolio
Welcome, Cohere!
Today, we are thrilled to announce our investment in Cohere, a leader in enterprise-focused AI.
Founders: Aidan Gomez, Nick Frosst, Ivan Zhang
Sector: Artificial Intelligence
Location: Toronto, Canada
The Cohere Vision
The invention of the Transformer models at Google Brain in 2017 was a revolutionary breakthrough that spread across Google's product portfolio. The new model architecture was introduced in the paper, Attention is All You Need, which pioneered a new approach to neural network NLP that captured the context and meaning of words more accurately than previous NLP models, and serves as the underpinning of language models today. Aidan Gomez, the CEO and Co-Founder of Cohere, was a research intern at Google Brain at the time and one of the co-authors of the Transformer paper. Two years later, the impact and benefit of the Transformer model still hadn't widely caught on outside of Google. As a result, Aidan, along with his co-founders Nick Frosst (who collaborated with Geoffrey Hinton, becoming Hinton's first employee at Google Brain's Toronto lab) and Ivan Zhang (who worked alongside Gomez at FOR.ai, an independent research group), founded Cohere in early 2019 to bring "Google-quality AI to the masses." Fast forward to today, and they have successfully done that with a clear vision to build the leading AI platform for enterprises, offering data-secure deployment options in companies' existing cloud environments, customization, and customer support.

Instead of focusing on artificial general intelligence ("AGI") or creating large language models ("LLMs") with the highest number of parameters, Cohere has chosen to focus on building a generative AI platform for enterprises that is easy to access, customizable, and secure. Cohere's AI platform can be trained or finetuned for specific use cases that are most relevant to customers including writing content, building conversational chatbots, aggregating customer feedback and analyzing sentiments, and content moderation. Cohere has already found notable applications with leading companies including Jasper and Hyperwrite, for copywriting generation tasks such as creating marketing content, drafting emails, or developing product descriptions, and LivePerson, who Cohere is partnering with to deliver custom LLMs for customer engagement and turn conversations into live actions.
While its existing AI suite encompasses a significant amount of enterprise use cases today, Cohere continues to layer on more advanced capabilities. The company is working on retrieval-augmentation to ensure generation remains grounded in facts and action-based models that can interface with and drive external systems, allowing agents to take actions and drive processes. These models have the potential for higher quality automation and more complex workflows that customers can utilize.
The focus on being enterprise-facing has always been a part of Cohere's DNA and instilled in the company a continuous desire to prioritize security and privacy. The platform is built to be available on every cloud provider — deployed inside a customers' existing cloud environment, virtual private cloud (VPC), or even on-site — to meet companies where their data is. This is oftentimes a significant hurdle for customers and Cohere addresses it head-on. The company's vision is always to push for better and safer models that customers can easily use while putting a premium on privacy and data protection.
Why we're backing Cohere
We are eager to invest across the AI stack from the foundational AI layer, to tooling that helps companies train, finetune and deploy models, to applications that have unique data or distribution moats. The foundational layer is an area where we see significant value accruing and Cohere is one of the key players.
Many founders building at this foundational layer come from specific academic backgrounds given the deep technical know-how required for research and development, which often means they don't have as much experience with GTM and business building. That was why when we first met Aidan and his co-founders, we were surprised to find how incredibly sophisticated and mature the team already is at speaking the language of their customers and having a clear vision for GTM. Over the course of our diligence, we further built conviction on the technical and commercial potential of the business, as well as a level of trust and confidence in Aidan and the leadership team he has gathered at Cohere's helm. We believe Cohere is one of very few leading foundational model players that can capitalize on the generative AI paradigm shift. Cohere is one of the first few investments we made from the new $250 million Generative AI fund Salesforce Ventures launched in March 2023. Its distinctive enterprise-focused approach aligns with our own mission and values – we are excited to partner with Cohere and strengthen the relationship between our two companies.
Cohere is uniquely poised to capture the enterprise AI market: the company has industry-leading foundational AI, has remained independent and cloud agnostic, ensures data security for its customers, and is backed by a top-tier team that has both strong technical background and enterprise experience. Customers have consistently referred to Cohere as one of the most advanced AI providers in the world. Meanwhile, while academic benchmarks have their limitations, the Stanford HELM results (as of June 2023) indicate that Cohere is currently leading the pack in accuracy and fairness. Cohere also recently released the first-ever publicly available multilingual understanding model trained on authentic data from native speakers – it is equipped to read and understand over 100 of the world's most commonly spoken languages.
Cohere's technical prowess comes from and is supported by a deep bench of great hires. Despite the intense competition for talent in AI/ML, Aidan and his founding team have successfully attracted well-known researchers in the NLP space, including Phil Blunsom (Chief Scientist at Cohere), who led DeepMind's Natural Language team for 7 years (2014-2022) and has been a professor of computer science at Oxford since 2009, as well as Nils Reimers (Director of Machine Learning at Cohere), who built one of the most popular open source models (SBERT) and brings significant experience in embedding. Both the Chief Product Officer, Jaron Waldman, and SVP of Engineering, Saurabh Baji, have years of experience building products for enterprise use cases from their time at Apple and AWS, respectively. Jaron himself was a two-time founder who has built amazing products and successfully sold his startups to Apple and Rakuten.
On top of that, Cohere has demonstrated early GTM maturity with a laser focus on serving enterprise customers. Cohere has shown a clear and thorough understanding of how to drive GTM strategy in this space and create value for enterprise customers. The company is highly focused on building deep partnerships with a select group of enterprise businesses to drive the flywheel effect of selling to their downstream customers. Cohere can create custom models and provide custom re-training to really hone in on what these enterprise customers need. It built out capabilities for AWS Sagemaker and VPC or on-prem deployments early on, which is something that these customers look for right away. Additionally, the GTM team is led by a veteran experienced in selling into the enterprise market: Martin Kon, President & COO at Cohere, who was formerly Youtube's CFO and a senior partner at BCG. As a result, Cohere's keen focus on building customer-facing products has also allowed it to be more capital efficient with training and hosting models.
What's ahead?
As we had mentioned in a previous investment blog, we believe we are at the beginning of the generative AI revolution, and we are still at the very first inning of putting AI into production for enterprise use cases. As customers become more and more sophisticated in choosing the right AI partners, the developers of AI are also constantly pushing the boundaries of what models can do and striving to build something that is better, faster and more powerful. Cohere is one of the companies innovating at the frontier and is well set up in this environment with the right team and right focus. We are beyond excited to be investing in this team and helping them accelerate the development of Cohere's world-class AI platform and empower enterprises around the world to build incredible products.
Welcome to Salesforce Ventures, Cohere!